As I travel along the road that connects the south with the north of the island to teach my weekly yoga class in Port Fitzroy, I reflect on how my life has changed since I first moved to Great Barrier Island thirteen years ago. I certainly wouldn't have thought I'd be travelling fifty minutes to share my love of yoga with a group of enthusiastic women.
Driving on a winding, gravel road which takes me from my home on the western side of the island, I join the sealed Aotea Road which takes me through the largest wetland area in the Auckland area. Heading north the road starts to climb and I have stunning coastal views on my right and beautiful, rugged bushland views on my left.
A smile comes to my face, I feel an expansion in my heart, calmness envelops me and I know this present moment is perfect. My drive today is showing me how lucky I am, and how the subtleties of a yoga practice extend to everyday life.
I am greeted with hugs and smiles from my student friends. A couple of them have had a more interesting journey to get to class today than I have – arriving by boat, their trip by water taking thirty minutes. Now that is dedication! They often remark that the low tide or the wind and drizzle makes them think twice about attending a class at times, but they always say that the ninety minutes on their mat is worth the effort.
Isn't it amazing that a yoga practice can have such a rejuvenating, energizing and balancing effect?
A number of these women have lived on the Barrier for many years, some in isolated locations, raising families, living off the land and sea and being challenged by the seasons, embracing life. And always making time for yoga, knowing how it makes them feel and how it nourishes them. They have attended classes over the years taught by different teachers, soaking up their love of yoga. I am the latest teacher to offer them my own style and sharing lessons that have touched my heart – an amalgamation of what I've learnt from my teachers and my life experience.
It was thirteen years ago when my husband and I decided to move from Queensland and settle on this isolated, remote island in the Hauraki Gulf. We both intuitively knew this island would offer something special at this time in our lives.
It was strange, but we felt like we were called to the island. This is an often repeated experience we hear from other fellow islanders. The island does seem to have a special feeling about it, a healing quality, something which touches your spirit.
My first yoga class was with longtime Barrier resident, Iyengar-trained teacher Linda Power. I was hooked from my first class. I remember Linda relating how she used to walk over 1 hour, often having to cross flooded creeks, to teach her classes…more dedication! I loved the precision of this alignment focused practice, but after some time, I was ready to experience different teachers from different lineages.
The only way my husband Chris would willingly leave the island was to attend yoga retreats – wasn't I lucky to have a husband who also loved yoga!
We attended a number of retreats in Byron Bay and Bali, deepening our practice and opening our eyes – yoga was revealing itself to be so much more than just asana practice, striving to achieve the perfect pose. At this stage of my life, it was highly unlikely I would ever achieve those 'advanced' poses! Instead, I was learning and accumulating 'tools' that would support me in my darkest hour.
We were looking forward to our level 1 200 hour teacher training in July 2012 with Louisa Sear of Yoga Arts. Our first introduction to Louisa was a video she'd recorded presenting a general yoga class, and I have to admit this was the first time we'd stolen anything! At the time we owned a caravan park in Queensland, aptly named Poona, and we used to hire out videos. Somehow Chris had picked out this video, which we watched and decided it was destined to stay in our hands…. I knew Louisa would be a catalyst in my life. Unfortunately, not yet.
Less than one month before the training, in June 2012, our world turned upside down – Chris was diagnosed with stage 4 colorectal cancer. How was this possible?
We had no major stressors, exercised, and lived a healthy and conscious life… But life was not playing out to our script. Teacher training was cancelled and the fight of our lives had commenced. Note the plural. My soul mate was leaving me.
I could not change our destiny. Life sucked… Five months later I felt I was drowning as darkness descended. My life as I knew it was changed forever.
I knew had to step up: could I? did I even want to? How was I going to cope on my own, deal with the stuff that Chris always took care of? And more importantly – after 33 years of 'Chris and Julie', who was Julie? God, so many questions that I had no answers to.
After six months I was thrown a lifeline. I spent time surfing the web at all hours of the day and night: How to cope with grief, what is grief, depression, how to want to live, yoga, yoga retreats, Bali retreat with Yoga Arts. This was just what I needed. I'd been to the edge, and now was the time to get away, to immerse myself in the ancient yoga teachings. A flicker, a light, something ignited within.
Fast forward eighteen months later and I had finally completed my training with Louisa. It's hard to comprehend how four weeks can be life-changing, but I hear it all the time from other yoga trainees.
In addition to the asana, pranayama and meditation sessions, I loved the stories Rose interweaved through her philosophy lessons – there was much humour, oh, yoga is not meant to be too serious! I am thankful that Lucy shared her love of the deities with us, adding a totally new dimension of yoga to me: bhakti yoga, love and devotion. My heart was beginning to swell again. At the time I thought the training would just serve to deepen my own practice. But I was discovering that I enjoyed the teaching practicums…mmm… maybe I could teach in the future…
And yes, since those transformational four weeks, I have started teaching. I've undergone further training, most notably Yin teacher training with Sarah Powers and Jo Phee. Sarah's teachings have further expanded my toolbox, her mindfulness training adding another facet to help me see through my suffering.
Great Barrier Island and its closely-knit, supportive community have been the perfect place for me to work through my grief. And it has been the perfect place for me to find my teaching voice.
My student friends who attend my Claris and Port Fitzroy classes say they love how yoga makes them feel, and I love how teaching makes me feel. It is a humbling experience for me.
What a privilege, I can share my love of yoga with friends, on a beautiful island home.
Rediscover Joy For Life – Ebb and Flow Yoga Retreat
15th to 19th February 2018, with more dates to be announced, Great Barrier Island, New Zealand
The Yoga Of Understanding – Is it time for you, or someone you know, to rekindle joy in life?  I've had to deal with the loss of a loved one – your experience may be different, but feeling lost is our reality.  I invite you to come on a journey with me.  I'll share with you how yoga has helped me rediscover a zest for life again!
About Julie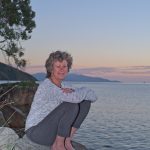 Julie offers yin, yang and restorative yoga classes on Great Barrier Island at Claris and Port Fitzroy. Her classes are designed to rejuvenate and harmonize body, mind and emotions.
Rediscover Joy For Life yoga retreats have been announced for 2018. For more details go to Ebb and Flow Yoga.