So many younger people are taking to yoga these days, as opposed to forty years ago when I was cutting my teeth as a student and yoga was still considered way too esoteric for your average citizen.
Nowadays there's a dizzying confusion of yoga 'styles' to choose from.
And precisely because yoga is attracting so many young people, hundreds of young yoga teachers are emerging.
I started teaching when I was forty-five, pretty old by today's yoga teacher standards.
So how do I manage to compete with the flood of younger teachers?  All of whom may well be able to bend and stretch and pivot and hold and reach rather better than me?
Do I still have what it takes?  Am I still relevant?  Do students want older yoga teachers?
I guess the answer is some do and some don't.  It all depends on why the student is practicing yoga.
If a student has not yet dug deep and is still 'doing yoga' as a form of exercise like many beginners, then chances are they'll want a yoga teacher who's a little more spicy than me.  Check out the hot and sweaty classes, the power classes, the Astanga classes – they're full of young (and wannabe young) students.
There's no way I can compete with those kind of classes.
My teaching can only reflect my own practice if it is going to be 'true', and over the years my practice has become less complicated, less physically demanding, less strenuous.
It's much more about the breath, the mind, meditation and the notion that yoga is a twenty-four hour a day practice rather than simply the hour or two we spend on the mat.
But send me the student who needs a bit of therapeutic yoga for their back pain, or the one who suffers from anxiety or depression or is simply overworked and stressed.
Send me the student who understands that yoga is a way of life.
This is where the older yoga teacher often shines.
Our years of experience have taken us from where we thought we knew everything (or at least we felt as though we needed to convey this notion to our students) to where we realize that in fact we know very little.
But what we do know we have learned through personal experience, so that knowing is deep and certain.
Aging is a gift that not all of us are handed, and as such, it is a time to be treasured and exploited to the fullest.
Our priorities change.
We can see that life is far less serious than we thought it was.
We learn (hopefully) to take ourselves less seriously too.
We begin to understand that it's not all about  'What's in it for me?' but rather 'How may I be of service?'
We can say with certainly 'This too shall pass', for we have seen this to be true over and over again.
We begin to understand that life is about joy and loving and being happy with the simple things. And that if we want to be happy we need to look within.  We need to find that place where happiness abides.
And then we can invite all  our students to take their own journey with us.
About Susan Grbic: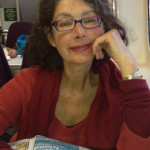 Susan began teaching yoga in 1996, her early training being in Integral and then Iyengar yoga. 
She opened the Albany Yoga Room in 2000, then in 2012 left to develop Growing Younger.