In celebration of  the launch of The No-More-Excuses Guide to Yoga, I've invited some friends and colleagues to write articles relating to the theme of the book's subtitle: Because yoga is for every body.
One of the most inspiring memoirs on yoga that I've read is by Matthew Sanford called Waking. I'm not going to tell you about it because I don't want to spoil Nadine's article down below, but I highly recommend getting your hands on a copy. It inspired one of the chapters in my book and has inspired thousands of people to take up yoga who may have never though it feasible..
Today's guest author Nadine Fawell is based in Melbourne. In response to the 'yoga in your undies just rolled out of bed' Equinox video that hit it big on YouTube, Nadine featured on this website doing her morning yoga as it really is. It's delightful to have her back again. 
In the ten years I've been teaching yoga, I've seen all types of people get their bendy on.
People of varying ages, genders, ethnicities, shapes, and ability levels. They've been a much more varied bunch than you would expect from looking at the internet or Yoga Journal.
One student in particular stands out for me. He came to see me because he was experiencing a bit of back pain as he got older. He was working long hours at his high-level job and he just needed to stretch out a bit and breathe.
He came for private lessons because group classes wouldn't really have suited him.
Why, you ask?
He didn't have arms.
And yet, this man was, and is still, one of the most capable yogis I've ever met.
Working with him put a great many things into perspective for me.
Here are three:
First: We are all capable of way more than we give ourselves credit for.
This differently-abled man, who would have spent his childhood learning to negotiate the world in a different way to your average, and who might well have been teased because that's what kids do, had achieved more in his life than a lot of people without his challenges. A successful career, a happy marriage. A yoga practice.
Second: Different is not less.
To some extent, we are all differently-abled from one another. It seems to be human nature to judge one set of abilities (or physical characteristics) as better than another, but that is not always accurate. It seems to hinge a lot on what you are willing to do with what you've been given.
So does yoga. Both are skills that will make life easier. I'm still working on the resilience for myself, but I do the yoga every day. Have done for years. And it seems to be helping me bounce back from the rough times, even if that bounce is sometimes rather… slow. Practice.
Yoga is for you, even if you don't think it is!
The No-More-Excuses Guide to Yoga is specifically written to break down these pre-conceptions that many people have about yoga and help people of all ages make it to their first yoga class. Pre-orders are now open and you can find out more about the book here. 
About Nadine: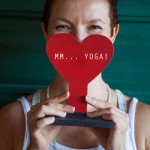 Nadine's a fan of all the ways yoga can make life easier: less pain, more calm, better focus, relief from anxiety.
She teaches you to do just that in her yogAtititude Cards and Workbook. 
You can find her on her blog Yoga in Melbourne or follow her on Facebook and Instagram.