by Kara-Leah Grant
It's that time period between Christmas and New Year's where the madness of the silly season is almost over but the shops and roads are packed.
It's that time when our family obligations are usually done, but we haven't quite started our holidays yet.
It's that time when the old year is done, yet the new year has yet to start.
It's the space between.
And a space when Auckland-based yoga teacher Katy Carter has decided to host a five day retreat at Mana Retreat Centre in the Coromandel called, appropriately The Space Between.
For those of you have haven't yet been to Mana (Neal Ghoshal & Karla Brodie hosted two Art of Rest retreats there earlier this year), it's only a couple of hours from Auckland's International Airport.
It feels like it's the back of beyond, but you can get there in an afternoon.
Nestled up in the hills above the coastline that hugs the Firth of Thames, Mana Retreat Centre is 120 hectres of quintessential Kiwi countryside.
There's rolling hills and native bush, explored by tracks and all guarded by imposing yet comforting Pukewhakataratara Mountain.
You're not on the coast anymore, and the beach ceases to be a temptation or distraction, but the views of the water are magnificent. This is the place to get away from it all. Unplug, unwind, untangle and undulate into the softness of a Kiwi summer.
Katy's been here a few times, and every time feels like she's coming home. It was the logical location to host her retreat The Space Between – Pause, Presence and Potent Possibility.
It's a retreat where she's encouraging participants to let go of the old – in this case, the very real and concrete example of 2014, but there may be other aspects of life and being that people wish to let go of.
After the letting go comes an invitation to pause and soften, like one pauses and softens in the beat between the exhale and the inhale.
Finally, once the letting go has happened and the space has been created and dropped into, comes an invitation to invite in the new. Instead of haphazardly throwing down or declaring a few New Year's Resolutions the intention is to provide the practices and space for participants to contemplate what they value and what they'd like to create for the coming year – 2015.
I spoke to Katy to find out more about her yoga journey, the magic of Mana Retreat Centre and why she's chosen the space in between to run her retreat.
All enquiries about the space between, or to book your place, please contact Mana Retreat Centre directly. Earlybird price of $780 applies until October 31.
Katy Carter, Auckland Yoga Teacher & Host of the space between

About Katy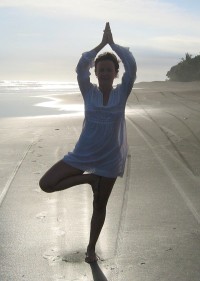 Katy Carter is a skilful and sensitive teacher, who offers an integrative and inclusive style of mindful, alignment-based yoga for all levels of experience and ability. Katy's classes are compassionate, creative and playful, but always empowering and life-affirming, nurturing students to honour their own body, and discovering their own pathway to realising their full potential.
Katy is a freelance teacher of yoga in Auckland, and has a wealth of experience from her own personal journey of health and well-being through yoga for the last 16 years.
She lived in London for many years, travelled extensively, and besides having degrees and careers in other creative fields, has studied Yoga with a variety of very learned, acclaimed and inspiring teachers at international level.
About Mana Retreat Centre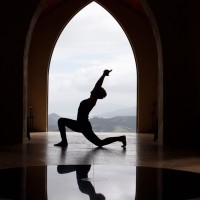 Mana offers inspiring inclusive spiritual retreats, as well as being the home for courses in many fields – voice and movement exploration, bodywork, meditation, yoga, wellness retreats, men's and women's courses and a wide variety of programmes in the creative and healing arts. Mana is also a training centre for  Healing through Sound, the Cranio-Sacral Therapy,  T'ai Chi and the Dances of Universal Peace.
Our sleeping lodges have comfortable wood lined double rooms, some with private facilities. Ponga Lodge also has a private kitchen for personal retreats and two individual retreat cabins in the bush are available for those who seek total privacy.
A Sauna is set in the bush and we also have a tennis and volleyball court as well as beautiful bush walks for outdoor enjoyment. Embracing mountain, bush and sea, Mana provides a perfect atmosphere for the enrichment of body, mind and spirit. See more about Mana Retreat Centre here.