Courtesy of Integral Yoga® Magazine, Summer 2015
Most days, I go to my regular job, wearing my regular clothes, and I type regular things into my regular computer until it's time to go home.
My co-workers know me as Joe, that guy who has enough light banter to be social, but not so much as to get distracted from his typing. Joe is a good guy. Familiar. Dependable. You know the type.
But on Tuesday nights, I trade my collared shirt and GAP slacks for a kurta and pajama pants, have dinner with my wife and kids, and then drive to the local Hare Krishna temple for kirtan.
Recently, the practice emerged as the hot new sub-genre of Yoga music, spilling out of studios and music festivals onto radio stations and podcasts, climbing charts and courting Grammys. The roots of kirtan, however, go back hundreds of years.
My introduction to kirtan happened with my birth. If my mother wasn't hollering Sanskrit with each contraction, it was only because she was saving her voice so she could chant to me through the hours, days, months and years to come.
She and my father, both die-hard Bhakti Yogis, would drag me to kirtan gatherings daily, introducing me to the harmonium, cymbals and drums of the tradition, while they sang and swayed.
Most world religions have some form of sacred music tradition, be it Gregorian chant or Gospel; Klezmer or Qawwali; Buddhist hymns or Hindu bhajans.
Each of these musical traditions is grounded in local culture, and functions as a collective, effervescent, social experience; a way for each faith to celebrate their interpretation of Godhead.
Across time, the music of each tradition has evolved, sometimes fast, sometimes slow, always influenced by the world around it. Most of the changes have been small: the addition of a new instrument, the appropriation of a secular melody, the inclusion of harmonies; but with modern globalization these changes have grown.
Now we have kirtan music, for example, which is influenced by Hip-Hop, Dubstep, Rock, and Country, these genres all flying around the world at the speed of the internet.
It is this cross-cultural exchange that allows me to sit in kirtan five minutes' drive from my home, lulled by a series of heartwarming melodies, percussive drum beats, and friendly faces, enjoying an Indo-Angelino oasis of peace in the middle of a big California city.
It is here that I connect on a soul level without thinking of clothing, skin color, job description or musical ability. Here we are all parts of a single choir, singing the same song, each voice unique in the quality it brings to the kirtan.
When I was seven years old I attended a boarding school ashram (gurukula) in Vrindavan, a small town one hundred miles south of New Delhi which is arguably the birthplace of the modern kirtan movement.
There, my mornings began at 3:30am when students woke, showered and hurried to the temple for the first kirtan at 4:15am. Though I cannot promise I was always awake for the duration of the ceremonies — often nodding through the mellow parts, bumping into fellow dozing students — I could feel the music seeping into my skin through osmosis across the next eight years. Whether I was aware of it or not, kirtan was the definitive soundtrack of my life.
When I moved back to the States to attend college in Los Angeles, the transition did not come easily. Faced with a pimply Caucasian who flicked his wrist, waggled his head, and said everything with a thick Indian accent, Santa Monica College students were bemused.
Why are you talking like Apu?
They asked.
We get it. You do a good Indian accent. Now please stop.
Since they didn't understand my culture, I decided to learn theirs. I began listening to Smashing Pumpkins and Hootie And The Blowfish, wearing wide-flared jeans, streaking my hair blond, and quoting lines from Swingers and Pulp Fiction.
Over the next decades I assimilated into California culture, reverting to my legal name of Joe (average Joe!), attending film school, getting a nine to five, buying the house with the white picket fence, signing up for health insurance, the whole nine yards.
Then in 2005 my wife, and I went back to Vrindavan. The sights, sounds, and smells of my youth came rushing back. Just like that I was home.
We visited The Sandipani Muni School where my wife's parents were sponsoring one of the students and I caught up with the school's founder-director, Rupa Raghunath.
An old childhood friend, he created Sandipani Muni in an effort to educate young girls, feed local widows, plant trees, and clean up the sacred pilgrimage town.
We are trying to take care of the lowest strata of this dysfunctional society.
Rupa explains as he takes us on a tour of the school.
The poorest of the poor, [because] they are forgotten; in a sense they don't exist.
Seeing the beautiful classrooms, the kitchen where the children's meals are cooked, and the rickshaws that bring them safely to school was humbling.
Rupa had dedicated his life to combating poverty while I had left behind my Indian friends and escaped to the luxury of Los Angeles. Leaving Sandipani Muni School, I knew I needed to do something to support his work.
Back in the Los Angeles, my wife and I worked hard at our jobs and sent what little we could back to Vrindavan. I continued to enjoy kirtan as a way to stay connected to the music of my youth.
In 2010 we welcomed our daughter, and two years later, a son. Becoming a parent opened my heart more than I ever thought possible, and I knew, then, that I had to do more to help the children of Vrindavan, many of whom may otherwise never have the basic privileges of education and healthcare that my children enjoy. Most of whom reminded me of the school friends of my youth.
I launched a crowd-funding campaign to produce a kirtan record; an album that could grow into something bigger than just an audible experience; something that could continue to affect change long after the music stopped.
The project was called Kirtan Shakti — Shakti being Sanskrit for Goddess Power.
The idea was to collaborate with a group of talented female kirtan singers from around the world, to record a charity album. I had no idea if the project would be supported, but I quietly hoped that others were also interested in using the rich culture of kirtan to give back to its community of origin.
So many people visit India, and they take something from this country
I told my early donors.
Knowledge, wealth, food, art. But with this album, we want to give something back to this magical place.
We launched the project in April 2014, and over the next five weeks were inundated with support, swiftly surpassing our initial funding goal and charging on to our stretch goals.
Everyone I talked to was excited about the idea of a kirtan record that would bring an international flavor to the kirtan world while driving change on the ground in Vrindavan.
I wanted to produce a series of duets, featuring my voice alongside a female voice, in what I'd hoped would become a musical allegory for the beauty of male and female voices working together in harmony. And I wanted to record with my real name, the name of my youth, Madi Das.
By summer, I had teamed up with renowned kirtan singer-producer Dave Stringer. Dave, having performed kirtan all over the world and recorded numerous albums, brought decades of wisdom, experience and musical expertise.
He and I spent hours constructing melodies and arrangements that were grounded in my personal kirtan chant tradition, but which featured the familiarity of Western folk, country and bluegrass music.
I wanted to make music that reflected both the Eastern and Western parts of my personality. Music which could be easily shared with friends, hooks that could be sung, beats that made you want to dance — alone or with friends. The result was Bhakti Without Borders.
Over the next six months we recorded eleven amazing kirtan divas. Talented singers from New York and London, Sydney, San Francisco and Vrindavan lent their beautiful voices to our project.
Here in Los Angeles, Dave assembled a band of virtuoso musicians, many of whom had successful kirtan careers of their own, and we laid down tracks drawing musical inspiration from both worlds — New and Old. By January the album was edited, mixed and mastered, and by March it was ready for print.
Nowadays, when I sit in kirtan on Tuesdays and close my eyes, I am peaceful and excited. Excited to share this musical piece of my home with the world, eager to spread our dream of helping fund education, elated to have worked with so many wonderful artists to make music that was authentic and accessible.
And when I sit at my desk, and prepare to type regular things into my regular computer, I pause to plug in my headphones, and grin. Because with kirtan in my ears I am both at work and at home.
I hope that this humble offering inspires kirtan aficionados and newcomers alike. Currently available for pre-order on iTunes, the record will be released on May 12th, 2015.
More info is available on the Kirtan Shakti website.
Preview the Kirtan Shakti: Bhakti without Borders Album here. 
Kirtan Shakti: Promo Without Borders
About Madi Das: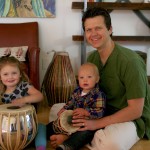 Born in Germany to an American mother and Dutch father, Madi Das grew up in the Vaishnava tradition of Bhakti Yoga. At age seven he went to boarding school in India where he spent eight years learning kirtans and bhajans, becoming fluent in Hindi, and making lifelong friends.
He subsequently lived in Ireland, where he was exposed to traditional Celtic music. Film school brought him to the USA, where he currently works as an entertainment executive in Hollywood.
His life experience embodies a world of music traditions, and he is at home in both the devotional world of ashrams and the promotional world of film studios. Bhakti Without Borders is his debut album.