Four weeks out things are, well, okay.
I suffered my second miscarriage at 8 weeks. (So early on, thank God. One consolation at least, I guess. So it's said anyway, or rather whispered). Now, four weeks out, I'm getting there slowly, and when I mean getting there I mean functioning with a tad more happiness, rather than the just plain awful, harrowing, unrelenting pain of the "miscarriage week", or indeed weeks.
It began as a "suspected" miscarriage and it progressed via ultrasounds and blood tests to more scans, more bloods, and more scans, and even more bloods while secretly inside I knew the truth, ever since the Doctor uttered the dreaded words,
"I'm sorry, but I can't see anything".
Then it happens. You're starting to miscarry. You are relieved because at least, y'know, things are happening.
You are moving forward, maybe not in the direction you thought or hoped, but you are moving nonetheless. And it begins to hurt, not just emotionally, but physically too. So at least you know you're not going crazy, that it's all in your head, you at long last have physical proof that you are losing your pregnancy. And so it comes.
In my case, it was called an "Incomplete Miscarriage". So options were proffered, a Dilation & Cutterage was decided on and after a minor procedure (if there is such a thing!?) I felt elated. I had survived. Now it was time to move on. But my brain didn't get the memo it seems and Grief and Sadness kept finding their way back in. The only consolation, I told myself was that at least I was "moving on".
In the "miscarriage week," as I've come to call it, the overwhelming stench of grief pervaded me from the tips of my toenails to every strand of hair on my head.
Feelings of otherworldliness surrounded me. No, the feelings were in me, actually "in me", as I slowly came to terms with the fact that my worst fears were becoming my reality.
Yoga? Are you kidding me?!?
"Bring it to your mat",
They say about the trials and tribulations of our lives.
"Yeah, everything. The good, the bad, and the ugly".
Are you actually serious? Nah, not for me. At this moment I couldn't even see, think or hear straight. All I wanted to do was cry, cry, and cry some more. I cried going to sleep and I cried waking up. The latter was more intense as for a split second when you wake; you forget what has happened… until it all comes rushing back. And the pain just washes over you again and again.
But in that grief, the pain, the tears, I felt completely Present. To what, you might ask. Everything? No. To what then? To Me… All I can do is BE.
Exhausted from thinking, from talking, from crying, from sadness, from anger, from Googling (Yes, I know), from life. I said it to my partner, after hours (or maybe they were just minutes) of silence –
"I have never felt more PRESENT".
Despite all the yoga and meditation over the years, I have never been more Present.
Maybe I was actually present with life before all this, I don't know. But that just sounds so gigantic. All I know is that I felt definitely Present with me. There was nothing but MY body, MY mind and MY breath. I felt I could only think about this breath, right now, in this second.
Well meaning family and friends, as they do, offered support the best way they could. They offered love and reassurance with false platitudes like "At least you got pregnant", "There's always next time", and "Oh it's so common". The first not helping much (to be honest), the second only kind of and the third just left more questions.
It wasn't until I Googled (again, I know) how common it actually was, did I realise I wasn't alone. On message boards, it was ALL there. In all its heartbreaking glory.
It is so common for so many women across this big beautiful planet we call home. But these message boards weren't just places of sad stories about lost pregnancies. Instead, they offered hope and resolve to carry on. There were countless stories from women filled with happy endings after short journeys. Some took longer, full of twists and turns, but they got there in the end. And some who were still going, still trying…
I was stunned and humbled. How are these women doing this, some with stories of multiple miscarriages, stillborns, ectopic pregnancies, and miscarriages following years of trying or IVF… the list goes on. Who are these WARRIORS?, I thought. Who are these Women who are putting their bodies on the line each time and say, "Maybe this time? Yes, maybe this time. Let's try again"?
Mixed feelings of awe, humility, embarrassment, strength and anger filled me.
Embarrassed, that "my story" is not as horrific as others. Strength, because I know I'm not alone. Anger, because in my 39 years, I can truly hand on heart say I rarely hear or am aware of any discussions surrounding miscarriage in all the rooms I spend my life in. And yet there it is all around us. Rarely spoken, except perhaps on message boards on the Internet, where fellow Warriors encourage other Warriors with pages and pages of encouragement and consolation.
The story that I had always told myself (unlike Kara-Leah Grant in the article that inspired this post) is,
"I'm going to be a mother sometime, somewhere, somehow".
That's it. For sure. Definitely. But two miscarriages down the line; I'm not so sure. Who knows, maybe I will, but maybe I won't be a mother.
Kara-Leah says in her article (in which she describes the struggles she encounters as a single mother),
"With will, determination and an intent to do a damn good job, I know I can excel at this as well".
That sentiment (which I have basically applied to my whole life), just doesn't apply to my situation right now. Tough as that might be to digest and acknowledge, it's the truth.
So here I am. Four weeks on. In truth, I went back to my yoga practice after week 2.
It wasn't an "a-ha" moment or some moment of clarity that made me go back after a long absence, it was more of a "knowing". Or to be blunt about it a rock bottom. I know what my practice gives me if I turn up.
It gives SPACE. It became the one place where as my grief began to subside, my feelings of irritation with my situation, people, life… started to move seamlessly into nagging feelings of boredom and restlessness. But that's fine. The practice is offering space. That's it. Nothing more or nothing less. It's not fixing anything or providing enlightenment of any kind or making anything better. It's offering Space to be Present. Space to LIVE this moment and Space to move into the next moment, as it comes.
About Eimear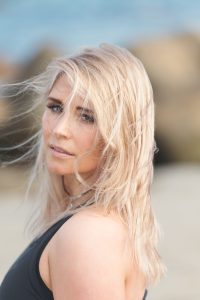 Eimear is a Yoga Teacher and a Solicitor living in Dublin, Ireland. Eimear came to yoga (rather reluctantly) after picking up a running injury. She describes herself as a "Type A" personality and having run numerous marathons and many miles she began to practice asana. Very quickly, the injury healed, however, Eimear describes herself as becoming "hooked" with the asana practice. For the first year or so, it was the challenge of the physical practice that kept her coming back to class.
She describes a teacher in class saying: "You are exactly where you are meant to be." This was a lightbulb moment for her and she began exploring yoga philosophy, meditation and chanting. She has spent time in an ashram in India and combines her love of travel and her love of yoga and has taken workshops and classes with international teachers in Bali, Australia and New Zealand.
Connect with Eimear on her website, Anam Cara Yoga, visit her Instagram account or contact her by email.