Editor's Note: Since this article was published, several accounts of sexual harassment and assault have been made public by Mark Whitwell's female students. We do not in any way condone Mark's behaviour. You can read more about the accounts here.
Donna Farhi, author and yoga teacher, as interviewed by Kara-Leah Grant
Donna Farhi is a world renowned yoga teacher who has been practicing yoga for thirty nine years, and teaching it since 1982.
She lives here in New Zealand but teaches intensives and teacher trainings internationally, and is the author of several well loved yoga books including The Breathing Book, Yoga Mind, Body & Spirit: A Return to Wholeness and Bringing Yoga to Life: The Everyday Practice of Enlightened Living.
In this interview we discuss her latest book Teaching Yoga: Exploring the Teacher-Student Relationship and consider it in relation to our recent video interview with yoga teacher Mark Whitwell on The Definition of a Yoga Teacher.
Kara-Leah: How would you define the relationship between a Yoga teacher and their student?
Donna: I think it is impossible to define what the relationship between a Yoga teacher and student is because that depends on the teacher and it depends on the student and the degree of connection, commitment and intention on the part of one or both parties.
But what I can say is that as a teacher I attempt to offer my fullest commitment to the process of creating a context where the student can realize the wisdom of Yoga through their own practice.
Kara-Leah: What is actually being taught in a Yoga class?
Donna: One of my students in Amsterdam once said that he felt "an invisible message in between the lines of every instruction." Regardless of whether we are teaching meditation, pranayama, asana, Yoga Nidra, or speaking about the philosophy of Yoga, I believe that ultimately what is shared is the modeling of the teacher being completely authentic within themselves and present within the moment.
This capacity to be in a state of focused presence sets up a field that is palpable and it is through this invisible web that the teachings get transmitted. More and more I believe the most important thing that can be shared is how to befriend yourself in all your dimensions, and as a result how you can be in friendship with others.
Kara-Leah: What are the qualities of a good teacher? If a student is seeking out a good Yoga teacher to learn from, what should they look for?
Donna: Because I train teachers I've had a great deal of time to consider what makes a good teacher. I can tell you straight off it has very little to do with whether a teacher can do virtuosic movements and everything to do with their interpersonal skills.
That is, are you good with people? Do you know how to listen? Do you truly care about others and genuinely feel satisfaction when your students show progress?
I've known teachers who have all the moves, but they have been unsuccessful in generating any kind of student body because they are just terrible in their interactions with others. I have colleagues who, while capable and refined in their practice are not highly adept at difficult asanas, but they often have very successful studios because they offer safe and practical instruction, and a loving environment and community for their students.
Kara-Leah: Are there different 'levels' of Yoga teachers? How would you define those?
Donna: I think there are definitely different levels of teacher depending on the depth of what you wish to transmit. Some teachers are very happy to offer a basic and safe introduction to practices such as asana and pranayama. I don't see this as hierarchical because helping people to use these practices is a great gift to humanity. Well done!
But perhaps the teacher is interested in sharing how one might dive into the revelation of our indivisible oneness, which is the deeper wisdom teachings of Yoga. How can I help the student to see through the obscurations to that realization?
If I have a commitment to share that information I have to be willing to hold the space for the student to express all kinds of things: confusion, doubt, grief, strong emotional experiences from the past, and even anger towards me when the process of projection is in full swing. That kind of exchange demands a great maturity on the part of the teacher.
Kara-Leah: Mark Whitwell says that Yoga can only be transmitted in relationship, and defines that relationship as friendship. Yet you say in your book Teaching Yoga that when a student becomes a personal friend your ability to serve him or her as a teacher has effectively ended.
Donna: It's very difficult to articulate these dimensions of the relationship without creating misunderstanding. My sense is that when I'm holding a safe space for a student to learn, entering into a personal relationship with that student blurs the boundaries.
For instance, if you had just spent an hour with your therapist plumbing the depths of some issue from your past and then fifteen minutes later he invites you to have a beer at the pub with him it can create enormous confusion. I'm guessing you wouldn't feel safe to go back to that therapist because there has been a devaluing of the currency of the sacredness of the relationship through that casual, off-hand exchange.
I am friendly with my students and trainees, as when I sit down for lunch and enter into a social interaction, but I don't look to my students to get my social needs met, nor do I share a great deal about my personal life with them.
When a student has matured and becomes a peer, that's when I find it feels appropriate to enter into a more personal friendship, if we have that kind of connection. I think what defines that movement towards becoming a peer is the other person has a similar level of understanding and has little need for my help or mentorship.
Some of my students have been with me for over two decades and we have a deep love and connection with each other, but for some they are still wanting ongoing mentorship. Mentorship sometimes requires me to challenge you in ways that would be inappropriate in a friendship.
Kara-Leah: You seem to be saying the exact opposite thing – or is it that what he means by friend and friendship is different from what you mean by a personal friend? Can you share your understanding around this? What does that phrase 'nothing less than a friend, nothing more than a friend' mean to you, and how might it be problematic in the teacher/student relationship?
Donna: I'm honestly not sure what Mark Whitwell means by that statement, so out of respect for him I can't fully answer the question.
But what I will say is that in all my years of being on boards and in handling issues of ethical transgressions, I have seen teachers who in their advertising describe themselves as a "Yoga Master" and then when he is confronted by a colleague about ethical misbehavior he will conveniently change tactic and declare himself to be nothing more than a friend to his students. I don't think you can be both.
Frankly, there's nothing friendly or loving about a teacher abusing the trust of the student by entering into an inappropriate sexual liaison. Point blank, if we had proper licensing such teachers would be disbarred from teaching just as a high school teacher, a doctor, or psychotherapist would be in big trouble if found out for such abuse.
Kara-Leah: You say that for the process of transformation to be effective, a necessary distance is required between the teacher and student. What do you mean by that? Is this why you say you're no longer effective as a teacher once a student becomes a close friend?
Donna: By distance, I don't mean cold detachment or superiority or authority. When the teacher stands completely in her own center of gravity and understands that she is there to serve the student, the self-containment within the teacher creates a healthy boundary.
Kara-Leah: Mark says that J. Krishnamurti told Desikachar (paraphrased from Mark's words in the interview):
"Don't become another monkey – don't become one more Swami Know-it-all and create a social dynamic of disempowerment by being the expert on the stage who knows something, speaking to the student who wants to get something."
Donna: Anyone who has ever studied intensively with me over a period of time knows that I am completely committed to a pedagogic model that is about the student's individuation and self-sovereinty. Every interaction and exchange is therefore viewed from the perspective of whether it is moving the student towards independence or further dependence on me.
In training teachers this is one of the first topics I address because for the most part I have found that teachers don't even know what their underlying pedagogic model is. If you are simply downloading instructions without engaging the student in their own process of investigation and discovery, then all you are doing is perpetuating the student's infantilization.
I get really upset when I meet a student who has been receiving instruction for ten years and they don't know how to answer the most basic question for themselves. Their first port of call is always "the teacher" because they have not as yet developed any internal reference point. In a neoclassical pedagogy, you don't learn from me, we are in co-inquiry together. I am learning as much from the exchange as you.
Kara-Leah: Does this dynamic exist in the teacher/student relationship – that of an expert or master imparting information? Or is is part of the Yoga teacher's responsibility guide a student back to their own wisdom and knowledge?
Donna: In this pedagogy, as I've said it's always about guiding the student back to their own inner teacher, known as the atman, or inner light. That said, a teacher should be knowledgeable in his or her subject – that's what makes the teacher the teacher.
Kara-Leah: Mark says it is the teacher's responsibility to unstitch the social dynamic of disempowerment. In your book Teaching Yoga you also talk about the dynamic of students putting teachers on pedestals. How do teachers learn how to do this?
Donna: For some teachers putting themselves on a pedestal is about power, control and ego. . . And unfortunately there are lots of students who feel confidence in being with someone who wants to be top dog. That's why teachers like Bikram and John Friend have such huge followings – in such an exchange you don't have to think or question, you just get to be part of the popularity party.
More often, however, the student creates that pedestal by dehumanizing the teacher and imagining that she doesn't suffer from ordinary problems or challenges. Any teacher who is willing to be vulnerable, honest and share her journey will dismantle that pedestal very quickly. Respect is different than adoration.
Kara-Leah: Your book covers many of the ethical dilemmas that teacher may come across – many of which are no longer even seen as 'dilemmas' in our modern Yoga world. What are the biggest ethical issues between teachers and students that you see happening now? Has it changed over the years?
Donna: You've hit the nail on the head with the question itself. In the current commercialization of Yoga which one of my teachers calls "a mile wide and an inch deep", increasingly teachers are not even registering their lack of boundaries as constituting unethical behaviour.
An ethical person is always asking questions about his behaviour and the possible consequences of his behaviour. Someone who is consciously thinking about how his words and actions affects others is highly likely to act in an ethical way.
What I have noticed is that since Teaching Yoga was published, is that students are becoming more aware of their rights and that students are much more willing to challenge a teacher if they feel the behaviour is unacceptable. It's not pleasant, but I'm heartened when I hear about women going to the police and lodging legal claims against teachers who have sexually assaulted or raped them. That's an appropriate response to illegal behaviour.
Back when I was studying to be a teacher in the U.S. in the eighties, there were senior teachers who were doing things like putting their hands down women's tops and fondling their breasts during Savasana. They got away with it because the women felt completely confused and disempowered to speak out. So although it's not great press for us, I think it's a positive shift when women speak out.
On the other hand, there seems to be a radical descent in some segments of the Yoga community that is rallying for an "anything goes" mentality. It's a degradation of the teachings.
Kara-Leah: The nature of the teacher/student relationship means that all kinds of things can happen – to use some psychological terms (which you discuss in your book) transference, counter-transference, projection, adoration, emulation. How do teachers know how to work with all of this?
Donna: Educate yourself, and watch the company you keep. Study with respected teachers and hold yourself to the same standard.
Kara-Leah: Finally, there seems to be little discussion or training in the Yoga community around the dynamics of the teacher/student relationship and the ethics of teaching Yoga. Where can people go to find out more, or learn more?
Donna: My book Teaching Yoga is being used worldwide as a curricular text for teacher trainings wanting to offer information on ethics.
Start by reading the book – and then I would recommend having a Yoga buddy or Yoga mentor that you can go to to discuss ethical issues that are troubling you. Or commit to a Yoga Sangha practice group of two to five colleagues and get together once a month to practice and make time to discuss teaching issues.
I still have a "go to" person who is older and more knowledgeable than me about dealing with difficult ethical quandaries with whom I can discuss issues confidentially.
About Donna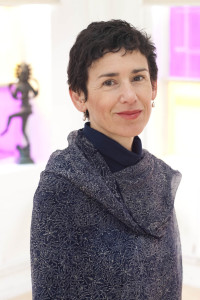 Donna Farhi is a Yoga teacher who has been practicing for over 40 years and teaching since 1982. She is one of the most sought after guest teachers in the world, leading intensives and teacher training programs internationally. Her approach to Yoga is informed by the refinement of natural and universal movement principles that underlie safe and sustainable Yoga practice. This concentration on fundamental principles allows student of all levels of experience and from all traditions to build their own authentic Yoga practice. Considered the "teacher of teachers", students return to Donna's intensives year after year to be a part of the inspiring evolution of Donna's own practice and teaching.
Donna is the author of four contemporary classics; The Breathing Book, Yoga Mind, Body & Spirit: A Return to Wholeness and Bringing Yoga to Life: The Everyday Practice of Enlightened Living. Her fourth book Teaching Yoga: Exploring the Teacher-Student Relationship is a curricular text for teaching trainings worldwide. She has been profiled in four separate publications on exceptional contemporary teachers of our time, including Yogini: The Power of Women in Yoga. After nearly four decades of practice Donna believes that Yoga is about learning to befriend our self and to be in friendship with others as a means to building greater fellowship with all of humanity. American born, Donna now resides in Christchurch, New Zealand on a 30- acre farm with her horses, Santosha, Liberty and Ambrosia.