Editor's Note: Since this article was published, several accounts of sexual harassment and assault have been made public by Mark Whitwell's female students. We do not in any way condone Mark's behaviour. You can read more about the accounts here.
by Kara-Leah Grant
New Zealand born yogi Mark Whitwell has been teaching for a couple of decades and studied with both Desikachar and Krishnamacharya.
He is also the author of Yoga of Heart, and The Promise of Love, Sex and Intimacy and editor of TKV Desikachar's book The Heart of Yoga. You can see a Skype video interview we did with Mark on his book The Promise here.
A month or so ago I wrote an article about my experience of attending one of Mark's classes at Great Lake Taupo Wanderlust. I was contemplating the nuances of one of the statements Mark had made in this class – that a yoga teacher is nothing less than a friend and nothing more than a friend.
It felt like there was much to explore in that one small statement, so I invited Mark to do an interview with him about the relationship between yoga teachers and students, why it so often goes wrong, and how sweet it can be when it works.
This is the result.
Mark Whitwell on The Relationship Between Yoga Teachers & Students
On why he wrote The Heart of Yoga with Desikachar:
"I went to America for the first time to look at yoga and i was shocked at what I saw. Because it was not at all what Desikachar and Krishnamacharya had been teaching me… It looked and felt entirely different."
"When you put the principles of Krishnamacharya into these forms of yoga that have been popularised it turns it into actual yoga. It makes it very powerful… It makes it safe."
"He (Desikachar) said "Mark, The heart of yoga is the relationship between the teacher and student."
On the social dynamic of disempowerment:
"J Krishnamurti had said…to Desikachar "Don't become one more monkey. Don't become just one more know it all… Swami Know-it-all-ananda, and create the social dynamic of disempowerment."
"They are cultivating the mind of seeking. That presumes that I am less and trying to get more, trying to get the state that teacher is in."
On why he says "A yoga teacher is nothing more than friend, nothing less than a friend.":
"The matter of yoga is transmitted in relationship. In actual friendship. Somebody said "If you want to get realised in this life enter into relationship with a realiser."
"As soon as you have an actual relationship, an actual friendship, actual connection, then you start to feel the qualities on that person that you are in relationship to. This is how yoga works… This is the universal methodology of the entire phenomena of human wisdom."
On the blurring of boundaries in the student/teacher relationship:
"That is the problem that arises when the teacher is seen to be less than a friend. When the teacher is seen to be an authority… And using whatever… power he or she may have gained as a means to manipulate people with money and sex."
"Desikachar said "The relationship must be negotiable.". That's simple way of saying there must be an equality to it."
"When males in particular have power.. then they manipulate that. And because sex and intimacy is repressed it comes out in dreadful ways."
On the responsibility of the teacher:
"It is the teachers responsibility to… unstitch that social dynamic of disempowerment."
"The Dalai Lama… is the most famous example of that… somebody who does not take the position of superiority at all. You can feel in his company the power of his transmission, the sweetness of it."
On what Yoga is:
"Yoga is direct intimacy, participation in the given reality.. Everybody is the power of life.. We are all in the same state."
On how to find a good teacher:
"Krishnamacharya would say "You have to be lucky.".. In other words it's grace, it's just luck."
On what makes a good yoga teacher:
"One is that you have a good teacher yourself. Two is that you practice. Three is that you care about others. They are the only qualifications. And if you meet someone like that you can stay with them."
On Krishnamacharya as a man:
"He was a beautiful man.. He had his Brahman male sternness. He had the problem of being male in a very misogynist society.. But he got to understand that problem. He did huge work to make men and women equal."
"He was like a deer…Soft and vulnerable and yet strong.. A twinkle in his eye… No arrogance."
About Mark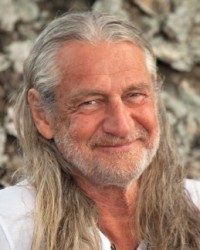 Mark is interested in developing an authentic yoga practice for the individual, based on the teachings of T. Krishnamacharya and his son TKV Desikachar, with whom he enjoyed a relationship for more than twenty years. Mark's teachings clarify the profound passion and relevance of ancient wisdom to contemporary life.
Mark has taught yoga for over twenty years throughout the US, Asia, Europe, Australia, and New Zealand, and was the editor and contributor to TKV Desikachar's book The Heart of Yoga. You can find Mark on his website here.