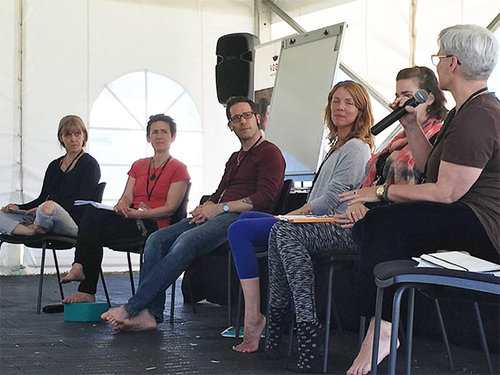 One of the many conversations we explored at the inaugural Hauora Yoga Conference was about yoga therapy in New Zealand.
This conversation took the form of a panel discussion with with a range of esteemed local and international yoga experts: Donna Farhi, Katie Lane, Jac Wilson, Leanne Davis and Felicity Molloy, and hosted by the wonderful J. Brown.
In addition to being an outstanding MC, J. also recorded the entire discussion and uploaded it to the J. Brown Yoga Talks Podcast for a wider audience to engage with: You can find it here.
In this conversation, our panellists dived into the difference between yoga teachers and yoga therapists, current standards in New Zealand and Australia, and the possibility of creating a Yoga Therapy industry that is unique to New Zealand.
This is just the beginning of a much longer conversation about the yoga industry in Aotearoa. Stay tuned for more updates on the ongoing discussions and opportunities to participate.
If you have questions, or would like to be more involved in conversations about yoga in New Zealand please get in touch at editor@theyogalunchbox.co.nz.