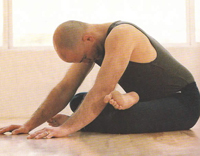 by guest author Jessica Powers
While my official Yoga anniversary celebrates the January 2001 DVD sale that got me started, I was doing Yoga back in high school without knowing.
In the afternoons I would come in the kitchen door, drop my bags on the table and carry on into the dining room: I only ever managed to get a few steps into the dining room before kicking off my shoes and melting down onto the floor.
My knees would fall to either side, the soles of my feet press together, and I'd begin exhaling my head down to the ground. Several, or many, minutes late, my forehead happily resting atop my feet, I might feel inclined to straighten one or both legs, leaving them together or sending them wide. I didn't hold the postures with any muscle effort, I just let go into my body, into gravity, and practiced what I wouldn't know was Yin Yoga for the better part of the next decade.
Understandably, I was delighted and amused several poses into my first Yin Yoga class. Though I'd never thought of it as Yoga, I knew this way of moving. It wasn't an exercise in physical coordination or breath expansion like Vinyasa; it wasn't an exploration into alignment and proper form that is a hallmark of the Iyengar method; it was, and still is, my natural instinct towards self-practice.
So, what is Yin Yoga? How is it differentiated from the many other styles? Where did it come from?
The practice as we know it today comes through martial artist Paulie Zink, who was taught it as the basis of his Kung Fu training and calls it Taoist Yoga. Well-known Yin teacher Paul Grilley was introduced to this practice while watching Zink, at a performance, studied with Zink, for a while and went on to share it with Sarah Powers.
Paul Grilley uses Yin to highlight the importance of skeletal variations and the need for individuals to work within their body's structure and for teachers to release standardized ideas of what postures 'should' look like. Sarah Powers, credited with coining the name 'Yin Yoga', brings a Chinese meridian understanding of the body to her instructions and intertwines Buddhist philosophy and Interpersonal Psychology with the practice to emphasize its meditation potential. It should be mentioned that I am no relation to Sarah, we just share an excellent surname.
Yin Yoga is an essentially quiet, still practice. The main unique facet of Yin Yoga is how it is practiced and what it aims to affect. Hatha Yoga as practiced in the West is generally Yang oriented, that is to say it focuses on muscles, movement, and heating of the body. This is good! As  Paul Grilley often reminds students: we should exercise Yang tissues in Yang ways, and Yin tissues in Yin ways.
Yin tissues such as fascia, bone, and joints require a different approach than the Yang tissues. Instead of using the muscles to hold bone to bone as we do in Yang forms of Yoga, in Yin we ask the muscles to relax their effort and allow the spaces between bone and along the energy lines of the body to open.
As I've experienced it, this acts to wring out the interior areas, similar to squeezing out all the old, dirty contents of a sponge before submerging it into a clean bowl of hot, soapy water so that it's ready to clean the dishes. The pressure and time spent in a Yin pose work to flush out the old energy and contents of an area so that when the posture is released new energy and vital components can flood in and lubricate it anew. To do this takes time. And begins to speak of how one practices Yin Yoga.
The Three Tenets of Yin Yoga Practice
Take the form of an asana loosely. Merely move your body into a suggestion of the full pose.
Soften unnecessary effort. Let go of muscles as much as you are comfortably able. Use gravity as your main prop. If this is not available without pain, use blankets to support the body just enough so that it feels safe enough to release into gravity.
Remain for a length of time, generally 2-5 minutes, but possibly up to 20. This is the challenge of Yin, and where its benefits lie: time.
If we are comfortably at our edge in a posture, it is the time we spend in stillness at the frontier of new possibility that works the tissues. To move too quickly beyond our limitations can damage these delicate areas, but gently allowing gravity and the breath to probe the limits can awaken the body and expand its ability further. Somedays even, it just feels good.
Try it for yourself: Baddha Konasana, Cobbler's Pose, the Yin way.
Sit comfortably on your mat or a blanket on the floor. Allow your feet to come together and the knees to drop away from one another. Make sure that your knees feel comfortable and safe, moving the feet further from the groin can usually provide this without use of blankets. Set a timer for 2, 3, or 5 minutes and keep it nearby, within reach. Knowing that you will be alerted to come out will remove the anxiety of clockwatching in the asana.
Rest your hands on your knees and loosen the shoulders down the back. Inhale and lengthen your spine upwards. Close your eyes: they don't need to see where you are going. Exhale and begin to fold forward. Take a pause as you inhale and then continue the forward fold as a rounding of the back. This pose is a forward bend, meant to stretch the length of the back of the spine. Alternate lengthening your spine on inhale with folding forward on exhale so that you can keep the front body open and the breath full.
Stop folding forward when you feel sensation in your body. Notice where the feeling occurs. It may appear along your back or the inner groin. Do nothing but breath here. Instead of going further into the form of the pose, focus on the breath moving to the area you are experiencing most intensely. Breathe and be curious about the feeling: does it change? Move to another area? Change its pattern? Diminish? Pulse?
After a few breaths you may feel able to drop a bit more into the pose, do so until you again are made aware of the stretch in your body. Stop, breathe, become aware of the body. Continue in this manner, moving incrementally deeper in the pose, until you find yourself fully engaged in bodily sensations while still maintaining a clear, calm breathing cycle.
From here turn your investigation towards your mental body. Are you uncomfortable with strong, prolonged feelings in your body? Bored without vinyasa? Do you interpret all sensation in your body as dangerous or painful? Where does your mind go when the body is still? Past, present, or future? Fantasy and dreams? List making? Do your eyes fly open and begin to search for new stimulus?
You decide: breathe into the body or breathe into the mind. Where do you need more space and compassion? Send kindness through the breath to where it is most useful to you in this pose, in this moment. Keep breathing easily and holding space for you body to release to gravity.
When the alarm sounds, reach out your hand and turn it off without lifting out of the pose. Begin to deepen your breath, utilizing the exhalations to stabilize and engage the core to move you slowly upright. Once seated with the spine lengthening to the ceiling, feel into your body. You might like to lean back on your hands and extend the legs forward in front of you, investigating the flush of energy and fluids down the legs after their prolonged flexion at the knees and hips.
Because time is the magic element in Yin Yoga, one practice of Baddha Konasana while helpful and enjoyable will not engender long-term effects. It will, I hope, have given you a taste of the practice. If there isn't a Yin class near you, select some favourite floor poses, approach them with this theory of softening and remaining for a lengthen time, and see what unfolds within you.
.

Yin books worth reading: