How yoga helped me stay grounded before flying.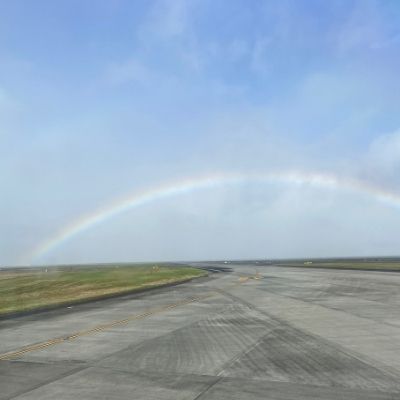 By Veronica King
Feels surreal to be writing this piece on my parent's kitchen table in Adelaide. The trip that was cancelled 3 times due to border changes, it would appear that it was 4th time lucky. The last few years we have been shrouded in fear, separated from our loved ones, and unsure if anything we planned would actually go ahead. As I prepared for this trip, I knew my practice was helping me stay steady and grounded. I'm sharing this to share hope, and to share the true treasure of our practice, grace. 
How do you live yoga when the practice happens on the mat? 
Took me a while and the right teacher, who shared yoga philosophy in conjunction with asana, to understand that the point of yoga entirely is to embody the teachings in life, in our relationships, in our choices and in our response to the world. (Not just when we are on a yoga retreat). After all the Bhagavad Gita takes place on a battle field, in the eye of the storm of life we dig deep into the teachings for guidance. It is often in crisis we are most deeply transformed.
Back to organising travel in 2022 here is how a few principles of yoga helped me:
Surrender: 
This trip was going to happen in its own window of time, in divine timing. I was going to have to let go of when I thought it was going to happen and allow it to unfold when the conditions were right. I kept trying to schedule the trip, I used the same credit 3 times, I knew that the more I pushed for it, the more disappointment and emotional distress surfaced. In January I decided I can't keep postponing my life so I could get this trip done, it was blocking the flow in other aspects of my life. So I fully surrendered. I let go of "doing" and gave myself permission to just be with how things were. To stay put.
Prepare and make informed choices:
In every practice there is a warm up to prepare the body for where we will take it. Over time we learn our boundaries and we consistently practice what we can, so that one day we might just surprise ourselves with access to the new pose, or transcend pain and tightness we once felt. Gone are the days of quickly popping across the Tasman, there was a lot of research and extra hoops required in this window of opportunity that opened up. As I mapped out the logistics of pre-departure tests, isolation on arrival, isolation on return and travel certificates, I decided yes, it was plausible.
Leap of faith:
At some point when we are trying to get into handstand we have to trust that we have the strength to hold ourselves, kick our feet up and go for it. As much as I like to meticulously know how my travel will go (as an ex travel agent it was unfathomable to think I would depart with the possibility that the criteria for getting back home to NZ might change while I was away), everything else in my life pointed to this particular moment as the right timing. I meditated and decided this was the moment of faith.
Power of the present moment:
Over the course of the week I quietly vowed to stay in the present moment. I didn't make big declarations that I was going, I kept quiet so I didn't spend time talking about it with lots of different people.
I was harnessing the energy of prayer to stay anchored and present in each day. I didn't want to be dissipating my energy and faith, I couldn't allow other people's beliefs on whether it was possible or not to throw me off course.
I also wanted to contain my anticipation with an almost zen-like quality to my thoughts. I didn't let myself imagine how it would feel to hug my mum.
When you think you have surrendered, surrender some more:
The night before the flight, the closest I had been to ACTUALLY flying, I got a notification from Air NZ. "Due to severe wind conditions the flight tomorrow may not go ahead, here is a link to rebook".
Wait, WHAT!!!??? Wind, really, after this time it was wind that was going to stop me? I paused mid panic reaction, looked at my husband and he said "there is nothing you can do about wind, let's just see what happens in the morning" and he was right. I would get up and go to the airport and hopefully overnight the wind, and my destiny would have a chance to figure it out. Unlike in times gone by a delayed flight can change the required window for the validity of the pre-departure test and at $250 that was going to present a challenge to the overall time I had to complete the travel (spoiler alert there was a 3-hour wind delay but this story has a happy ending).
We have had to really live our yoga to not only survive but to thrive in these times. 
There is a distinct moment when the muscle memory of yoga becomes embodiment, a moment where we transcend the mat and practice in every space imaginable.
May your yoga practice serve you beyond your favourite poses and into the wild of life. For so many, who await reunions with loved ones, don't lose hope, the forces of love, connection, and faith are strong. And to quote my teacher and mentor Katie Lane, "you are so much stronger than you think you are".
I'll never forget the day, quote a few years ago now, I text her all excited, "I get it now, my yoga just came to life. I understand what you were trying to teach us."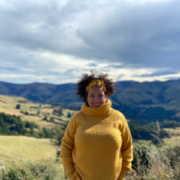 Veronica King is the editor of The Yoga Lunchbox, longtime yoga teacher, and founder of The Yoga Nidra Project, an online recorded library. Back home now in NZ, and ever so grateful for the opportunity to have this trip FINALLY completed.