By guest author John Falepau, Yogi John
My yoga journey has very much been a progression of listening, learning, watching, inquiring, listening more, learning more, experiencing and assimilating the effects from yoga into my life and being.
A lot of what seemed daunting at first – asanas that felt uncomfortable, Kirtan (pronounced keer-tahn, with a slight rolling of the rrrrs), words that I couldn't pronounce or remember – I am now mastering.
I feel the expansion of my ribcage as I inhale in downward dog, my sankalpa is repeated with conviction, Kirtan is sung at the top of my voice, and well, I have become Yogi John.
Over the last few months, getting on my man mat everyday has been another progression to my yoga and life journey.
Jo had been telling me (like ever since we met) that doing a yoga practice everyday would be good, yet I hadn't yet heeded her words.
Was it my man ego not wanting to listen?
I was invited to lead a kirtan at Kara-Leah's book launch for Forty Days of Yoga, which is all about breaking down the barriers to setting up, and maintaining a regular home yoga practise.
With my kirtan done, heart open, I came away inspired from what I had heard and been a part of.
It wasn't long before Jo's words of wisdom over the years resurfaced and I decided the time to do it was now. Get on my man mat everyday and do yoga.
Forty days straight creates a habit, and a habit I wanted it to be.
As a project manager, getting things done on time, all the time, requires a lot of planning, and I wanted the same with my yoga, so to make sure I was ready for my forty days straight, I decided on a regular time slot that was doable, and a practice that was "fit for use".
Jo is always telling us in class that
The posture should be steady and comfortable,
So with that in mind I chose asana that made me feel great, were comfortable and I enjoyed doing.
A week later, with plan and practice mapped out, I got on my man mat for the first day of my own "forty days of yoga".
My body intuitively let me know what postures it wanted to do, and what initially started as a seven minute practice has grown according to my body's needs, and at six o'clock in the morning, apparently it has them.
After settling in to my breath and body, Pawanmuktasana unlocks my prana – it's a latte for my hands and feet, then churning the mill, five to the left and five to the right, boat pose gets my core in action, and bridge pose tweaks my thyroid and parathyroid glands, releasing the feel good factor.
Cat and cow pose loosens my spine and hips for the movements of my day, my favourite downward dog, then plank, and now upward dog too, instilling strength and flexibility to my spine, and finally, five half sun salutes, a deep connecting finale to round off ten beautiful minutes of yoga.
That's all it takes, ten minutes on my man mat, and now it's a habit that leaves me feeling great and ready for the day ahead.
A buried thought no more, I've done it, not just for forty days straight, but everyday since, and loving it.
I'm not sure why it has taken me so long to do a daily practice, well I do really, it's when my mind and body decided to.
And that's become a huge part of my yoga, listening intuitively to my body, and look where's it got me, on my man mat everyday, doing a practice that's just for me, and thanks to Jo, Kara-Leah and Forty Days of Yoga it is now everyday.
Hari Om
Yogi John
More about John Falepau: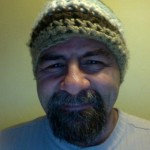 John Falepau aka Yogi John shares his amazing journey from bodybuilder to yogi.
From the heart, funny, insightful and meaningful musings from the man mat can be found on his blog, Yogi John – Musings from the Man Mat.