The joys and challenges of teaching and practicing yoga online. By Sandra Palmer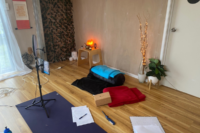 Since the arrival of Covid 19 into our world, the way we teach yoga has changed.  Studios and teachers rapidly adapted to the closure of their brick and mortar studios and many immediately started teaching online. Some teachers and students love this online environment and, equally, many people loathe it. 
I  refer in this article to teaching online yoga as a valid choice and method of teaching yoga. I am talking about those teachers who choose to create and keep online yoga platforms even when studios are open. 
And to be transparent and honest, I am one of those teachers. I love it. 
I have been teaching online yoga for a few years now, teaching Trauma Sensitive Yoga (TSY) under BodyMindPsychology (www.bodymindpsychology.co.nz) funded by ACC sensitive claims. My colleague Bridget McNamara and I had been teaching in-person (or In Real Life IRL) for a few years when we started receiving requests to teach TSY online so students other than those in central Auckland could participate. We completed a national pilot for teaching yoga and meditation online for ACC and were subsequently given permission to do so. I have since developed my own private online Yoga & Wellbeing studio for very self-centered reasons – so I could stay living in Waipū, Northland, and continue to reach those who enjoy my teaching.  At the time of writing this article, the number of online classes continues to rise, partly as a result of Tāmaki Makaurau/Auckland being in another extended lockdown. But many teachers, like me, may continue to teach online once studios reopen. 
In February, the rise in online yoga teaching was predicted to be one of the biggest yoga trends for 2021. The other two predicted trends were a focus on mental health and further training for teachers (due to the accessibility of online training). 
There are three main ways that yoga is taught online: 
Live online classes via platforms such as Zoom where the teachers and students can see each other and chat and connect and people practice together (most like an IRL class, but online) 
Live online classes where only the teacher can be seen but students can message or chat to the teacher eg IG live, FB live
On-demand classes which are pre-recorded and students watch in their own time (including IGTV/IG video, IG live replays, FB replays, YogaGlo, etc) and there is no chat function (the least like an IRL class)
Those yoga teachers who are adamant they will never teach online (and there are many), suggest a lack of community in online classes. And yes, there is not the same level of immediate, direct, community, as there is in practicing in a room IRL. However, even IG live provides a sense of connection when you see other students arrive in the virtual space. I can still feel that connection – as a teacher and a student.
What are the joys of teaching yoga online as a teacher? 
The obvious benefits include the lack of travel and set up time for yoga classes. We don't need to travel across town and set up and let students in. We can just wander into another room (in my case I wander across a paddock into my office/studio). 
Another benefit is that I can teach anywhere and anytime. I am living the rural life that I want whilst doing what I love – teaching yoga, meditation, and wellbeing practices. That joy permeates all that I offer. 
If we are offering on-demand rather than live classes, we can pre-record these when we are feeling really inspired and energised, so our students are getting the best of our creativity and energy.
And my experience as a teacher is that I can stay really focused on what I am teaching rather than being distracted by what is happening in the room around me (i.e. bodies). 
This is also one of the main challenges too – I am not able to respond to what is in front of me i.e. the bodies, and adapt my cues and teaching accordingly. 
It may feel isolating as a teacher when only teaching online and I have the benefit of teaching weekly TSY and monthly studio classes in real life in Auckland to combat those feelings of isolation. Many teachers go into a studio to record or teach online. The best of both worlds again. 
Some teachers speak about missing that "resonance" of teaching a class in real life – that vibrating of your cells with another. And yes, it's not quite the same as being in a room with other bodies. However, as a somatic-based psychologist, I primarily only work online now. And I know from my experience it is possible to resonate with other bodies via online platforms. We can still use our own mind-bodies and nervous systems to help regulate others' bodies no matter where they are.  
One challenge I didn't foresee was that you may see more than you bargain for when teaching online. I was teaching a Zoom based Yoga Nidra class during lockdown. One student had her video on, sound coming through earplugs and was lying on the floor of her bedroom. Her husband came in and I could see him clearly as he meandered around the bedroom. I had this growing fear that he was going to start undressing in his own bedroom, not knowing he was on Zoom (didn't happen, fortunately)!!!!! 
Maybe you have considered teaching online but wondered if it was for you. Maybe you are teaching online and either loving it or loathing it. Either way, online yoga appears to be here to stay in the long term. 
For free online practices Sign up for the Free 7 Days of Embodied Self Care & Wellbeing https://app.heymarvelous.com/sandra-palmer/product/34433 
References
Farb, N, Daubenmier, J., Price, C.J., Gard, T., Kerr, C., Dunn, B.D., Klein, A.C., Paulus, P.M., and Mehling, W.E (2105) Interoception, contemplative practice and health. Frontiers in Psychology, https://www.frontiersin.org/articles/10.3389/fpsyg.2015.00763/full 
The three biggest yoga trends in 2021: https://www.yogiapproved.com/yoga/yoga-trends-2021/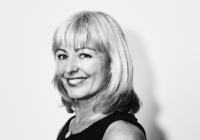 I am a Registered Psychologist, certified iRest ® teacher and 500 hours + trained yoga teacher. I teach Trauma Sensitive Yoga and iRest Yoga Nidra meditation funded by ACC ISSC in Auckland, restorative yoga + yoga nidra in Auckland and Waipū.  I have an online Yoga & Wellbeing studio with reach across Aotearoa https://www.integrativetherapy.co.nz/
FB Sandra Palmer Yoga & Wellbeing
IG @sandrapalmerwellbeing