Want to win a $100 voucher to Flip Your Dog? See the end of this article.
If only I could live in yoga gear that doubles as all day wear, then I could practice, walk, run, workout anywhere, anytime while getting all of life's other things done.
Oh yes please!
Since having my children (aged five and two) jeans are a thing of the past.
Anything with a forgiving waistband – allowing me room to belly breathe, repeatedly get up and down from the floor with the kids, nip off to a yoga class or out for a walk, and into the office to take care of business – gets one massive tick from me!
Short on time and inclination, the appeal of costume changes several times a day to adhere to the occasion just wasn't for me any longer.
Black leggings became a staple of my wardrobe and while this is all good and well I really needed an injection of colour and style, and (in the nicest possible way) by the looks of some other active women out there, so did they!
Without a doubt there are plenty of commercial mainstream sportswear manufacturers out there, and at the press of a button we can be geared up for our sport of choice.
I had plenty of clothes to work out in but nothing that stood out from the crowd, and nothing I could happily don all day. Of course I could venture out to the overseas market to find my dream gear, but the cost of international shipping and taxes made this an expensive exercise.
It was from this tiny seed that the seedling of Flip Your Dog was planted.
I had a genuine desire to dress myself and other like-minded women in comfortable stylish threads to cater for their entire day. I set out to create easy access to edgy yoga and active-wear brands that excel in beautifully cut clothes with shapes that flatter your body.
All online, in one locally-owned e-store.
And so my journey began….
The first pair of leggings I spied were Teeki – Leggings made from recycled plastic drink bottles!
Surely not?
It's true. In a nutshell the plastic bottles are collected, sorted, washed, crushed, chopped into flakes, melted and made into pellets that are again melted and extruded to make fibre.
Teeki leggings are 79% recycled plastic and 21% spandex.
They feel like a second skin and with their standout designs look like nothing else on the market. Their lightweight feel and wide waistband make them an all-day every-day item.
After a little further delving I found Liquido Active. Made in Brazil, Liquido flaunts bold colourful designs with a variety of waistband styles and leg lengths.
Form fitting, flattering, and incredibly comfortable. Since receiving these they have become my daily staple. Whip on a miniskirt or a long tank over top and off I trot feeling colourful and comfy.
Now all I needed to complete my dream all-day wardrobe was to find a sportswear brand that excels in leisure wear to give me the extra pieces to mix and match with my leggings.
I chose Hard Tail, a pioneer in the premium sportswear market. I love their ability to cater for the studio or gym and the rest of the day. Founded in Santa Monica, California 1991, this signature brand stands out from the crowd because of its stunning colour palette and signature design elements. Flattering styles with lines that suit any body. Durable hard wearing fabrics that will last the distance working out and hanging out.
With said exciting journey in hand and shelves full of stock, the temptation to dress myself from them everyday is driving me nuts!
So I must enforce discipline and limit myself to a small number of pieces until things get up and running. The journey so far has presented some very interesting insights. While being a mum is a great job, it can be tiring and relentless.
However, as I said to my partner a few weeks ago, since becoming twice as busy and having a new focus, I have a renewed energy and feeling of excitement.
Ironically I am more tired than I was before but I have more energy so I figure I must be doing something right!
So if my journey resonates with you and your fashion ideals, have a peek at the Flip Your Dog website from Mon 18th Nov or subscribe today Flip Your Dog Facebook page and get yourself into the draw for a $100 voucher.
We have other exciting launch giveaways including 2 copies of Kara-Leah's Forty Days of Yoga and Trilogy product samples PLUS free domestic shipping for a limited time.
Why wouldn't you?
About Janelle: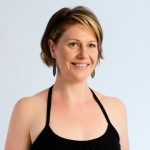 Foremost these days I am mum to two daughters and partner-in-crime with Neil. We live in Albany, Auckland where we love the community, lifestyle and local beaches. Prior to dog flipping, I spent 12 years in the Film Industry in NZ and abroad as an Art Department Coordinator and Costume Supervisor. I also hold a degree in Psychology and Education, which definitely comes in handy on a daily basis.
My earlier years were all consumed with ballet, tap, jazz, and contemporary dance. 15 years of exams, competitions, choreography, and performance. I loved it. These days I practice yoga as often as able, and when I am not practicing I carry its principles with me. On sunny afternoons I can be found at the park with the kids working on my handstand.
Flip Your Dog can be found on their website and Facebook page.