By guest author Brook McCarthy, 30 Steps

I was your typical baby hippie.
I grew my armpit hair, ate lentils, chanted Hari Krisna, and choose my university subjects by how I perceive they'd help with the old "meaning of life" conundrum.
My late teens and early 20s were spent meditating, chanting, teaching yoga and travelling. I became a tour leader because I didn't like having to return home in between travels to make more money to travel again.
For two years, I took small groups through south-east Asia. I often visited Angkor Wat and surrounding temples every single week. I hardly went in at all by the end.
Money makes the world go around.
And somewhere between Saigon and Phnom Penh, I became interested in business.
I blame the Vietnamese – a naturally enterprising and energetic people (insofar as a whole nation can be generalised).
Time and again, I would turn up at a restaurant without a booking, with a crowd, and be ushered to a prime table. The owner would infer that we were old friends, while laying on the jokes, drinks and bonhomie. Each person would be made to feel special. Split bills? No problem – we'd each be given a little receipt with our individual orders and mine, invariably, would say "free".
On a tour in the Mekong Delta, our local guide spoke of the abundant fruit and vegetables of the area and its enduring poverty. For a kid with a liberal Arts degree, this made no sense.
I had my first economics lessons on supply and demand by way of bananas and coconuts. Economics began making sense to this middle-class big city girl.
Travelling and working in third world countries brings the means of production into focus.
We would line up at border crossings next to people hauling carts of produce to sell across the border. I bought toiletries in Vietnam, Smirnoff vodka in Cambodia and massages in Thailand.
We weren't six degrees separated from our food, clothing and white goods; the economic wheels were rolling right in front of us.
Distinguishing between business and pleasure.
Escorting groups of people across three countries, two overland border crossings, in two weeks or less, while juggling their culture shock, exhaustion and competing personalities has an expiry date but, by then, I was bitten by the entrepreneurial bug.
It was another four years before I started my own business back in Australia, but tour leading was my first step towards combining an income with enjoyment.
To quote Khalil Gibran's The Prophet:
You work that you may keep pace with the earth and the soul of the earth,
For to be idle is to become a stranger unto the seasons, and to step out of life's procession, that marches in majesty and proud submission towards the infinite.
Work is a privilege. It keeps us connected with our community, whether we're hauling water, writing books, teaching yoga or crosschecking figures.
We are not individuals in angst, we are humans in community. We are banded together within nations, we have government representatives, we pay taxes, and we contribute to life's majesty. Work is not separate from life – it constitutes a third of our waking hours for a good chunk of our middle years.
It is not 'good', 'bad' or indifferent, it just is.
Working for pleasure
Regardless of how useful or valuable we perceive our work to be, it is our choice whether to continue, to change, to enjoy it, or not.
We often must stick with our circumstances for a time, but we can certainly change our attitude, at any moment. When we can drink tap water without concern, assume that the police have our best interests at heart, and access free education and health services, we can easily lose perspective.
When our immediate needs are being taken care of, we ascend Maslow's hierarchy of needs to dwell in the pointy tip, where the psychoanalysts live.
There, we want to work, but in something meaningful, that contributes in a long-term way to the good of the planet, enables us to creatively express ourselves, and leaves plenty of time for skydiving.
Anyone who doesn't need to get up in the dark, toil in hard labour all day, and rest after the sun falls again, to enjoy a meager meal, is privileged.
To squander this through not enjoying your work is a waste. And yet that is exactly what so many yoga teachers do.
For, as Nadine Fawell points out, yoga teacher are shift workers and a meager meal? Try steamed kale with Tamari and sprouting mung beans.
Yoga teaching is a little like tour leading – it looks really glamorous from the outside so you hear lots of infuriating suggestions that it's not really work, therefore you shouldn't really be paid.
Let's talk about money, honey
There are those who insist on delineating between pleasure and scourge, and view money as an enabler towards further pleasure.
Then there are those who love what they do and see little separation between work and pleasure, so they are confused about where money fits in.
But money is meaningless.
It is the cog that turns the wheels of our economy but it has no deeper significance. Money is merely an expression of appreciation, an exchange of value. We can't turn kind words into food and electricity, as much as we may like to.
If your basic needs are being met, and you have a positive attitude to work, then view money as an indication that you're appreciated. But don't ever think that lack of money is lack of appreciation. It just means you haven't hit on the right people to ask, in the right manner.
Money keeps you in sync with community and enables you to do more of what you love to do. It doesn't have to be complicated.
About Brook McCarthy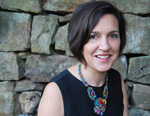 Brook McCarthy is over seeing yoga and wellbeing professionals languishing in the sidelines, slowly going broke because they treat business like a hobby, burn out too quickly, feel guilty and shamed by money, or miss the connection between passion and profit.
Brook enables health professionals to amplify their impact through authentic marketing and compelling communications. Her group coaching program, 30 Steps, opens for registration June 30.