by Nik Robson
On Sunday the 17th of January I taught Yin Yoga continuously for 12 hours.
My experience that day was paradigm shifting and has led to me creating a new way to offer my teachings. We need not limit ourselves to linear, hour or even 90 minute yoga classes when possibilities are infinite.
Imagine Socrates back in the days of Ancient Athens, sitting around all day with an openness to share his philosophy with anyone and everyone.
This is how I'm now offering my Yin Yoga teachings. I create a space for people to come and explore yin yoga in a way that best serves them. Stay as long as you like, come and go as you please, take what resonates with you and leave the rest. In the same vein as Socrates, I offer more questions than answers and invite people to find their own truth.
The idea of a 12 hour yin class came to me in between coconuts while sitting poolside at Talalla Retreat in the South of Sri Lanka.
I had just returned from teaching a weekend Yin immersion at Prana Lounge Colombo which included 9 hours of physical practice. Many people felt the extra time allowed them to go deeper into their practice. It got me thinking… What would happen if I taught a 12 hour Yin Yoga class?
Sometimes ideas float in and out with the wind. This one stuck. I set a date. I shared the idea with Wanderlust who supported the event with 2 tickets to give away for the Great Lake Taupo Festival.
The concept of a 12 hour yin class had never been done before… I was venturing into uncharted territory but I had a clear vision.
That vision manifested into reality almost exactly as I had imagined it. Here is how it worked:
First, I knew I couldn't do this alone so I teamed up with Cristina – The Vibe Tribe to promote and organize the event.
We arrived early and set out 25 mats with props and hooked up a 20 liter keg of OM Kombucha on tap for refreshments.
Cristina, would stay at the door to take names and money. Yin is unique in that it requires no warm up and is gentle enough on the body to practice for long periods.
When someone arrived while we were in an asymmetrical pose I would put them intochilds pose until we got to the next one.
Breakfast, Lunch and Dinner were eaten on my mat and I would secretly sneak off to the toilet while the class was in a pose.
I set myself up on my mat preparing to teach for 12 hours with no set plan except to go with the flow.
Incense lit, I took a deep breath and cleared my mind.
8am – 8 people are gathered on their mats. Another 3 arrive as we settle into our first pose, Child.
10am – We are nearly at our 25 person capacity. People are coming and not leaving. Breakfast is delivered by The Botanist and I eat my sandwich on my mat while they are in a pose. Pretty sure no one noticed. The room begins to settle and I feel myself drop into a flow state.
12pm – We reach capacity with 3 waiting to enter. I chat with Cristina and decide to take everyone on a walking meditation around Victoria Park while she fits more mats into the room. We step our way around the park in a single file line, silently moving to the mantra… lift… move… place…
2pm – The room is full and despite the constant interchange of people the mood is quiet and still. Time effortlessly flys by. I don't have much memory of this period.
4pm – I drop out of a flow state and back into my thinking mind. I start to have to think about what to do next… I've run out of yin poses.
6pm – With 2 hours to go I feel my 2nd (or 3rd) wind kicking in. The last 2 hours are the most intense of the day. Cristina closes the doors. I throw on Fata Morgana by Arli Liberman and turn it up. I feel like I'm channeling… We start moving through a dragon flow progression which evolves into something I have never taught before. I practice with the class for the home stretch and the energy in the room is electric. I run out of time for savasana…
8.05pm – Savasana. Namaste.
After the 12 hour yin class I felt open and energized with so much gratitude for being able to share this experience.
My faith is so strong in the healing and transformative potential of Yin Yoga.
People reported arriving with the intention of staying for 1 hour and realized as they went to leave that they have been there for 3 or 4 hours. Many stayed for 6 hours and one amazing yogini stayed for all 12 hours. Over the course of the day over 100 people attended with many people going on to profess their new found love for Yin Yoga.
I feel blessed.
At one point I looked out the window and saw cars speeding by… I looked up and saw toweringskyscrapers… I saw people rushing here and there. I looked back into the room saw 30 people quietly breathing and stretching, slowly and carefully moving between poses.
The contrast was striking.
The yin/yang symbol is a black and white circle separated with a swirling line. The dark side is yin, the light side is yang side but each side contains the seed of its opposite.
At that moment I saw that we were the dot of yin in the center of a great mass of yang energy – Auckland City.
That day we created an oasis of calm and tranquil energy in the heart of the city. In a world where balance is key, it is so important to remember to honor the yin side of life.
A new way of teaching and practicing Yin Yoga was born on that day.
I offer an open invitation to come and explore your yin side with me.
I believe strongly in empowering people to listen to their own bodies, to follow their intuition and do what is right for them in that moment. This is less formal than a normal class… I want people to feel comfortable to express themselves and turn their gaze inward because that is where the most powerful transformations take place.
I will be teaching in this format every week with a focus on creating an inviting and relaxed space for people to explore the possibilities of Yin Yoga – it's a perfect chance for someone to try yin for the first time or for more experienced yinsters to stay longer and see how deep they can go.
During April and March I will be offering immersions around the North Island where I will share the philosophy, science, benefits and my own personal style of practicing Yin Yoga. My weekly studio classes in Auckland will continue with Vinyasa at Yoga Tech, Hatha and Yin at OM Studio and a weekly 9am -5pm drop in Yin Yoga space hosted by Urban Ashram. See you on the mat.
Peace,
– Nik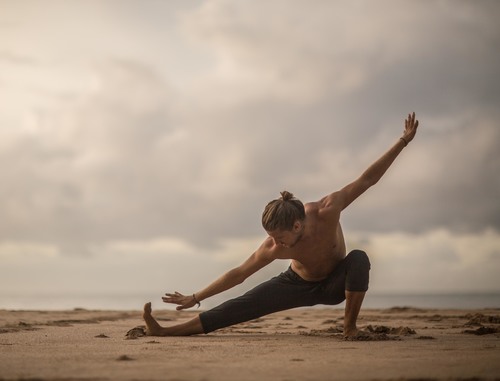 About Nik Robson
Nik's teaching style is eclectic & modern, blending influences from Yin Yoga, Vinyasa Flow, Budokon, Vipassana Meditation & Thai Yoga Massage to create a unique, holistic approach.