Yoga can profoundly transform our lives – physically, emotionally, mentally and spiritually. It can take us from a place of utter despair to a place of complete joy.
The process and journey of yoga is not always easy though, and it always helps to have someone to walk the path with.
That's where The Yoga Lunchbox comes in – here you will help you find support for your journey, wherever you might be along the path – shiny, fresh, novice student, or decades-long, dedicated practitioner.
We at The Yoga Lunchbox believe that:
Yoga transforms lives by healing mind, body and spirit.
Yoga isn't just something that we do, yoga is the quality of presence that we bring to everything we do.
Yoga has the power to transform our society from the inside out.
The best articles are those written by yoga practitioners about their real-life experiences of learning on and off the yoga mat.
The Yoga Lunchbox is here to:
Reassure us that whatever we encounter along the path of yoga is all part of the process.
Encourage us to try more than just asana, and to try more than just going to class.
And it's here to celebrate the joyful aspects of making yoga a part of your daily life.
In our 1000+ articles you'll find loads of ideas and suggestions on how to practice that promote, and advocate those very things.
There is no doubt that somewhere on this site, there will be something you're looking for about yoga. Just use the Search bar to find what you need.
Top 10 Things to do at The Yoga Lunchbox
About Editor: Lucinda Staniland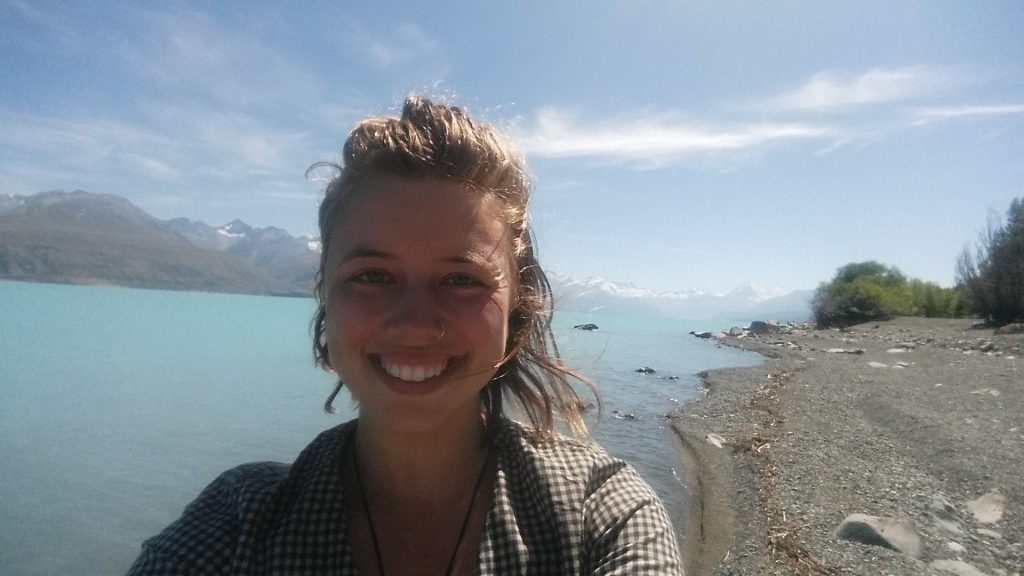 Lucinda Staniland is an editor, writer and dedicated yogi.
Lucinda has worked at The Yoga Lunchbox since 2012. She loves the opportunity to be constantly immersed in the world of yoga, and particularly in the vibrant NZ and Australian yoga communities.
Lucinda senses a deep and relevant connection between yoga and how we show up in the world. She loves all kinds of movement and body work, particularly when they take her out into the natural world. Lucinda has undertaken several lengthy cycle tours, and in 2016 she walked the length of New Zealand's South Island on the Te Araroa trail.
She's still learning what yoga is all about, but she hopes that her yoga practice will continue to lead her deeper into an intuitive understanding, and honouring, of her self, her body and her place in the world.
About Publisher: Kara-Leah Grant
Kara-Leah is an internationally-renowned teacher, writer and retreat leader. Millions of people have been impacted by the articles, books and videos she has published over the last ten years.
Her passion is liberation in this lifetime through an every day path of dissolving layers of the conditioned mind into deeper and deeper presence.
Her work, through her teaching, writing and retreats, focuses on using the process of inquiry to reveal conditioned mind and so help people to drop down into beingness and presence.
Kara-Leah is a co-founder of The Heart of Tribe along with Ben Ralston and the founder of New Zealand's most popular yoga website The Yoga Lunchbox.
Her practical and potent book Forty Days of Yoga, which draws heavily on her own experiences, has helped thousands of people establish a regular home yoga practice. She is also the author of The No-More-Excuses Guide to Yoga. 
Daily yoga practice has been the anchor of Kara-Leah's life for more than a decade now and her deep and varied practice has taught her into how to practically apply the tools of yoga to our daily lives on a physical, emotional, mental and spiritual level.
As a result, the way she teaches 'yoga' has evolved past asana classes and into her retreats, presentations, seminars and workshops. No matter how she's delivering what she does, Kara-Leah's passion is helping people wake up to their potential as unlimited beings.
Her passion now is working with people on retreat, and individually, to move past the conditioning of their mind and deep into their true nature as presence.
Advertise with Us! And Reach 40,000+ yoga-lovers every month
Want to advertise on The Yoga Lunchbox?  You have three options available to you – Display Advertising, Sponsorship or writing an Editorial Article for us.
The Three Month Sponsorship Package Includes:
An ad in the sidebar 300 px by 200p, seen by 40,000+ people a month.
One article on your product or service – could be a Skype interview, a text interview, a review, or an article. (This stays up on the website indefinitely and must fit with our editorial policy. Because it's not advertorial, we take an objective view of your product or service. This makes the editorial much stronger, and people are more likely to trust it.)
Six social media mentions over the three month period, not including the mentions about the editorial piece. (Facebook 5100 fans)
An ad about your product or service in the sidebar of the RSS email, which goes out to 1600 people once or twice a week
An ad about your product or service in the sidebar of the Quarterly Digest which goes out to 3800 people once every three months.
Total Cost NZ$499+GST. Full cost to be paid in advance. 
Once the money is received, the ads start running and we discuss what kind of article is going to work best to promote your product or service.
Note: Only a limited number of sponsorships run on the website at one time and this is a popular service. Even if you don't plan to advertise for a few months, it's worth getting in touch & booking your spot.
Sponsorship packages are by application only – because it includes an editorial article of some description, we have to be genuinely excited by your offering & fully believe in it so we can authentically write about it. 
Inquire below or send an email direct to Lucinda.
Display Advertising in the Sidebar
NZ$89+ GST/month
Sidebar Adverts are 300 pixels wide by 200 pixels high.
Larger ads can be booked at a proportionately increased rate.
10% discount for 3 month bookings or 20% for six months.
File types accepted are jpg, tiff or pngs.
Spots are limited, and often booked in advance. Even if you don't want to advertise now, it's advised to find out about availability.
Inquire below or send an email direct to Kara-Leah.
Editorial Articles to Promote your Product or Service
There is no direct cost for submitting an editorial article, however if it needs more than 15 minutes of editing to bring it up to publication level, this is charged at $40NZ+GST/hr. (Most articles need 15 to 90 minutes of work).
Submission Details:
Articles MUST be strong editorial, not advertorial or marketing. We have strict editorial guidelines which you can read here.
Articles must be 700 – 1500 words long.
Please include relevant details about your product, service, class or retreat at the bottom of the article.
Please also include a bio.
Not every article is accepted for publication. If we accept your article, but it needs editing work, this is charged at $40/hr. We will contact you to make sure you want to go ahead if this is the case.
This is an excellent example of a strong editorial article successfully advertising the author's retreat (which sold out).
Please submit your article well in advance of your event. We schedule 2 or 3 weeks ahead of time.
TIPS FOR SUCCESS: Make sure your article is original, informative, actionable, authentic and says something new and interesting.
History of The Yoga Lunchbox
The Yoga Lunchbox was founded in October 2008 by Kara-Leah Grant after she attended her first Prana Flow Teacher Training Module with Twee Merrigan.
Inspired to blog about yoga, Kara-Leah called her website Prana Flow NZ.
By early 2010, Kara-Leah decided to rebrand as The Yoga Lunchbox to reflect the wider yoga community she was writing about. The website was no longer about one specific yoga style, but about Yoga itself.
Since then, the site has grown to over 1000 articles including Skype Video Interviews with many of the world's leading yoga teachers including Cameron Shayne, Shiva Rea, Tiffany Cruikshank, Mark Whitwell, Duncan Peak, Ana Forrest and J. Brown.
In 2017, Lucinda Staniland was promoted to Editor, and Kara-Leah took a step back from the day-to-day running of the website, retaining her over-all vision as Publisher.