by Kara-Leah Grant
I first met Jonni Pollard at Wanderlust Great Lake Taupo in 2015. He was leading the mass meditation at 7pm on the Saturday night. I'd bumped into the other Jonnie from Wanderlust – Jonnie Halstead – hovering nervously around the Mothership, which turned into the mainstage and dance floor in the evening.
Jonnie with an E confided in me that this dude from Melbourne – also called Jonni – was about to lead a mass meditation and he wasn't sure how it was going to go down.
Yes, it was mostly a yoga crew who were used to such things, but there were also a significant number people who had trickled in over the last hour who were there primarily for the music. Jonni H didn't know how they would react to a mass meditation in front of the main stage.
There was nothing to worry about though. Jonni has been leading mass meditations around the world as part of 1 Giant Mind, a non-for-profit that aims to have as many people as possible meditating around the world as it can. I watched the meditation, enjoyed it, and figured that Jonni was just another charismatic 200HR style teacher.
Until I sat down at dinner with him and a mostly-Wanderlust crew in Auckland this year. The conversation turned to experiences of expanded consciousness. I listened to Jonni share and realised that this man really knew his shit. Sure, he was this relaxed, laid back Aussie bloke who could easily have passed in the mainstream world. But he also had a deeper understanding of meditation practices and how they systematically open up the consciousness on the road to awakening.
Remember, Yoga is the path to self-realisation, and postures are merely one of the tools one uses along the way.
Eventually, the practice moves into the more subtle, of which meditation is one.
I sat down with Jonni to find out more about Vedic Meditation, the mystical experiences that arise when one practices, what transcendence really is and whether or not all the asana we're doing it of any use. He also talks about why levels of mental illness are on the rise and how we can use meditation to break through the cultural paradigm we've been indoctrinated into.
Of all the interviews I've done over the years… this is my favourite by far.
Jonni Pollard on Vedic Meditation, Mystical Experiences & Global Awakening
About Jonni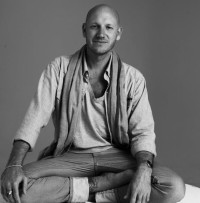 Studying and teaching for over 2 decades, Jonni now travels the world teaching meditation, running workshops, retreats as well as personal and corporate consulting. The foundation of his teachings stems from the timeless Vedic tradition. The core of his teachings focus on self knowledge for self actualisation.  
Jonni is the Co-founder of 1 Giant Mind, a not-for-profit established to elevate that level of mental health and wellbeing in the world.
Jonni also spends a lot of time travelling speaking and facilitating mass meditation experiences around the world. Find out more about him on his website.