I've lived in Germany, France, Hungary, and Malaysia, then spent seven years in the UK and finally, two years ago, moved to the other side of the world: to Melbourne.
Apart from the usual challenges relocating always throws at you (no matter how often you've gone through the whole process!) if you're a dedicated yogi, one particular challenge is finding a new place to roll out your mat.
No, not just any yoga studio, but somewhere that resonates, where you love the vibe, connect with the teacher and a place that will soon become your new "yoga home".
And no, it doesn't get easier, even after six countries on three continents – the only benefit I can see from constantly moving is you build a strong self practice, simply by necessity!
Again and again I realised that while it's easy to buy a guide book that helps you with getting to know your new city, that it's easy to find restaurant guides, and, well, guides to about everything – it's impossible to get your hands on a yoga guide that talks you through all the options to stretch and bend after you've finished unpacking.
For me, finding the perfect yoga class has always been trial and error and a time-consuming, exhausting and costly process.
After all, how many classes at how many different studios can you try out (and pay for!) until you either give up or are lucky enough to find the perfect spot?
What do you do if you haven't made friends yet, don't know a single person around (and, needless to say, no one who does yoga), and there's simply nobody to ask?
In addition, my job as a journalist requires frequent travel, so what to do when you're on a business trip, you don't know anyone, and your schedule simply doesn't allow for trying out yoga spots? Usually the guys at reception aren't the most reliable resource when it comes to yoga.
How handy would it be to have a guide that tells me where are those yoga spots that offer what I'm looking for in my practice, including a link to the time table and which public transport to take to get there?
After arriving Down Under I simply decided to research the guide I wished already existed myself – and then share it with fellow yogis: The idea of the BEST of YOGA guide was born! I wanted it to be a guide that tells readers about what's available, what's the vibe, what other yogis say about classes and studios, and where are the super interesting, quirky and simply different classes to try out; the guide would therefore also make a great read for those old hands who already know the local yoga scene inside out. I wanted a "Lonely Planet for Yoga", a guide that simply tells it the way it is, just as a good friend would do.
Now, after six months of countless classes, interviews with yogis and a very rewarding journey, the free BEST of YOGA Melbourne guide is online.
And maybe this non for profit project inspires others to go off and research booklets for their own cities?
Here's the TOP 10 of what Melbourne has to offer when it comes to unusual and quirky classes:
Listen to talks by visiting saints and discuss their pearls of wisdom over a complimentary veggie dinner at Urban Yoga
Salute iconic Luna Park every time you stretch up your arms and look through the panoramic windows at Ihana Yoga
Practice at a studio that has no sticky mats but a history stretching back almost 50 years, at Mangala Studios
Immerse yourself in a singing bowl meditation at Ohana Yoga
Float through your practice like you've never done it before, following the innovative fusion of styles at SomaChi
Finish up your last postures while looking forward to sharing the chai that's brewing – every morning at the Ashtanga Yoga Centre of Melbourne
Soak up the playful vibe and roll out your mat between retro furniture at the innovative and quirky The Yoga Lab
Watch the world upside down while suspended in gorgeous silks at the airy and spacious Body Flow Yoga
Practice within the serenity of a church yard, immersed in light that's seeping through multicoloured windows at Yoga Dance of Life
Be taught by a cheerful Swami in an orange robe and enjoy the satisfaction of supporting a global non for profit organisation at Yoga in Daily Life
You can view or download The Best of Yoga: Melbourne here. (It's free!)
About Andrea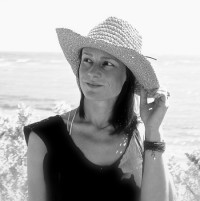 Andrea Leber is a travel & wellness journalist and yoga guide publisher with over 15 years experience in the publishing industry.
She's lived in six countries on three continents and currently enjoys life in Melbourne while soaking up inspiring ideas in mind-boggling India.
On her website you'll find stories that inspire and empower you to live, not just exist. Because it's all about finding out what you really want to do with this life.