Only last week I was moaning about not having a space to practice yoga, or indeed any space to call my very own. Well today, almost magically, I do.
Sometimes the Universe steps in and gives me a hand (or a kick up the bum). Or whatever it is that I deserve.
It seems that today I deserve my very own yoga room.
This is how it happened.
On Sunday I woke up early with the urgent thought that we needed to move the kids' beds around. The Fairy Queen, who is now 4, is still sleeping in a cot, albeit one with three sides…because I was hoping that the house extensions were going to be finished by now. Long story – another time. The short story is that my daughter's room is more like a shoe-box, hardly big enough to fit what's in it now, let alone a single bed.
However, it became abundantly clear to me on this Sunday morning, that we weren't going to finish the extensions anytime soon, and something needed to be done. It was kind of a huge job, so I went to the Bear and told him my worries. He agreed and started to measure up the room and the bed.
"It's no good Sara" he said, perched on the edge of the Fairy Queen's little bed. "It won't fit across the room. We can't put the bed in here, there's not enough space."
A little exasperated, I said "I never thought it was going to fit cross-ways in here. And don't sit on the cot like that, you'll break it."
"I've sat on here heaps of times. It won't break."
CRACK!!!!
The bars of the cot popped out of the cross-piece and the whole cot broke in two.
We just looked at each other and laughed. We knew right then there was no fighting it. Some things are taken out of our hands, and this was obviously the case today. The Universe works like that sometimes.
So we pulled everything out of the Fairy Queen's bedroom, moved the Soccer Star's bed out of his room and into hers (he was at a friend's house for the day luckily). We then moved the double bed out of the cottage (the 2nd dwelling on our 1 acre property) and into our son's room.
Two little sentences – one whole day's work.
The Soccer Star's newly arranged room. When he did come home, he looked around and said "maaad". A very cool kid.
The Fairy Queen's room with a proper bed! 
One day she might even sleep all night in there…
It worked! It worked!
When it was all done we surveyed our handiwork and said, like we always do:
"Why did we wait so long to do this?'
I don't know why the Bear hadn't done it before now, but for me, it was a simple failure of imagination. I just couldn't see how it was going to work. As the Bear said, conceptualisation is not really my strong point.
The next day I woke up early with the thought:
"There's a whole empty room in the cottage!"
When I went over there later to check it out, I just couldn't believe it. It was like a whole new room! An hour later it was my new yoga room.
Today I did yoga here for the very first time. It was like heaven.
Now I am sitting in a patch of wintry afternoon sun, underneath the window, writing this.
It feels miraculous, but it's not really. This space was here the whole time – I just didn't see it.
A change of circumstances, an altered perspective – and a whole new world of possibilities is visible to us.
Do you ever get the feeling that we exist in a multi-layered reality, the fabric of which is some undulating, shimmery stuff; now you see it, now you don't? A blink of an eye, the flight of a thought, the in-breath of a dream…is enough to change the weft and warp of the reality that is visible to us. And in that moment of change, if you pay attention,  you can catch a glimpse of world of alternative possibilities, available to us if we choose.
What are the hidden possibilities in your life?
About Sara: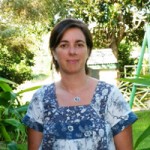 Sara Foley is one of the Beta Readers in my forth-coming book Forty Days of Yoga.
She was so motivated and inspired by reading the book, she's already written about it in this article, Forty Days of Yoga, and she's started her Forty Day Practice.
Check out her website to follow along as she commits to and completes Forty Days of Yoga.