by Kara-Leah Grant
This article was written in February 2014 for Wanderlust NZ & Australia that year. I've re-published it as Amy is appearing at Wanderlust Sunshine Coast October 2015 and it was a fabulous interview.
When I first heard that Amy Ippoliti was teaching at Wanderlust NZ and Australia, and saw photos of her, I made the assumption that she was one of the new-breed of yoga teachers – young, hip and cool but not necessarily with any depth of understanding or decade-long practice.
Boy was I wrong.
For a start, while she looks like she's in her late 20s, Amy is actually in her early 40s.
Not only has she been teaching for over a decade and a half, but she was a yoga practitioner for a decade before she did her first yoga teacher training. Even then, she wasn't thinking about teaching yoga, but about developing a yoga lifestyle and deepening her practice.
Right from the beginning – as a 16 year old when her Mum first took her to class – Amy was a seeker. She was asking the big questions – who am I? What is this life about?
Now, one of the most common descriptions of Amy's teaching is that she's the kind of teacher who can "bridge the gap between ancient yoga wisdom and modern day life".
She describes herself as a huge advocate for the hugeness of yoga beyond postures – how yoga can impact your entire life.
Watch the video below to find out how Amy got into yoga, what convinced her she was ready to teach and what her classes will be like at Wanderlust NZ and Australia.
An interview with Amy Ippoliti from February 2014
Catch Amy at Wanderlust Sunshine Coast October 15 – 18, 2015.
About Amy Ippoloiti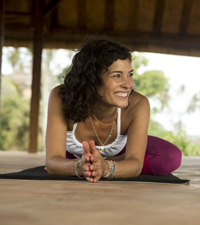 Amy is a yoga teacher, writer, and philanthropist. She is known for her innovative teaching methods to bridge the gap between ancient yoga wisdom and modern day life, helping yoga students "turn up their own volume."
A pioneer for advanced yoga education, serving both students as well as fellow yoga teachers, in 2012 she co-founded 90Monkeys, an online professional development school that has enhanced the skills of yoga teachers and studios in 43 countries around the globe.
Amy is a faculty member at the Omega Institute, Esalen and Kripalu. A regular presenter at the Yoga Journal Conferences, Omega Institute Conference, Wanderlust Festivals, and The Hanuman Festival, Amy represents prAna clothing and Boardworks Surf as a yoga ambassador.