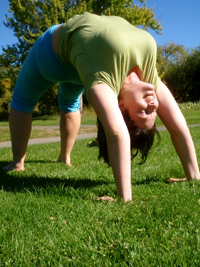 Regular contributor Jessica Powers looks at ways to open the heart – crucial if we're going to shift out of mind consciousness and into heart consciousness.
The Meaning of Anahata
The Sanskrit name for our energetic heart center is Anahata, 'the unstruck sound'.
While that at first seems to be a Zen koan, in actuality it speaks of the vibrational basis of the Universe and the place within each of us that resonates with it: beginningless, endless, eternal.
Anahata refers to the place within that is untouched by the pain and grief of the materialized world, it is a sort of umbilical cord to purity keeping us connected on a deep level to the transcendental.  It sings out without having been inspired by something outside us; it sings out because it is our deepest Nature.
In the energy system Anahata marks the meeting place of the manifesting and liberating currents.  From the crown chakra downward flows manifestation, solidifying and bringing into the material world the Divine in a myriad of forms; from the root chakra upwards moves the flow of liberation, returning through increasingly subtle states to a realm of Oneness.
Balanced between these two poles is the heart center, bridging the gap between spirit and matter, infusing daily life with magic and, ideally, peace and beneficence.  Contrasted to the second chakra, which deals with the core concern of 'me and you' in relationships, primarily through sensual, sexual explorations, the fourth chakra embodies unconditional love, a concept and act that rests on a foundation of understanding the unity of all beings.
Awakening, healing, and balancing the heart center is a wonderful way to begin balancing your energy system.  It can bring the extended translation of namaste from concept into feeling;
I honor the place in you in which the entire Universe dwells, I honor the place in you which is of Love, of Integrity, of Wisdom and of Peace. When you are in that place in you, and I am in that place in me, we are One.
In both parts of this article are a collection of useful techniques for working with the heart center to create more peace, joy, and unconditional love in your life.   Start with what interests you most, and try smiling as you go – it will lighten your heart and immediately put you in touch with the universal love song.
Breath Exchange
The element related to the heart chakra is air.  Air is a substantial, physical tie binding us to all other life on the planet.  Plants breathe out oxygen, we breathe it in; we breathe out carbon dioxide, plants breathe it in.  Air moves continuously and this flow means that means we inescapably breathe a shared resource.
To honour this exchange, sit comfortably and allow your breath to be full and unforced.  As you inhale and exhale you will think to yourself a stream of positive, unifying thoughts as follows, repeating each as many times as you like.  As you breathe remind yourself of the other beings with whom you are sharing precious breath, and feel free to create your own ideals and wording as you become comfortable and familiar with the exercise.
I inhale with love; I exhale with love.
I inhale with gratitude; I exhale with gratitude.
I inhale with delight; I exhale with delight.
I inhale with friendliness; I exhale with friendliness.
I inhale with forgiveness; I exhale with forgiveness.
I inhale with abundance; I exhale with abundance.
I inhale with appreciation; I exhale with appreciation.
Metta Meditation
This classic Buddhist meditation cultivates the qualities of the heart: compassion, loving-kindness, friendliness, good will, and sympathy.
Begin with sending these phrases to yourself; then send them to someone dear to you; next direct them to a neutral person in your life – a store clerk perhaps, or whoever delivers your newspaper while you are still asleep or at work; repeat the phrases with the intention to send them to a person of difficulty in your life; finally, send this energy to all living being around the world, known and unknown to you.
If at any time the exercise becomes challenging, return to the first step: sending yourself loving-kindness.
Take as long as you need at each stage to feel connected and open to the individual you are dedicating the phases to.  It may require ongoing practice to complete the whole of the meditation and you might find that daily meditation directed to yourself alone necessary, especially if you are new to meditating.
For many years I found it useful to do this first thing in the morning, allowing my five-minute snooze alarm to be my minimum meditation time.  Starting the day sending love to myself reminded me to be more loving to others through the day.
To practice, say the following silently to yourself as you breathe steadily.
Inhale ~ May I be full of loving-kindness.
Exhale ~ May I be healthy and whole.
Inhale ~ May I be peaceful and at ease.
Exhale ~ May I be happy and fee.
Om Mani Padme Hum Mantra
'The Lotus is in the Heart' is one of the most famous and practiced mantras.
This is the mantra for the widely revered Buddhist boddhisatva Avalokiteśvara, also known as Chenrezig in the Tibetan tradition, and Kwan Yin or Guan Yin in East Asian Buddhism.  As the Dalia Lama is considered to be an incarnation of Chenrezig, this mantra has great importance and reverance to his devotees.
Boddhisatvas are beings who have dedicated their lives to enlightenment but have put off its attainment until all beings are free of suffering.  The translation of boddhisatva as 'heroic-minded one' clearly relays the importance and difficulty of this task, determination and courage will be necessary to achieve it.
You can find an audio recording of the mantra here: Om Mani Padme Hum Mantra
Additionally, Deva Premal offers a gorgeous track of this on her Love Is Space album, equally appropriate to remind you of the inner lotus and to support your yoga asana.
The mantra Om Mani Päme Hum is easy to say yet quite powerful, because it contains the essence of the entire teaching.

When you say the first syllable Om it is blessed to help you achieve perfection in the practice of generosity, Ma helps perfect the practice of pure ethics, and Ni helps achieve perfection in the practice of tolerance and patience. Pä, the fourth syllable, helps to achieve perfection of perseverance, Me helps achieve perfection in the practice of concentration, and the final sixth syllable Hum helps achieve perfection in the practice of wisdom.
So in this way recitation of the mantra helps achieve perfection in the six practices from generosity to wisdom. The path of these six perfections is the path walked by all the Buddhas of the three times. What could then be more meaningful than to say the mantra and accomplish the six perfections?" – Dilgo Khyentse Rinpoche, Heart Treasure of the Enlightened Ones
Stay tuned for Part 2 of this article from Jessica Powers coming soon.