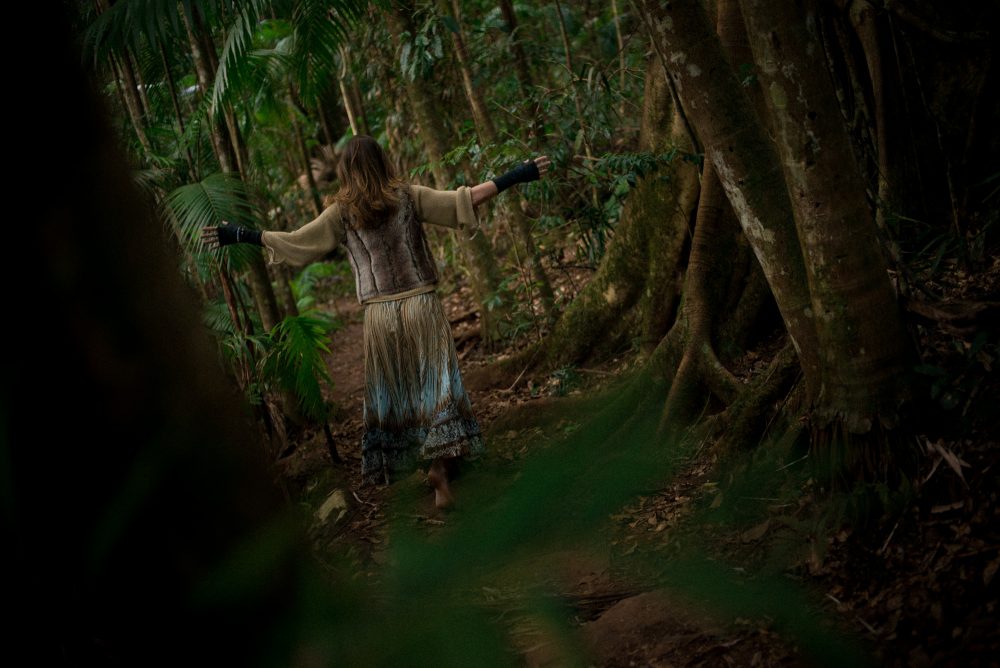 Three weeks ago, after a three or four year sabbatical, I stepped back into a Yoga Studio to teach. I'd stopped teaching because my practice no longer resembled a studio yoga class, and it was impossible to teach something I wasn't doing. It felt contrived, and wrong.
Walking away from teaching felt like walking away from a core part of my identity. But sticking it out felt like a lie.
So I stopped teaching. And I stopped going to studios because I was invariably disappointed with the classes. Asana didn't interest me – I wanted to wake up. Self-realization was my thing.
And after almost twenty years of being immersed in the yoga world – attending classes, teaching classes, writing about yoga, running an online yoga magazine, teaching at yoga festivals… I found myself estranged from the community that had given me a sense of belonging and purpose.
I wasn't yoga anymore. It wasn't me.
That hurt.
But I couldn't face how it felt when I went to class, looking for something that wasn't on offer. I found myself getting judgemental, critical, frustrated and superior. And I did not want to be seen when all that was going on inside me.
So I retreated, to retreats, where I taught less and less asana, and more and more self-realisation.
Asana still happened in my home practice, sporadically, but it was unstructured, spontaneous, weird, and no longer even suitable for Instagram.
At least, that's how it felt.
God did I miss the sense of belonging, community and purpose though! I felt like I'd put myself into voluntary exile.
Yet that was what was unfolding. My days in yoga studios were obviously done, at least on the regular schedule, because I was still teaching teachers, leading home practice modules, yoga and the psyche modules, on teacher training programmes.
And it was on one of those teacher trainings that something shifted.
Sandey Hoskins, at Om Yoga Studio, asked me to teach the Tantra portion of Om's 300hr Teacher Training.
Fuck.
I'd been doing my 1000 Day Tantra Practice – I knew Tantra from the inside out because I'd been living it. But teaching it, to teachers?
Of course, I said yes. For one, I trusted Sandey. She's been hugely supportive of my yoga teaching ever since we met on a Power Living Teacher Training in 2014. If she believed in me, I could do it. But if I was going to teach, I better immerse myself in the literature. Hello Christophe Wallis and Shambavi Sarasvati and André Van Lysebeth.
Sandey asked me to teach my daily Tantra sadhana at the beginning of the day in a regular class that studio students could attend, not just the 300hr teacher trainees.
And so I found myself, back on the schedule, for a 9:30am Saturday class, teaching the practice I was taught in 2010 by Christopher Tompkins on my teacher training. In March 2015 I'd committed to a 1000 Day practice of this, and despite dropping the ball twice – on Day 338 and, the second attempt, on Day 617, I'd kept going. I was now on attempt #3, Day 602.
Thirty or so students turned up that day – more than I ever had in my asana studio classes before I stopped teaching. They were present, and interested, and excited. Together, we dove into the practice, rotating our spines, retaining our breath, chanting through our chakras, and uniting Shakti and Shiva in the heart.
I walked out of class and it hit me – it's time. Students are ready for this now.
Sandey was grinning – she knew the class would be a hit. And so, completely out of the blue, I found myself back on a regular studio schedule, teaching my home practice again – a simplified version of the daily practice Tantra practitioners would have done back in the early 10th century or so.
I was back. And it felt gooood.
But it was about to get even better.
I've been living in Laingholm for two years. There's two yoga studios here – Soul Centre and Yoga West. I love Soul for events, but classes there have never really grabbed me. And the schedule is too sparse for my tastes. I'd never made it to Yoga West.
But now that I was teaching, at a studio an hour's drive from my house, I was curious to see what Yoga West was like. Perhaps it too was ripe for a Tantra Class on the regular schedule.
The only way to find out… was to hang out at the studio.
I had to go to class.
So I signed up for there introductory special, $25 for ten days. My intention was to go once or twice, just to feel the studio out and see what happened. I was just there to check it out. I didn't expect to gain anything from the classes.
But something else happened.
I found myself checking MYSELF out. And going every day. Because I was so damn curious.
See, studios and the yoga world was my life for so long, and then it wasn't. It felt like I retreated completely, along with all my judgements and frustrations and superiority, to my cave, where I continued doing intense sadhana.
Stepping back, I expected that it would feel the same.
But it doesn't.
Because I am not the same.
And held up against the consistency of the practice, and the community, the difference in me is stark.
It's like looking in a mirror. And I'm fascinated. Who am I now? So I'm finding myself going, day after day, so I can watch myself and marvel at what happens.
The side benefit is that I'm experiencing asana every day again, because in order to be IN the studio, I have to do practice. That's impacting me physically, mentally and emotionally.
Last night, after a beautiful 75 minute Yin class with Justyna, I watched myself interacting with my son, and I was WAY more able to resist reacting to the karmic pattern that is playing out between him and I. That dulled reactivity was a delight!
Turns out that I no longer NEED anything nor EXPECT anything from a yoga class. I'm delighting in just showing up and receiving whatever unfolds. It feels so fucking liberating. Delightful. Joyful.
I no longer expect yoga teachers to understand how asana is simply a tool to self-realization. I don't expect them to be leading students along that path. I don't expect them to see my samskaras and karmas and help me untangle and dissolve them.
No, I'm happy to show up, and be lead on a mostly-physical practice, with some attention paid to mindfulness and self-care.
The hours and days and months and years spent in my cave have provided a process and a pathway to self-realization, and the teachers I'm connecting with via books are giving me the insight and context I crave.
Through this experience, I can see how I was so focused on what I was GETTING from my yoga studio experience. Whereas now, I'm more interested in noticing what I'm giving, and on allowing myself to receive with gratitude whatever is offered.
There's more relaxation in my system, and I'm softer. It feels so fucking good.
And now, with hindsight, I can see that I was just on a sabbatical. I really had gone away to do serious sadhana in the cave.
Only, as a single mother, my cave was my bedroom, and the sadhana happened every night after my son went to bed.
Along the way, thanks to running 20+ retreats in four years and seeing 100s of private clients, I became the teacher I was craving. I learned how to see student's karmas and samskaras, and I'm learning how to hold up a mirror so they can see them too.
My students taught me, as they continue to teach me. And I discovered that the teacher really is the student is the teacher.
My experience of studios was never about the studios, the teachers, or the practice on offer. It was only ever about me.
And that, of course, IS the Yoga.
Want to practice with me? Catch me at Om Yoga Studio on Tuesdays at 12pm.
And if you'd like to learn how to work with your own karmas and samskaras, and begin the process of seeing other peoples… join me for my Direct Realization Tantra Teacher Training in January 2020.
Finally, you can also catch me at Haora Yoga Conference, Nov 22-24, teaching sessions on Tantra and… Self-Realization!