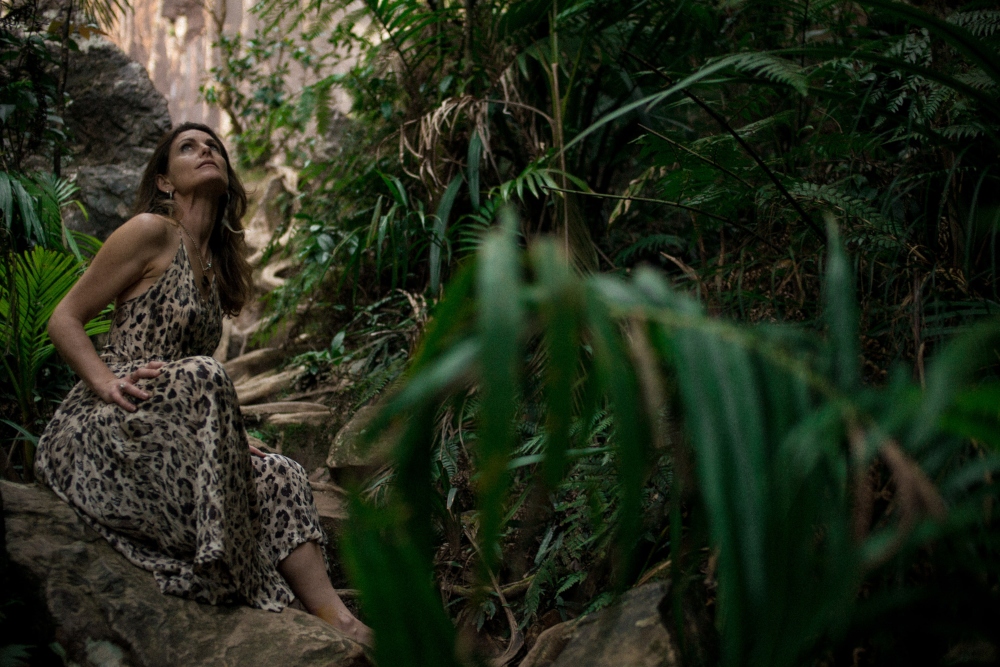 The news isn't getting any better. Extinction is looming for 1 million plants and animals, thanks to human activity, says the UN. Trump's Administration heralds melting sea ice as opening new opportunities for trade. And global beverage giants continue to bottle New Zealand's water at aquifer-destroying rates.
Storms are worse. Refugee numbers are climbing. Our rivers are increasingly polluted. We've cleared 75% of our forests, and a whopping 95% of our wetlands.
We don't know what the next decade or five is going to look like for our society. We don't know how habitat destruction, pollution and climate change will impact our weather systems, and ability to feed ourselves. Scientists can create models to attempt to get some kind of idea – but humans beings are not great at choosing to respond to potential long-term threats, instead prioritising immediate goals and needs.
Can Yoga, a framework that has evolved over the last 5000 years as a way to be a self-realised human being, speak to any of these external challenges facing humanity?
The question is itself loaded. It presumes that these challenges are external. That what's "out there" is the problem. Yoga is all about "what's inside". The two seem mutually exclusive.
However, the work of Deep Ecology, Alanna Mitchell and Charles Eisenstein takes a different approach. Charles's book The More Beautiful World We All Know is Possible says that
"Fixing" our environmental problems begins with examining the underlying social narrative giving rise to the actions and behaviours that have created the "problem."
That's the same place Yoga starts – what's the story we're telling ourselves about our experience?
In Charles's case, he points to the Story of Separation as the dominant global myth, that has colonised other social narratives that honor the Earth. The solution, he says, is to create and live from a new story – that of Interbeing. A new story that isn't new of course, but speaks to many indigenous people's from around the globe.
Alanna Mitchell in her earlier book Dancing at the Dead Sea says the same thing, asking if the human race has a death wish, and pointing to the need for 'new legends' that account for our inclusion in it all.
It's the same story Deep Ecology points to – that we are not separate from, but part of it ALL.
Deep Ecology is:
"A holistic approach to facing world problems that brings together thinking, feeling, spirituality and action. It involves moving beyond the individualism of Western culture towards also seeing ourselves as part of the earth. This leads to a deeper connection with life, where Ecology is not just seen as something 'out there', but something we are part of and have a role to play in."
That role is one of protector, of guardian, of Kaitiaki. But before we dive into exploring what that role asks of us, and how we can step into it… let's go back to the narrative that Charles Eisenstein, Deep Ecology, Alanna Mitchell and many indigenous cultures share. Because it's the same narrative as Yoga.
It's the story of interbeing, the story of oneness, the story of connection, of community.
And it's diametrically opposed to the dominate narrative of the Western World – which is of the individual striving to gain success through any means possible.
This is the way most of us live, unconsciously dominated and dictated to by a story that separates. We strive for individual success – for fame and fortune, and the trappings of wealth. And when these things seem out of our reach, we often believe there is something deeply wrong with us, and we fall into depression, anxiety, addiction and despair.
But what if our increasingly high levels of mental illness are symptoms of the sickness of our dominant narrative? What if it's the story that's wrong? What if we change the story? What would that look like? What would that change?
Practicing Yoga is one way to KNOW oneself beyond the individual identity, but when the practice of Yoga is embedded and transmitted through a culture anchored in the exaltation of the individual… the practice is often corrupted and becomes just another prop of the identity. Look at the 'advanced' postures I can do!
For Yoga to truly do the work of dissolving the identity the practice has to dismantle one's world view along with one's samskaras.
As one's world view begins to dismantle, the traditional markers of success – job, salary, house, car, partner, acclaim, start to look and feel empty. Which is exactly why so many yoga practitioners often leave their jobs, their partners, their houses and go and do yoga teacher trainings or step sideways into coaching, mentoring, massage or reiki.
People want out of the rat race. Yet still the story of separation goes deep, and they're still surrounded by a culture championing the individual and so the new pursuit is framed by the old story. Create a successful yoga studio. Become a popular yoga teacher. Gather followers. Gets fans. Now, there's a wave of people who left the corporate world to pursue their passion… and some are discovering it's near on impossible to make a decent living, and they're contemplating going back.
Only it doesn't have to be 'going back'. There's another way to see it. This re-entry is not capitulation or failure, this is infiltration and disruption. If someone has shifted their personal narrative from separation to interbeing, from individual to collective, from self to oneness… and can live from that space while stepping back into the so-called "mainstream", then it's possible to begin to shift the culture from within.
Because the idea of "mainstream" and "alternative" is just more… separation. We're all in this together, it's up to all of us to change, together.
How many people does it take to change a culture? How many people need to embody interbeing before it disseminates and becomes the norm?
These are the questions I've been contemplating over the past few years – since becoming disillusioned with the yoga world's focus on the individual, and stepping back. I've been spending more time with people focused on conscious business and regenerative lifestyles.
Here's what I've realised.
Change isn't legislated – it's embodied. We don't have to wait for "the people in charge" to do the thing – we can simply LIVE our way into the thing.
The roadmaps already exist – we just need to find them and follow them. Here in Aotearoa, Māori world view is an example of this. In the Māori worldview, humans are connected physically and spiritually to land, water, air, forests; people are an integral part of ecosystems and ecosystems are an essential part of people's whakapapa (genealogy).
We are infinitely powerful. Greta Thunberg has proven this – one person can make a tidal wave of difference.
Together we rise. We can't leave anybody behind – environmental action that fails to address social biases and issues, like institutional racism, doesn't go far enough. All people must be included and accepted.
The trick is getting to the point where we say ENOUGH. NO MORE. This was Rosa Parks on the bus in Montgomery in 1955. It's the establishment of Parihaka by Tohu Kākahi and Te Whiti o Rongomai. It's Hone Heke standing up for self-determination, no matter. It's Kate Shephard and the suffragettes collecting massive petitions on women's right to vote.
When we don't do this – when we don't stand up and say, 'Fuck this shit, I've had enough', we're like the frog in the slowly-heating pot of water who stays in and boils to death.
And this is why the work of decolonisation intertwines with the work of environmentalism and the work of spirituality. The colonial narrative of separation displaced a narrative of connection that had supported healthy communities and ecology for centuries.
We can't stand up for the environment without standing up for indigenous self-determination and decolonization. We can't care for our bush and our rivers and our birds without caring for our tamariki and our tīpuna.
So where do we go? What do we do? How do we act?Here's a few pointers
Commit to a daily sadhana and know yourself as part of the whole. When you feel the forest as if she is your flesh and bones, everything changes.
Immerse yourself in Tikanga Māori, learn the wisdom of those who came before.
Join other people doing the work in your community. Plant trees, clean waterways, join Extinction Rebellion.
Leave the job that supports the culture of separation. Or commit to being an agent of change within that job.
Learn how to anchor in love at all times.
That last one, it's a biggie. It's the game-changer that moves people from the story of separation into the embodiment of interbeing. When you know yourself as love, and you embody that love for all beings, everything shifts. That means when you show up to the protest march, you're opposing the behaviour or actions of the corporate world or the government, but you stay anchored in love for the human beings taking those actions.
This is crucial, because the moment we go into rejection or demonisation of 'the other', we're living out the story of separation. And when we're living from the story of separation, it doesn't matter what noble actions we seem to be taking… we're keeping the old story alive – a story that feeds on the idea of "us and them", the good guys and the bad guys.
And that's the part of the whole I've chosen to focus on. In 2010, I took a vow of unconditional love and truth, which began my practice of living from these two values. It's still a practice, I'm not perfect at it, I'm learning, but I'm seeing the huge shifts in my experience of life, and in my interactions with other people.
And now it's work that I'm able to teach and transmit, through the path of the Awakened Heart Warrior. This is the role I can play as a guardian, as a kaitiaki. I can embody truth and love, and I can support other people to step into truth and love, no matter what too. Learning how to open our hearts, and stay open no matter, is the work of a warrior. It takes great courage and fortitude, and it can be painful. We have to have the strength to feel all things, knowing that feelings are temporary and will always come and go.
This loops back to the work of deep ecology, which asks people to feel the grief of the destruction of nature. Feeling the grief fully may seem counter-intuitive, but there is a real power in meeting the truth of reality that leads to inspired action. And when we can handle feeling the pain of ecological destruction we can also hold the anguish of those of us struggling with mental illness. Everything is connected.
From this place, of knowing oneself as love, of aligning to truth… the harsh realities of a changing society become easier to bear.
Our connections and communities become stronger. We can hold each other up, no matter what happens. And nobody is left behind, nobody is excluded, nobody is forgotten, nobody is overlooked.
From a foundation of love and truth, we rise, together.
---