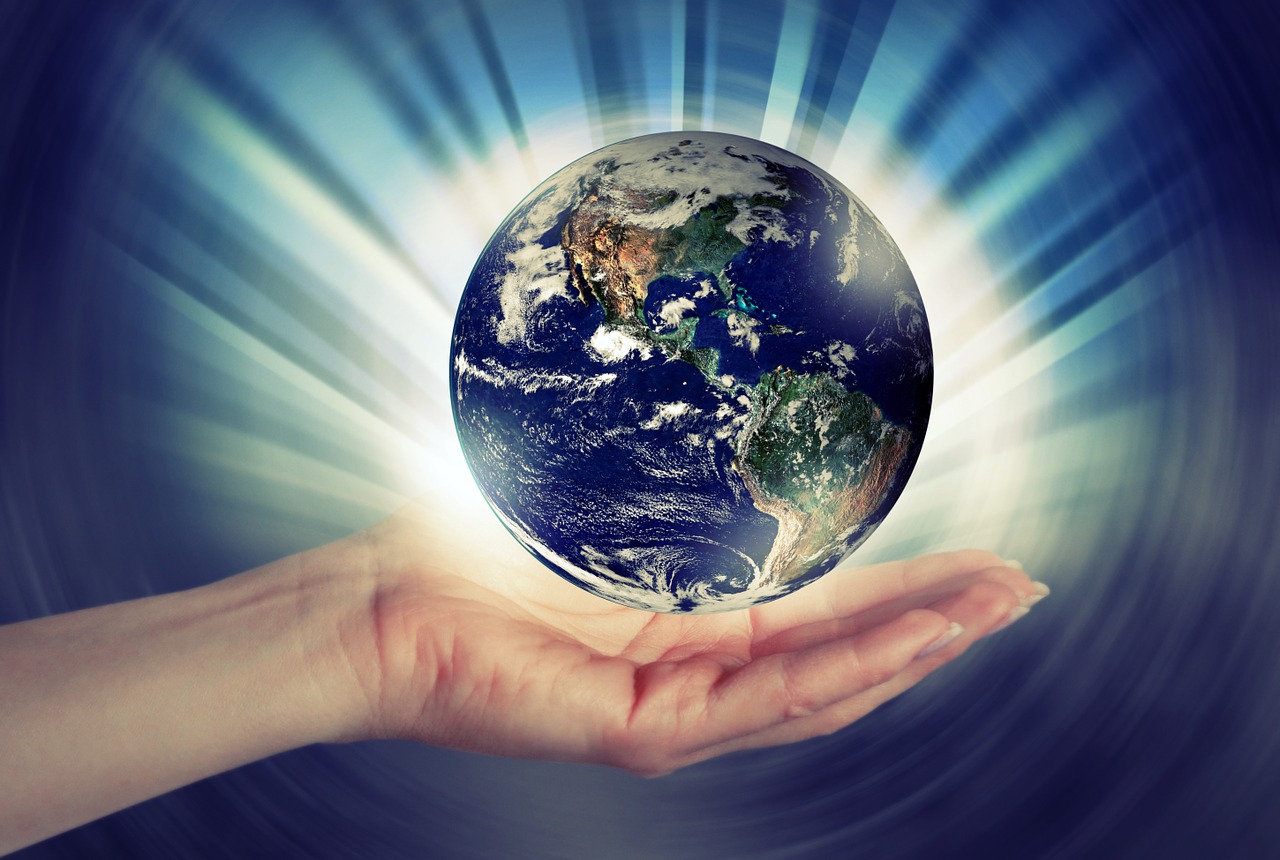 Image by Okan Caliskan from Pixabay
I'm feeling a real desire to simplify and streamline my life right now. Beyond what's the normal de-clutter of a spring-clean.
Yesterday I watched a video which helped me clarify why this is so.
Kiesha Crowther Little Grandmother is one of the 12 young Shaman wisdom keepers from the United States speaking clearly about what's going on in our world right now.
It's nothing new.
We've heard it all before.
This is a crucial time for Planet Earth. We're doing great damage. We're living from mind consciousness, in an ego-based way. The solution is to switch to heart consciousness.
Simple really. And oh so hard.
Many of us have a difficult time loving ourselves. Truly loving our significant others. Loving our family members. Our friends. Let alone the annoying neighbour down the street, the addict, the criminal, or those who wrong against us.
Yet this is what we're being asked to do. And it's the only way that life on Planet Earth – human life – will continue.
It's all we've ever been asked to do.
But still we criticize and condemn and hate and separate.
My lessons over the last month or so have been intensely strong – and all about staying open and loving with strong boundaries. Staying open and loving and ceasing the internal dialogue completely while listening. Try that one out.
Next time someone is having an argument with you, drop the Mind, and open up to listening and accepting what they're saying as their truth. No mind chatter, no thinking while they're speaking.
It's a difficult practice, and it's powerful. Something magical happens when we drop our internal dialogue and open up.
I don't even know if this is possible for most people. I've done a lot of yoga and meditation in the last ten years or so, all of which has helped me learn how to drop the mind. Maybe it's too hard, I don't know.
But when the mind drops, what's left?
Heart, that's what.
Now I'm no expert, and I'm constantly being offered more opportunities to practice. But what I'm experiencing as a result of my committed practice is powerful.
This is one reason why I'm simplifying my life right now.
We only have a limited time to shift from mind consciousness to heart consciousness. And in my life, the most important thing I can do is come from heart. Always. And respond to exactly what's in front of me in the moment with whole-heartedness.
Mind you, this must be balanced with boundaries. In order to function, we need to retain a clear sense of self & ego, yet not be attached at all to what this is. 'Cos it changes all the time. We grow a little bit older and a little bit wrinklier in every moment. We shift from mother, sister, partner, daughter, CEO, volunteer to sportswoman.
The less we hold on to who we think we are, the more we're able to feel who we truly are.
So right now I'm working that balance between heart and boundaries while dealing to energy leaks – those things I've been meaning to do but haven't, those things I'm doing which aren't in line with my core values or purposes, those people I spend time with out of habit, and those thoughts or beliefs which suck my life energy.
I know I'm going to need to focus on just the important things in life. Forget gossip and shopping and TV and living to work. It's time to shift the consciousness on Planet Earth.
How I will best play my part in this, I don't exactly know right now.
Part of it is likely about teaching yoga.
Part of it is likely about publishing The Yoga Lunchbox.
Part of it is about being a mother, a partner, a daughter, a sister and a friend.
But there's more. I feel like I'm being schooled up for something. Like I've been secluded away and put through a series of progressively more and more difficult tests in order to get stronger, get clearer, get more capable and learn how to come from heart – no matter what.
It took awhile because I was pretty damn stuck in ego, and oh-so-deluded. Now at least when I get stuck, I can observe and laugh at my remaining stickiness. Those ego defenses of ours, they're strong.
Although the mainstream media and our political system are stuck in a conflict model – who's right/who's wrong, they're good/they're bad – I can sense a shift and feel a new way for us to be in society.
Coming from heart automatically gets rid of the need for blame and judgment, right and wrong, left and right. Heart asks us to hold a vision – what do we want to create – and then shows us ways to do that, while accepting the diversity of the group.
Working like this means we have to know how to let go, and I wonder sometimes if we're not going to see more and more opportunities to practice this one until we finally get it. Loss of houses, jobs, people, identities…
Face it.
We can't keep doing what we've always done in the way we've always done it because we're going to either kill the Planet, or Us.
Which is one and the same really.
And I know this is overwhelming for most of us – what can we possibly do? How can we affect change? So we go back to our gossip and our shopping and our jobs and our hobbies and all the really important things in our day to day lives.
But the beautiful thing is we don't have to do anything.
Yep.
We. Don't. Have. To. Do. Anything.
No whales to save, no rainforest to protect from logging, no G20 to protest.
The only thing required of us is to live from heart. To drop mind (down into the heart).
Because if you're coming from a place of heart you simply can't murder whales or rape forests or plunder countries, or pollute waterways. Those actions drop away. And you can still gossip, shop, work, play and connect.
So You can affect change. You can do the most important thing of all.
Drop your mind consciousness. Or at least become aware of it operating within you.
And live from heart. Start feeling those feelings.
It can be really scary to do this. It means that we accept that everything is impermanent. Everything changes. Everything dies. We let go of all we've held on to so tight.
But it's time.
Because if we don't.
If we continue to live from mind consciousness, struggling to control everything outside of us so we'll feel safe and secure. Something's going to give – Us or the Planet.
But if we have the courage, if You have the courage, to let it all go and live from heart…
Life will change.
I promise you.
Kiesha in Zurich from kedarvideo on Vimeo.