Oil pulling is an ancient Ayurvedic health tradition for oral hygiene, detox and rejuvenation.
I have been doing this practice daily for just over three years now with many benefits and really love it!
I often recommend oil pulling to students and friends and keep getting asked to write down some directions. So here goes…
How I got into Oil Pulling
As I'm an A type personality, after I received a brief email about oil pulling from my Mum's wise white witch buddy and healer Maggie Lowe I rushed directly to the health food store. I'd just arrived at my Dad's place in Australia after living in Uganda for 10 years and was plagued with chronic sinusitis, allergies and some very persistent gastrointestinal issues that I was keen to cure.
I read Maggie's oil pulling email and knew instinctively it was what I needed.
My First Oil-Pulling Experience
I vomited up the first teaspoon of oil immediately.
I tried again and vomited again after 5 minutes.
My sinuses started to stream immediately.
I felt like Neil from the TV show "The Young Ones" episode "Sneezing Snot Emergency". Without being too graphic I ended up using a sarong instead of a hankie.. and this continued all night long!
The next day I was "sore to the bone"- joints aching and bones sore. The only other time I'd felt like that was when I had malaria. I was wondering if I was in the midst of a healing crisis or if I needed to find a malaria test when my intestines gave themselves a thorough and particularly foul spring clean..e very quickly.
EEEK! I must admit I was pretty relieved to get rid of whatever that was! I felt like the oil pulling was clearing away all sorts of stuff that wasn't serving me!
From reading many other accounts on Earth Clinic, is appeared my healing crisis is not the norm but also not unheard of.
The worst of the oil pulling detox was over in a few days. For about a year my sinuses still streamed for some time after I oil pulled each time and I started to wonder just how much room there was in there! I am now a regular coconut puller and am addicted.
I do this most mornings just after I get out of bed. I take a teaspoon and have a swill in the shower and sometimes also use a homemade coconut oil scrub (stay tuned for some recipes).
My husband (now with excellent breath) swills his way through his morning yoga and '5 Tibetans'… and who knows what the children think as I quietly swill away and slip teaspoons of coconut oil in their porridge!
The tremendous benefits from oil pulling have led me to recommend it to students, family and friends and I have also seen how it has helped them. In the shorter term oil pulling helped clear my sinus congestion and over the longer term I now only ever notice any sinus issues if I stop oil pulling for a week or so. My allergies have gone and my gut issues seem resolved.
I wish I had have taken a before photo of my teeth just to see for myself if it worked on them as well!
How to Oil Pull
On an empty stomach (easiest first thing in the morning) put between 1 teaspoon to 1 tablespoon of pure organic virgin oil in your mouth.
Swill and swish gently in the mouth including between teeth and around gums for 15 to 20 minutes (don't gargle).
After your swish and swill spit out the oil (never ever ever swallow as oil is now toxic)
Rinse your mouth and clean your teeth.
Lastly drink a glass of water (I add a dash of lemon or apple cider vinegar in my water).
Voila.. your mouth will feel magic and the magic will working throughout the body!
How Often Should I Oil Pull?
For chronic conditions you can oil pull up to three times per day but note that you should have not eaten for four hours prior to oil pulling.
I would recommend you ease yourself into this level of protocol over a couple of weeks. I now do this daily as a maintenance treatment and if for whatever reason I stop I notice my sinuses building up again after five days. You should work out a protocol that suits your health needs and schedule.
The Good Oil?
Traditionally sesame oil is used but other oils can be used. Make sure the oil you use is top quality, organic, unrefined and fresh.
After much experimenting my oil of choice is organic virgin coconut oil. I sometimes swap oils every so often and this seems to give the process a kick start again.
Why Oil Pull?
To Quote Naturopathic physician Dr Bruce Fife from his book: Oil Pulling Therapy: Detoxifying and Healing the Body Through Oral Cleansing
"As simple as it is, oil pulling has a very powerful detoxifying effect.

Our mouths are the home to billions of bacteria, viruses, fungi and other parasites and their toxins. Candida and Streptococcus are common residents in our mouths. It is these types of germs and their toxic waste products that cause gum disease and tooth decay and contribute to many other health problems including arthritis and heart disease.

Our immune system is constantly fighting these troublemakers. If our immune system becomes overloaded or burdened by excessive stress, poor diet, environmental toxins and such, these organisms can spread throughout the body causing secondary infections and chronic inflammation, leading to any number of health problems."
Some Possible Benefits of Oil Pulling
Brighter, whiter teeth
Healthier gums
Prevents bad breath
Increased energy
Clearer mind
Decreased headaches
Clearer sinuses
Alleviated allergies
Better sleep
Clearer skin
Regulated menstrual cycles
Improved lymphatic system
Improved PMS symptoms
Arthritis & Chronic Disease relief
Hints on Oil-Pulling
If 15 to 20 minutes seems too long at first start with less time and work up.
Choose a top quality organic oil and never use deodorised coconut oil.
If you don't like the taste or sensation or experience a "healing crisis" my advice would be to persevere.
I found the sensation of the oil in my mouth disgusting at first but now love it. If the oil doesn't taste fresh trust your instincts as I've stumbled across some rancid little numbers over the years.
If it fits with your personality set a timer for your oil pulling. If you are like me and this is one more thing to remember then just fit it into your schedule. I seem to have an internal clock now that measures to about 18 minutes. I feel its better to do a shorter amount of time than none at all as sometimes you just do need to answer the door or phone and be able to speak! Saying that I have heard my kids answer the phone and say "Mum's not available because she's got oil in her mouth".
Share the Oil-Pulling Love
I'm sure there are lots of Yogis out there getting amongst oil pulling so please share your experiences or add your advice in the comments below. Also I 'd love to hear how you virgin oil pullers find this!
Give it a go.. its only food! Good Luck!
Health is the greatest possession. Contentment is the greatest treasure. Confidence is the greatest friend. Non-being is the greatest joy.
Lao Tzu
About Kate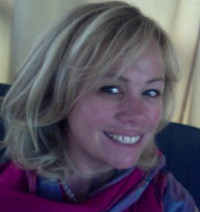 Kate McLeay returned to live in New Zealand 2 years ago with her family after a decade living and working in Uganda, East Africa. She is has had a varied careers ranging from school principal, humanitarian worker, massage therapist, dog walker and sandwich maker.
Kate is currently very busy being a mother, afternoon tea provider, trying to remember how to clean her own home, and practicing stillness. For her sanity she teaches Vinyasa yoga and gives healing and massage treatments in Havelock North, Hawkes Bay, New Zealand. You can find her on her website.