by guest author Nadine Fawell, a Melbourne-based yoga teacher, blogger, and author of the yogAttitude cards. She is most interested in yoga's power to heal body, mind, and spirit.
I've just come back from leading a yoga retreat in Bali. I got on the airplane feeling anxious, for all sorts of reasons: I was about to shoot my first yoga DVD: strong*stretched*serene (which put me so far out of my comfort zone, I couldn't even see the horizon), I didn't know whether the hotel would take good care of us, I wasn't sure how the group would gel…
And then I landed. It was late, and dark, by the time I got to Denpassar, but that didn't stop me feeling a sense of…connection. Heart connection. The sacred is everywhere in Bali, infused into daily life. Shrines are dotted between houses and businesses, the civic statues depict scenes from the Mahabarata.
People start their days by making offerings and lighting incense. They probably do these things before they brush their teeth, even. It's just part of daily life. And all this faith seems to infuse the air.
It reminds me that this is something largely absent from my daily life in Melbourne. I see no Ganesh statues on my neighborhood walks. Nor, for that matter, do I see any Christian iconography. We have become a secular culture, and, while this means freedom from dogma, which is an awesome thing, it also brings spiritual disconnect.
And spiritual disconnect brings anxiety. Or, it certainly does for me: I feel anxious when I lack faith about the future, and I lack faith about the future when I am disconnected from what's in my heart.
That's why I practice yoga: to feel my heart. To feel it beating, moving life force around my body, and to feel the faith, in yoga we call it Shraddha, that all will be well.
Shraddha is not just blind faith though: it is enthusiastically chosen faith. For example, although I was raised Catholic, I rebelled against the patriarchy I experienced in the Catholic church. I have Massive Issues with authority, and most especially male authority figures: something to do with my dad sexually abusing me when I was a child, I suspect.
So for a while there, I was lost in a spiritual wasteland, having rejected the faith structure I grew up with, but not knowing what to turn to. Shoes, it turns out, do a very poor job of filling the faith gap. Pity, really.
Yoga.
It was always going to be yoga. My first experience of yoga was the same as stepping of the plane in Bali. Connection. Heart connection. A direct conduit to the Sacred, because it's inside me! Oh my, what a revelation.
And how lovely to have the re-revelation when I got to Ubud. Everywhere is sacred. Everything. Every moment.
The divine is in me as it is in you.
Namaste!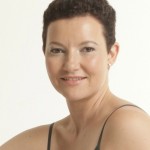 After ten years of teaching yoga, Nadine Fawell has discovered that sometimes, an afternoon in a nice cafe is what you really need.
She is the author of the yogAttitude Cards and leads retreats in Australia and Bali.
It's a good life!
Nadine is also giving away two copies of her new yoga DVD to two lucky YLB readers… just leave a comment on the article below and Nadine will choose one commenter at random. You've got until 6pm Wednesday December 28th (NZ time) to enter.