Autumn is a transition time of year.
As daylight becomes shorter, days become colder, and we feel like it is time to retreat from the world, our yoga and meditation practice can become a source of strength, vitality, and enthusiasm.
Yoga during autumn is critical for maintaining a healthy immune system, keeping the body warm, and helping us maintain an active lifestyle and positive attitude. Meditation is important as it aids in grounding, health, and overall vitality.
Mala beads are a useful tool for focusing the mind on the intentions of your yoga and meditation practice, and can help with your overall sense of wellness during the fall.
What is a Mala?
A mala is a strand of 108, 54, 27 or 21 beads used for counting mantras, breaths, or affirmations during meditation. Malas have been used since the 10th century, and traditional malas are made from Rudraksha seeds.
For generations Buddhist monks have used gemstone malas to keep count of mantras. Gemstone mala beads, with their various meanings and properties are considered a powerful tool for keeping the mind focused on specific intentions on and off the mat.
While mala beads can be used in meditation, they are also often worn as a necklace or a wrapped bracelet. Some practitioners place their mala beads on their yoga mat during practice in order to allow the mala beads to absorb the positive energy of their practice.
Other people like to place their mala beads in their shrine as a visual reminder of the intentions of their yoga and meditation practice. Many people keep their mala with them wherever they are to keep their practice with them as they move through daily life.
Which Mala Beads to choose in Autumn
The seasons of nature and the seasons of life call for different types of yoga and meditation. If you are considering using a mala to help with your fall yoga and meditation practice, there are several types of gemstones that are ideal for aiding with the transition to colder weather and less sunlight.
Colder weather calls for keeping the body warm, keeping the immune system strong, and keeping the emotional, spiritual, and physical body in balance for optimal health and wellness during transition. During this time, gemstones that are warming and grounding are ideal. They can support immune system strength and the balance of the energy body.
For example, tiger eye mala beads are warming, and their energy is associated with grounding and balance. This makes tiger eye an ideal gemstone to meditate with during colder months when the body requires immune system support. If the intentions of your yoga and meditation practice are to remain connected to the earth, to feel grounded, and to feel balanced use tiger eye during your yoga and meditation.
Another excellent gemstone for an autumn yoga and meditation practice is unakite. Unakite is also a warming stone and its energy associated with healing, balance, and harmony. You can use unakite mala beads in meditations that focus on health and wellness, the gradual letting go of bad habits, and harmony.
If you tend to suffer from sadness and lack of motivation as the weather becomes colder, an uplifting and invigorating gemstone may be very beneficial to keep you motivated and in good spirits.
Carnelian mala beads are believed to increase enthusiasm, strength, improve vitality, and encourage joy. You can use carnelian mala beads during your yoga and meditation practice to keep your mind focused on warmth, enthusiasm, and vitality during the fall and winter.
How to use Mala Beads
Once you have selected the right mala and the right affirmation for your meditation practice, you can easily meditate with your mala beads at any time.
Once seated in a comfortable position and ready for meditation, close your eyes and observe your breath.
Hold the first mala bead, the one adjacent to the guru bead on the right, in your right hand suspended between your thumb and middle finger.
Slide the bead towards you.
As you do so take an in breath and an out breath, and make a mental note of your intention or affirmation.
Repeat this for a count of 21, 27, 54 or 108.
Notice how your affirmations stay in your mind throughout the day and notice how your mala beads become an object that gently reminds you of your practice whenever it is with you no matter where you are.
If you have any questions about finding the right mala for your practice please feel free to contact me.
About Jacqueline Medalye: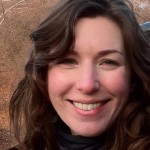 Jacqueline Medalye is the designer and owner of Salt Spring Malas and Yoga Jewelry. She has been practicing yoga for over 10 years and she has been making beaded jewelry since 1993. After traveling throughout India she began making malas and working with gemstone mala beads.
Jacqueline feels that Salt Spring Malas is her path of right livelihood given her passion for yoga, beads and jewelry design.