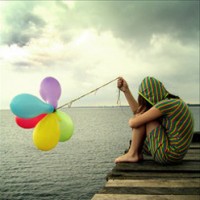 This is an on-going series of yoga stories from readers about how yoga has made a difference their life. To contribute your story, click here.
Submitted by Clare S. (not her real name) of New Zealand

Coming from a dysfunctional family, it is not really a surprise that I got involved with punk rockers and street kids in my early teens.
I felt a sense of belonging, I was needed.
I brought them food and snuck them home for showers and meals. It didn't take long for me to get into the drugs and alcohol that kept them going.
I was pulled into a world where I did not have to feel… anything. Until I stopped, and then then all the pain would settle in. I felt sadness in watching my friends continue on in school, trips and parties while I struggled to find a way to feed myself and my habit.
Four years later I woke up, tired of the life I was leading. So tired I gave up and tried to commit suicide. It was not meant to be, a minute away from death I was saved by a phone call. The call made someone walk in and find me, saving my life.
I was taken to the hospital and rehab where I met my partner. He had a sister who was also a recovering addict and who practiced yoga.
She introduced me to Sivananda yoga, and then to Hatha. Together over the next 3 years we read through every book we could find, we practiced every asana from cover to cover. We did not let a day go by without a practice.
She saved me. I had found a way to breath new life into what was once a very sad and lonely place.
Yoga gave me the building blocks to reach out of this vortex of drugs and alcohol to a place of beauty and love.
In learning how to balance I regained my confidence.
Through my daily practice I learned how to respect and care for myself.
I could now see the beauty in life and in others.
When my father passed away suddenly, everyone was sure I would fall back into the abyss. I kept at my practice instead :0)
I moved to New Zealand where I met my husband. I now have 2 beautiful daughters and a wonderful life.
9 years later I am about to embark on a new adventure with yoga, teaching.
I start my training tomorrow.
Wish me luck!!