By guest author Susan Kitson, author of In Search of Health
Ed. note: See the bottom of this article for a chance to win a copy of Susan's book.
Fifteen years ago I had barely heard of yoga.
Eleven years ago I was attending two classes a week in the hopes it would help improve my chances of conception.
Now I practice every day.
Here's how my yoga journey unfolded:
In June '07 I left Napier with my family for our annual winter break in Fiji.
Bliss right?
Not so much on this trip.
I began to experience difficulty with movement, predominantly with my right hand and leg. My writing looked worse than a five year olds. I kept tripping over my right foot, and walking into furniture.
When I tried to butter some toast for my daughter I couldn't make the knife connect with the bread. This resulted in me yelling some very bad words and throwing (my arm was still working ok) the knife away. Luckily I was rational enough to aim where no one was standing.
It is terrifying not to be able to rely on your own body.
I was scared and confused. Definitely not the best trip.
Three days after returning home, I woke about 3am, paralysed down my right side and unable to speak.
After being rushed to hospital, where they quickly ruled out a brain bleed, I was eventually diagnosed with multiple sclerosis. At 34 years old, it felt like my life was over.
Fortunately, I do not admit defeat that easily.
Twice a week physiotherapy sessions began the week after I was discharged from hospital. Each session my physiotherapist would set me exercises to practice. These would be the primary aim of my day, the rest of my time was taken up with sleeping, research to get better, and eating.
Working hard to regain my strength and movement, I was eventually able to return my walker (I still cringe when I see one), and begin driving again. After two months of physiotherapy my 'quota' was used up. I was able to walk unassisted, but could not run or tip toe.
That was where yoga took over.
I had enjoyed a sporadic home practice in the years leading up to my attack. Yoga had been influential in the conception of both my children (that is a story for another time). I made a space in our dining room and began to practice every day. I am a morning person, so my asana practice naturally slotted into the beginning of the day.
At first there was a lot of poses that I could not achieve alone, and I relied heavily on props. When I had attended classes in Auckland I had by chance joined up at an Iyengar studio. Back then I didn't know there were different types of yoga, or how much more there is to yoga than just asana (postures). It was pure luck that I had been introduced to a style that would benefit me so much in the future.
With a beginner Iyengar yoga text in hand, and memories of the poses from past classes, I landed on my mat with a determination to regain a fully functioning body.
My ability to tiptoe gradually improved through the poses I chose, especially downward facing dog. I bought the next, more advanced, Iyengar yoga book. I started to incorporate more difficult poses, until eventually I was again able to practice just like 'normal' people can.
Yoga became my lifeline to sanity.
If my day didn't begin with my mat time I was much more prone to irritability and more liable to give in to feelings of helplessness. Through my daily practice I regained full use of my body and learned to relax my mind. The dedicated daily home practice opened up a larger world of yoga than I realised existed.
My breathing improved.
My ability to be in the moment improved.
My health improved.
I began looking around at the people in my life, and at strangers walking down the street. I saw pain and discomfort in varying degrees everywhere I looked.
I wanted to tell them to go to a yoga class.
I wanted to explain they needn't be stooped, or in pain.
I wanted… to teach.
So I did. I gathered a group of women (and a few men) and started to teach them what I had learnt.
It was intoxicating.
I had been so sick, so powerless. Now I was helping others. What a thrill.
Eventually I began teacher training with IYTANZ (International Yoga Teachers Association NZ) and in 2011 I graduated with a diploma of yoga teacher training.
That was me and my students sorted.
Or was it?
I still felt there was something more I could be doing.
Instigating a daily yoga practice had not been the only change I made in my life. My diet underwent some radical changes as I used my body as a guinea pig to learn what did and didn't work for me.
I started to think about how to reach a wider audience. Yes, I had my yoga classes, but it just wasn't enough. I had so much more to share.
So I did what any rational girl would do.
I wrote a book.
I called it In Search of Health, because that is what I had been doing – searching for health. I found it on the yoga mat, I found it in my kitchen, and I found it in my environment.
Nearly six years have passed since I first became paralysed. Today the first copies of my book arrived on my doorstep. Ironically I also received a rejection letter from random house in the same mail delivery. Got to applaud the timing!
I have achieved a place of glowing health and my book to help you do the same has just been published. Life rocks.
It has been an incredible journey to document what happened to me, and how I discovered a place of health and happiness. Cathartic in itself. Even more so if I actually help other people through what I have written.
My dream is that In Search of Health will be of benefit to you on your life journey.
May love and laughter be with you always,
Susan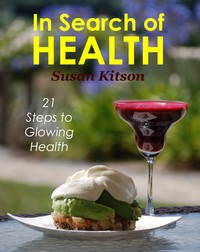 In Search of Health contains a brief, but candid, overview of my journey as well as 21 steps to glowing health. The steps are practical, achievable, and can be incorporated into anyone's life, in any order, including as few or many as desired.
In Search of Health – 21 Steps to Glowing Health is for people wanting to improve their health, feel more vital and alive, manage their weight, gain energy, and learn about themselves. There are two chapters on yoga asana, one on mindfulness, one on breathing, and another on Ayurveda. Some of the other steps focus on food, including recipes, and others discuss vaginal health, sleep, vitamin D, brain health, and chewing.
The 21 steps offer a simple approach to health.
It is available for sale in eBook and paper formats through Amazon and CreateSpace.
About Susan:
Growing up in rural New Zealand, Susan moved to Auckland after completing her Bachelor of Agricultural Economics. There she met and fell in love with Peter Kitson.
After getting married and having two beautiful children, Cassie and Alex, they shifted to Hawke's Bay.
It was here that Susan suffered her MS attack, and after recovering went on to write about how to achieve glowing health.
******
WIN your very own copy of In Search of Health
Leave a comment on this article telling me something about your health journey, or a challenge (health or otherwise) that you have learnt from.
The answer that resonates the most with me will receive a copy of In Search of Health, either as an e-book or the paper copy (you choose).
I look forward to reading your responses! Competition closes 5pm February 28 (NZ time).