When I first began formal Yoga Teaching Training, yoga postures were taught as a series of check-lists, with a point-by-point focus on each and every body part.
While this Simon-Says approach of monkey see, monkey do led to a pretty successful replication of a picture, it seemed to bypass the internal process of feeling one's own body experience and learning how to find one's alignment from that felt experience.
As the years went on I began to feel increasingly divorced from what had been a very natural, fluid and enjoyable process of practicing Yoga.
With only a few simple books and without a teacher I had practiced for seven years on my own feeling my way from movement to movement and more tellingly without a single instance of strain or injury!
A chasm formed between the stilted and forced way I was being taught to practice and teach and my own natural way of moving . . . so much so that I eventually relinquished my ties with a Yoga method.
Then I discovered the study of human developmental movement patterns through the seminal work of Bonnie Bainbridge Cohen, founder of Body-Mind Centering.
Essentially it's a biological blueprint for how movement patterns unfold progressively from our time in utero to adulthood.
Not only did this revolutionize my approach to teaching, it helped restore my trust in my own organic way of practicing. Each movement pattern acts as a matrix of support such that when the pattern is integrated it takes care of the bulk of most of the details that are on the check-list.
Although it can take a little longer to fully embody the patterns, and requires patient groundwork if you are a teacher, in the long run this is a direct route to discovering one's own instinctual alignment process and better yet, giving students the tools to safely work on their own.
I love sharing this work with others because it is so empowering. It is also a wonderful way to restore the dynamics to the process of Yoga.
To find out about Donna's upcoming workshops and events click here.
About Donna: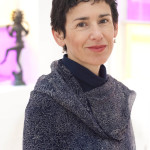 Donna Farhi is a Yoga teacher who has been practicing for 39 years and teaching since 1982. She is one of the most sought after guest teachers in the world, leading intensives and teacher training programs internationally. Her approach to Yoga is informed by the refinement of natural and universal movement principles that underlie safe and sustainable Yoga practice. This concentration on fundamental principles allows student of all levels of experience and from all traditions to build their own authentic Yoga practice. Considered the "teacher of teachers" students return to Donna's intensives year after year to be a part of the inspiring evolution of Donna's own practice and teaching.
Donna is the author of four contemporary classics; The Breathing Book, Yoga Mind, Body & Spirit: A Return to Wholeness and Bringing Yoga to Life: The Everyday Practice of Enlightened Living. Her fourth book Teaching Yoga: Exploring the Teacher-Student Relationship is a curricular text for teaching trainings worldwide. She has been profiled in four separate publications on exceptional contemporary teachers of our time, including Yogini: The Power of Women in Yoga. After nearly four decades of practice Donna believes that Yoga is about learning to befriend our self and to be in friendship with others as a means to building greater fellowship with all of humanity. American born, Donna now resides in Christchurch, New Zealand on a 30- acre farm with her horses, Santosha, Liberty and Ambrosia.