"I am so interested in trying yoga- I just need to wait until I lose this last fifteen pounds."

"Yoga? Me?! Do you see my size? I could never lift myself off the ground like that!"
I've heard comments like these for the past decade that I've been teaching.
I've often been met with skepticism and self-defeating comments from those who are interested, but see themselves as not good enough to try yoga. Boy do we judge ourselves harshly!
Trust me, I am no foreigner to self-hatred. I'm open about this with just about everyone, that for years I restricted food and calories until I developed a full blown eating disorder in my early twenties.
Even today I consider myself in recovery as there is always a tendency to relapse. Not that I could ever restrict again to that extent, but that those self-degrading thoughts do flutter in from time to time until I remind myself that I am more than just this body – so, so much more.
As I work to help yoga feel more inclusive and less daunting to others, I have of course been pleased by pioneers like Jessamyn Stanley, who embraces her size and is confident in her strength, owning her self-made title of "fat femme."
What an amazing powerhouse of wisdom, and a graceful example of how we don't have to be 102 pounds to balance on our forearms. Inner strength leads to outer strength.
The other day, me, eager to show an unconvinced friend the waves yoga is making, I shoved my Macbook into his face with an image of a beautiful, full-figured yogini eloquently poised in an advanced yoga pose.
Well, I didn't get the reaction I expected. Met with a mixture of shock and disgust my friend responded,
I thought yoga is about being healthy. That is not healthy. People do not want to look like that.
I'm glad I stopped myself before responding. I've learned since my old days to stop and think before giving someone a piece of my mind.
I walked away and as I thought about it, actually started to thank my friend for his reaction, because it made me consider several things about myself, our culture and norms around health.
It's true the yogini in the photo was overweight and would be considered obese by medical standards.
I get my friend's reaction – if I as a yoga teacher and owner of a business called The Yoga Wellness Space (a name that suggests an upholding of health) make it my life's work to promote health inside and out, am I being a hypocrite and glamorizing obesity by showcasing bigger-bodied yogis?
I thought about it and the answer I came up with is "no," and here is why….
Yoga is about turning inward toward the self, and it is hard, because when we do, we are met with a bunch of things we don't like about ourselves. The question is, can we tolerate what we feel? And then, can we evoke enough self-love, appreciation and understanding to make positive changes in ourselves from a place of compassion rather than self-directed violence, hatred, and disgust?
If we want to be better people to others in this world, we have to learn how to love ourselves first.
My dear friend who thought she should wait until she lost fifteen pounds before starting a yoga practice was inspired to see an image of a full-figured yogi practicing difficult poses on her mat.
It is not that my friend no longer saw it necessary to lose that fifteen pounds (it was weight related to various health issues including hypertension that did need to come off for health reasons), but she has now started a yoga practice (yayyyy) and this has helped her become more connected to her body, mindful in her life, and able to lose the weight from a drive to be healthy, not a stick-figurine.
A yoga practice can help us strive to be our best selves and be less stressed about the journey.
I don't think that praising yogis who are more "non-traditional" in their appearance and promoting optimal health are mutually exclusive.
I also think it holds true that our reactions toward others are a direct reflection of our thoughts and feelings about ourselves. So let's learn to love ourselves through yoga and then in turn be less judging and more willing to offer a helping hand to our fellow people.
Cheers to self-love and compassion on our inward quests toward health and peace.
About Nityda: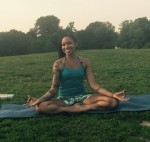 Nityda Bhakti is a New York City based vinyasa and restorative yoga teacher for almost a decade and licensed psychotherapist in the state of New York. Nityda created The Yoga Wellness Space as a means to help make beginning a yoga practice feel less intimidating and sustaining a practice easy and fun. Combining her expertise as yoga teacher and mental health professional, Nityda developed Yoga Heal®, a method of yoga therapy that combines components of talk therapy with the restorative yoga practice. Visit Nityda at The Yoga Wellness Space website for more info and check out her free yoga videos on YouTube.