This article was originally published on Christina's blog Live the Light of Yoga and is reprinted here with Christina's permission.
Last night I dreamt of Las Vegas. In my dream, among other common dream-time images was something new— toxic rain. Down from the sky rained a green, thick, and rotten goo that covered everyone and stifled their ability to breathe, to see, and to speak. As the rain continued, the situation became increasingly dire and I struggled to get to the meeting where I knew my spiritual teacher was holding darhsan.
I awoke to the news, well, that we all awoke to.
***
I want to add something to yesterday's blog entry, where I said that my reasons for practice are not very lofty and that generally, world peace has never gotten me on my mat. I also mentioned that I think we are in a time in history where the forces of evil are gathering and the odds don't seem so good for those of us wanting to live in the Light. (You can read the entire post here if you haven't. It's 1038 words and won't take you very long. Meet you back here in a few minutes.)
***
Okay, we are back.
Today, I want to add, that, while I do not think that my down dog is activism, nor do I think that a group of generally privileged people gathering to practice yoga has much influence on world events, I also believe that yoga studios, classes, workshops and trainings— big, small, well-known, and/or obscure— have the power to provide sanctuary, refuge, and dare I say, shelter from the ravages of the storms of our lives.
I know that we fail.
Sometimes miserably.
Oftentimes repeatedly.
Yoga teachers, for all our great traits and training, have blind spots, unexamined biases, and unchecked prejudices that can be gigantic and problematic. We have personality flaws that get the best of us, wreaking havoc in our families and communities. Our industry, driven by capitalistic values, is as broken as any other— studios have trouble making enough money to stay open, teachers deserve to be paid more than they are, and students find it hard to afford their classes. Flashy moves and sexy packaging sell; wisdom, depth, and the endurance to stay in place year after year often go unnoticed, unrecognized, and unappreciated. I could go on, but if you are paying attention, you have heard it all before.
***
And yet.
And yet, I know that in the midst of these failures, when we get enough out of the way to be of service to something other than ourselves, a Grace is possible. People come to our classes and find healing, respite, renewal, hope, faith, and the strength to get back up again. Not everyone. Not all the time. And yet, that these outcomes happen at all, gives me hope and inspiration.
The Christian teachings assert that when two or more are gathered in His name, there He will also be. The Buddhist traditions remind us that the sangha, or community, is one of the three Jewels of Refuge. Those of your steeped in certain Tantric streams of philosophy and practice will recall the teachings of the kula or spiritual family, that remind us of the transformational power of Grace held in a community of committed practitioners. I remember one of my teachers, in particular, saying, "Consciousness, which tends to contract, expands when people come together with a common aim."
This Possibility of Grace, of sanctuary, of shelter, of refuge, is not ours to grant personally as much as it is ours to invite into Being through our active participation in creating, cultivating and nourishing a field in which it can arise. Providing shelter from the storm does not depend on our spiritual perfection or personality-based skill, but depends instead, on a continual emptying-out of ourselves through heartbreak, brokenness, mistake-making, self-reflection, genuine remorse, amends-making, renewed commitments, broken promises, forgiveness, and the humility that can only happen when we stay in the game and endeavor to contribute.
***
Like I said previously, I don't think much about changing the world.
However, I think quite a bit about how to contribute. Sometimes, my best contribution is inner work. When I got interested in racial injustice, for instance, I wanted to act, but instead, I started reading A LOT. I asked people to read with me and to educate ourselves so that we might get some insight into how best to take action later.
Sometimes, my contribution is outer action. Do the dishes, take out the garbage, call the senators, donate money, grant a scholarship, and so on.
Sometimes, my contribution is enjoyable. I have loved watching my parents blossom under my care and seeing their lives take new shape with joy.
Sometimes, my contribution is sacrificial. I own up to my temper, my judgement and sacrifice looking good in order to mend a broken relationship or to find a new threshold of intimacy. Sometimes, the most obvious way to serve is not fun, sexy, profitable or likely to get me any accolades whatsoever.
There is no one way to make a contribution and no prescription that I can make to help anyone find theirs. But if you are a yoga teacher, you are placed well to get started. Yoga teachers have an opportunity to invite people into the field where anatomical placement meets inner awareness through attention, breath, movement and stillness so that wholeness and healing can rise. It needn't be fancy, It may not require a sermon from you. You don't need to know every last thing about trikonasana, nor do you need to have all your shit sorted out in order for Grace to work through you. The power of the practice, the invitation for Grace to move through the group, and the desire to serve are the tools of our trade and are not to be taken lightly or disregarded flippantly or cynically.
And so, while tonight's class or tomorrow's training may not change the world, chances are good that the class will help you and the two-or-more-people-gathered-with-you to glimpse a greater Possibility than despair, division and hatred.
And that matters a lot.
To me, anyway.
And probably for those who made it to class.
About Christina: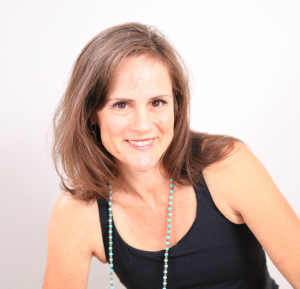 Christina Sell has been practicing yoga since 1991 and teaching since 1998. She is the author of Yoga From the Inside Out: Making Peace with Your Body Through Yoga and My Body is a Temple: Yoga as a Path to Wholeness. Known for her down-to-earth teaching style, Christina's classes are fun, inspiring and full of tips, techniques and teachings to help students of all levels make progress in their practice. Steeped in alignment-oriented methods of asana, Christina sees postural practice as a way to deepen awareness, develop focus and cultivate compassion, not simply as an exercise regime or an anatomical endeavour.   Christina lives in Buena Vista, CO with her husband, her dog, her two cats and her ageing parents. When she is not practicing yoga, you will find her roaming in the mountains.