by Lucinda Staniland & Cara Butler,
As the editor of a popular yoga website, I receive a lot of requests to review various yoga-related products. Over the years, this has resulted in me getting a lot of practice at the all-important skill of saying 'No'.
I've learned the hard way to only say yes to doing a review when it's a '"hell yes!" Thoroughly testing a product and writing a review takes a significant amount of time and energy and there's nothing worse than doing it for a product that I feel lukewarm about, or even worse if I don't trust in the integrity of the company that produces it.
In order to feel good about agreeing to review a product I have to be genuinely excited about it and the company behind it.
That doesn't mean that I can guarantee that I'll give the product a 5-star review, or that I'll even like it, as it's important to me that my reviews are completely honest and no bullshit. But it's also essential, in order to even consider the offer, that I'm authentically curious about the product and want to engage with it.
So when Valka Yoga approached me to see if I'd be interested in reviewing their yoga mat, I took my usual cautious approach. I checked out their website and did some research on their product and their business model. I was pleasantly surprised and intrigued by what I found.
For one thing, although yoga mats are a commonplace household object now, I've always thought there is a lot that could be done to improve them, and Valka Yoga seemed to be doing many of those things. Their website described their mats as eco-friendly, sustainable, free of chemicals, anti-microbial and non-slip – qualities that are all too often lacking in conventional yoga mats.
And although I already have an eco-friendly yoga mat (made of jute and rubber) the experience of using it left something to be desired, and I was curious to see what else was on offer in the world of eco-friendly, non-toxic yoga mats.
I agreed to review Valka Yoga's standard 4mm yoga mat which is made of recycled cork with a natural rubber base.
First impressions? I'm a touch-oriented person and right away this mat felt good to me. It was pleasingly smooth but I could also tell that it would hold me in place snuggly in down-dog. And it smelt good! I don't know about you, but many of the yoga mats I've encountered have had a strong chemical smell on opening, to the extent that I felt the need to air them out for a while before using them. The Valka Yoga mat smelt mildly of cork and rubber in a comforting, natural kind of way and I felt happy to get up and personal with it straight away, no off-gassing phase required! It's a visually beautiful mat too with a gorgeous elephant mandala design which was much commented on by everyone who saw it.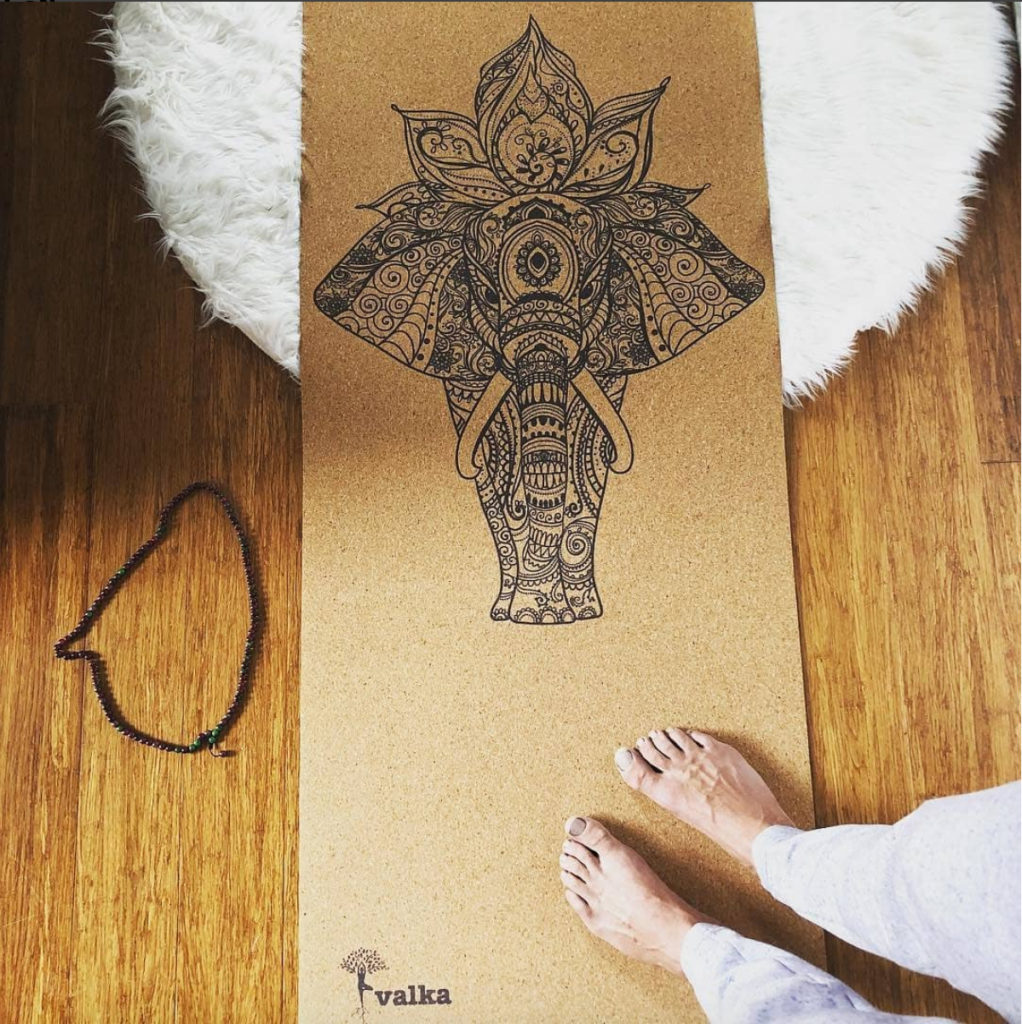 As I began my yoga practice, I became even more impressed with the texture of this mat. Many of the non-slip yoga mats I've tried in the past have been unpleasantly sticky. But there's a natural waxy substance in cork – called suberin – that somehow manages to provide a very secure grip (no more panicky moment when your sweaty hands start slipping and sliding in downward dog or an arm balance!) without any stickiness or weird textural sensations. It feels smooth and pleasant and super-secure and it held up well during my sweaty vinyasa-style practice. I didn't try it in a hot yoga class, but I imagine it'd do well in that setting too.
Now, I have one major gripe with the majority of yoga mats and that's the toxicity of the materials.
Most conventional yoga mats are paid with Poly Vinyl Chloride (PVC) which is widely considered to be the most toxic plastic. PVC is cheap and easy to produce and it shows up in building materials, pipes, clothing and many other consumers products. Unfortunately, this stuff is also nasty on every level. It's toxic at all stages of its life cycle, it can't be recycled and when incinerated or buried in landfills it releases dioxins, which are carcinogenic pollutants that don't break down and build up in the tissues of living things. PVC also typically contains additional toxins like phthalate plasticizers and lead which are considered to be probable carcinogens.
Some manufacturers are now offering 'eco-friendly' alternatives to PVC like TPE (Thermal Plastic Elastomer) and PER (Polymer Environmental Resin). However, from my research, it seems that the jury is out on whether these materials are actually safe and sustainable. TPE, for example, is a pretty vague term that usually entails a blend of a mix of rubber and plastic. It's touted as being free of PVC, latex and toxic chemicals, but it hasn't been well studied or proven safe. It's still a synthetic material, and although it's advertised as being biodegradable, this is debatable. PER mats are made of PVC but without the toxic additives like phtalatae plasticizers and lead. So they're a bit less toxic, but still not awesome for humans or the wider environment. And I couldn't find any evidence to prove that they are safe for long-term use.
Personally, I no longer feel good about practicing (and inhaling deeply!) on a yoga mat that contains PVC, PER or TPE.
And I definitely don't feel good when I think about what happens to that mat after I'm done with it. From what I understand, it seems that PER and TPE are better options than PVC but for me it's just not worth it, personally or environmentally, to buy those mats anymore. I'd rather stick with materials that have already proven themselves to be non-toxic.
And if the alternative is a mat that feels, looks and smells great, then it's a win-win! Impressively, the Valka Yoga mats contain ZERO dubious materials – no PVC, PER, TPE or adhesives. They are made simply of cork, which has been recycled from the bottle making process, and natural rubber, making for a feel-good yoga experience on many levels.
In addition to containing no nasties, cork is an epically sustainable material. Cork the trees don't have to be cut down in order to harvest the cork. Instead, the bark is stripped from the living tree every nine years, leaving time for the bark to regenerate in between. In order for the bark to regenerate, the cork tree absorbs up to five times more carbon dioxide than a tree that isn't harvested. So not only is cork a renewable material but harvesting it also provides a net benefit to the environment!
Cork is also naturally anti-microbial, meaning that it has a natural resistance to most bacteria and molds. This is VERY good news, and just because it means less funky mat smell. The porous surface of a yoga mat, especially if it's pocked with little holes, makes a great home for all kinds of potentially harmful bacteria and other nasties. This is epecially pertinent if you practice any kind of yoga that involves a lot of sweating, or is in a hot room, as these wee organisms tend to thrive in warm environments. Using an antimicrobial mat is an overall smart move, particularly when you consider how many different parts of your body make contact with the mat!
Now, I must admit that I'm still in the honeymoon phase with this mat.
I've had it for a week, using it daily, and I'm loving it how it feels and performs. But will it stand the test of time? That, I can't tell you for sure but judging by the plethora of 5-star reviews on the Valka Yoga website it seems that it probably stands up pretty well to regular use, and an FAQ on the Valka Yoga website explains that the mat should last at least two years.
And I'm confident, based on a week of thorough road-testing, that I can highly recommend their cork yoga mat to anyone looking for a non-toxic, eco-friendly, high-performance yoga mat. (Which really means everyone, right?! Because although conventional yoga mats are cheap to buy, the long-term costs, to people and the planet, are immense).
My only caveat? Texture is a personal preference and while personally I love the smooth velvety texture of a cork yoga mat, if you prefer a more roughly textured surface to practice on, this might not be the mat for you. And if you like a thicker mat for a bit more support in your practice, then go for the Premium version.
---
Special Offer for Yoga Lunchbox Readers!
You can get 10% off the price of a Valka Yoga cork yoga mat by entering the discount code YOGALUNCHBOX at checkout.
This discount code can be used on all Valka Yoga products with the exception of the Asana Arsenal.
Click here to claim your discount (for NZ & Australian customers)
International orders can be placed here.
About Lucinda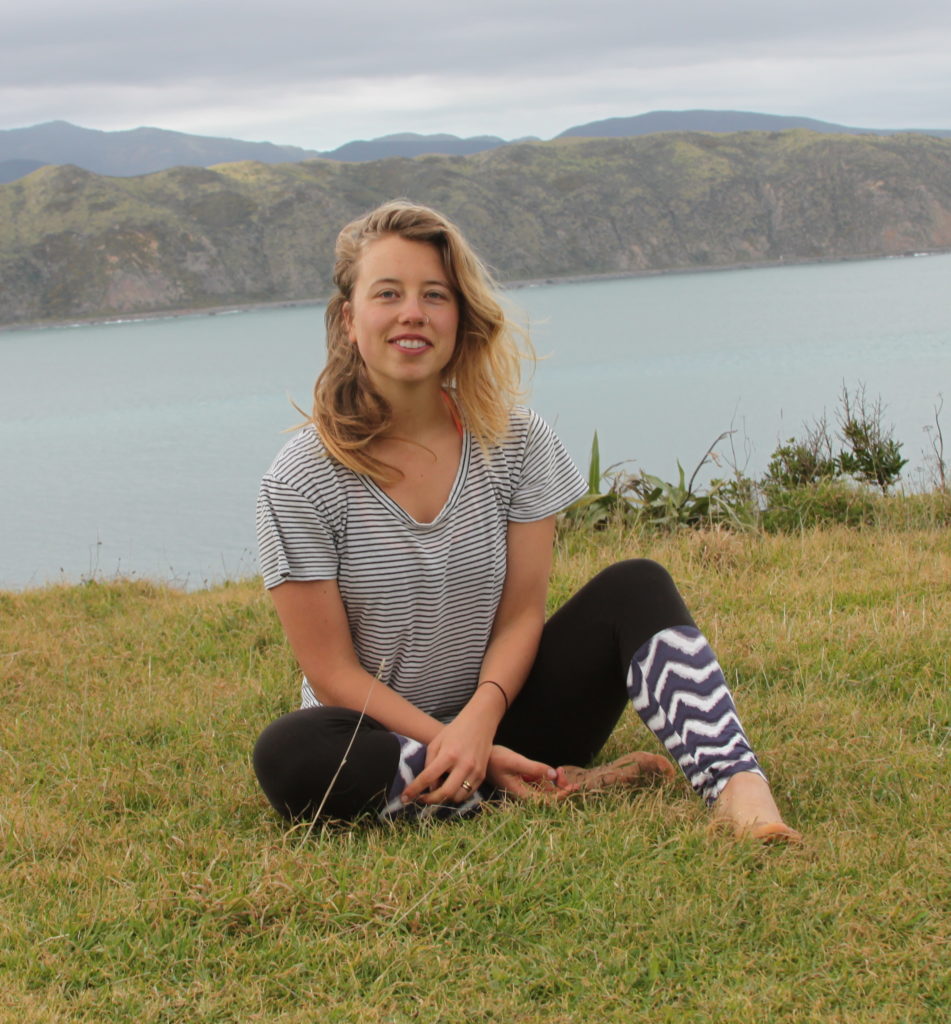 Lucinda worked at The Yoga Lunchbox from 2012 and was the Editor from 2017 until 2020. She loved the opportunity to be constantly immersed in the world of yoga, and particularly in the vibrant NZ yoga community. Lucinda is also a constantly curious learner and researcher, particularly in the areas of movement, health and embodiment.
The current YLB Editor, Cara Butler, loves to hear from Yoga Lunchbox readers, so get in touch with her via email with your questions, ideas, and stories.