200-hour foundational teacher training, with Sandey Hoskin and Kylie Rook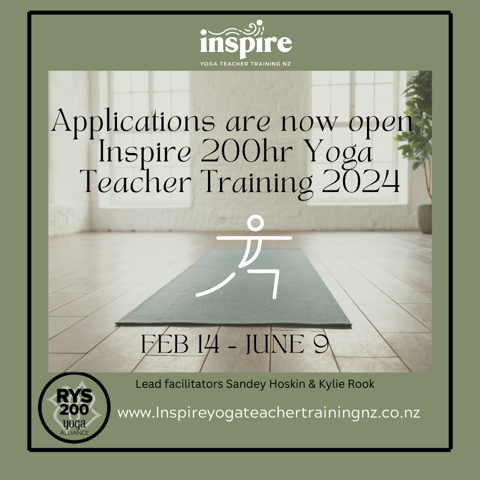 Inspire Yoga Teacher NZ training is a Yoga Alliance registered training program that offers 200hr Foundational Yoga Trainings and 300hr+ Advanced Yoga Teacher Trainings to inspire you to find your authentic voice, in a nurturing learning environment that will fully support and encourage you on your journey every step of the way.
Our Mission is to educate, empower and inspire students to be all that they can be, to share the practices and teachings of Yoga authentically and whole heartedly, honouring both tradition and modern science.
Our RYT 200-hour teacher training is a comprehensive program that provides essential knowledge and tools for dedicated students who wish to enhance their practice whilst learning to teach from a place of authenticity.
Our teachers collectively have over 30 years experiences, are highly passionate about sharing their knowledge and experiences with you. You can read more about our teachers here.
What you will learn in this 200-hour training:
• An introduction to yoga history and philosophy including Sankhya Philosophy, Patanjali's Yoga Sutras and Tantrik philosophy and practices
• Ethics of a yoga teacher using the principles of The Yamas and Niyamas
• How to culitavte a sustainable sadhana (self-practice)
• Meditation methods including mantra, chanting and mudras
• Principles of Ayurveda and Yoga
• Introduction to the subtle body – Koshas, kleshas, chakras, nadis and prana vayus
• Sanskrit names of poses and their etymology
• The art of Vinyasa Krama – wise progression of sequencing
• Guiding and cueing foundational yoga asana in the styles of Vinyasa, Hatha and Yin
• Principles of anatomy and biomechanics 
• How to observe and see bodies and be able to offer modifications & the use of props
• The art of using your voice with confidence and authenticity
• Gain confidence through practice teaching – give and receive feedback 
• Introduction to Yin and Mindfulness
• The business of yoga – what's next

Location: Auckland.
Dates: 8am-6pm daily
Module 1: February 14th – 18th, Basecamp Yoga Studio, Grey Lynn 
Module 2: March 20th – 24th, Basecamp Yoga Studio, Grey Lynn 
Module 3: April 24th – 28th, Kula Retreat Centre, Muriwai
Module 4: May 22nd – 26th, Basecamp Yoga, Grey Lynn 
Finals: May 26 – June 2, Finals preparation, practicals & written assessment Graduation: June 9th
Price: Full price $4,990
Early Registration Discount – save $300 if you register and pay before November 30th, 2023.
For more information, and to register, please visit Inspire Teacher Training NZ.