300 Hour Hatha Vinyasa Yoga Teacher Training, led by Steve Hall, Joleen Lunjew & Guest Teachers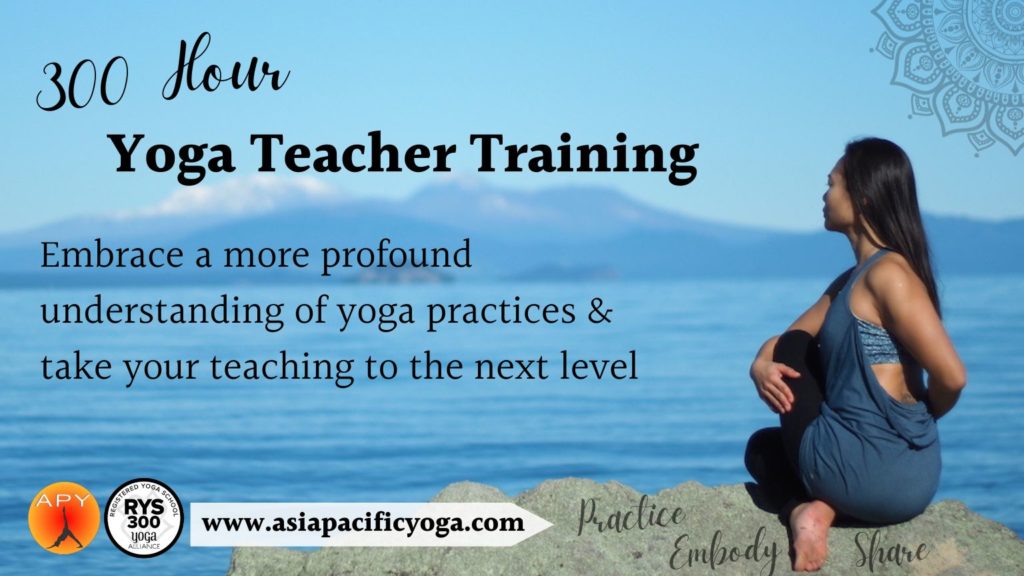 If you feel that you are ready to take that next step and become a RYT500 certified yoga teacher, then this course is for you! This Yoga Alliance accredited and internationally recognised 300 Hour Hatha Vinyasa Yoga Teacher Training is for teachers ready to embrace a more profound understanding of the power of Yoga practices. It is for those who are looking to immerse themselves in a physical, mental, emotional and spiritual transformation through yoga, community and meditation.

We will be building on your 200-hour Yoga Teacher Training foundation as we delve deeper into yogic philosophy and learn how we can implement them into our lives off the mat. At the end of the course you would have picked up skills and knowledge required on the path to becoming a better yoga teacher.

A 200 hour yoga teacher training is about learning to be comfortable in the role of the teacher, and knowing how to intelligently construct a class useful to your students, and to instruct that class safely. In a 300 hour yoga teacher training we step off from that basis and begin to explore further. There is no end to that exploration. A 300 hour yoga teacher training is not about more complexity. It is about more clarity.
Course Topics Covered
– Asana Methodology: Break down poses to correct, common bad habits and
alignments, as well as the language used to communicate them
– Intelligent Sequencing and Theming: Learn how to sequence a class intelligently and thoughtfully, using creative inspiring theme-based classes
– Modifications for Injuries: Explore different modifications for common injuries such as wrist, knees, ankles, lower back, shoulders and neck
– Yin Yoga: Understand the principles of yin yoga, how it differs to other styles of yang yoga, its physical and energetic benefits, and how to sequence and teach a yin class
– Restorative Yoga: Know the difference between yin and restorative, and the props required for the practice
– Yoga Nidra: Learn the science behind this extremely beneficial yogic sleep and the scripts to teach a deeply regenerative yoga nidra or guided meditation
– Pregnancy Yoga: Be familiar with the changes happening in pregnant women's bodies, and learn modifications to suit pregnant women throughout the different trimesters
– Advanced Pranayama: Experience another level of breath work with daily
pranayama exercises
– Meditation: Discover different methods of getting into a meditative state
– Yoga History and Philosophy: Go in-depth into the ancient philosophical principals of the Yoga Sutras. Recognise how the 8 Limbs can be applied to our lives
– Chakras: Focus on the psychic developmental map and the power of self
transformation that Chakras theory can assist
– Vayus and Koshas: Study more about these yoga systems and understand how Prana condenses into the physical body and sustains itself
– Applied Yoga Anatomy and Physiology: Dive deep into all systems of the body especially musculo-skeletal, cardio vascular, the PSNS and Fascia
– Styles of Yoga: Understanding the different genres of yoga practiced in the western world such as Hatha, Vinyasa, Ashtanga, Iyengar, Kundalini, Bikram, etc.
– Mindfulness and Personal Development: Learn life changing tools and exercises to raise your vibration and help you lead the life you desire
– Ayurveda: Find out your doshas (constitutions) and how to keep your body balanced based on what type of dosha (vata, pitta or kapha) you are
– Mantra and Kirtan: Enjoy devotional practices through music and mantra
For more info about the teachers, Steve & Joleen, visit here.

Testimonials:
"This 300 hour teacher training experience was fantastic! I am so grateful that I had an opportunity to learn and practice more. The teachers Steve and Joleen are amazing people – so knowledgeable – they are real professionals, also very kind and open hearted! I've learnt so much during this training about theory, philosophy, anatomy and more. Practical part was on the highest level! This course really helped to find the ways to improve our yoga teaching skills and learn how to apply them to practice in the best way. The location of the training was amazing – beautiful nature, just stunning. Accommodation was great. Everything all together made this experience unforgettable for me. I enjoyed every moment of it!! I would definitely recommend Asia Pacific Yoga to anyone!!!"
– Darya Lentz, Maryland, United States
Location: Taupo
Dates: This immersive training takes place over 26 days, from 7th October – 1st November.
Price:
Shared Room – $5,000, or early bird $4,700 (book before 1 July 2024)
No accommodation – $4,000, or early bird $3,700 (book before 1 July 2024)

Past Asia Pacific Yoga students will also enjoy early bird prices, regardless of when they book.
For more information and to register please visit Asia Pacific Yoga.