Already know you want to buy? Scroll down for Buy Now buttons.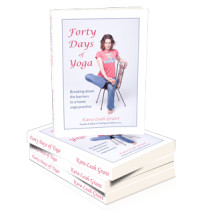 You know you feel better when you practice yoga on a regular basis.
You're calmer, stronger, more flexible and life has more ease. You feel connected and in-tune.
You know all this and so you want to practice yoga at home on a regular basis. But it's almost impossible to make yourself get on your mat and do a regular home yoga practice. There's always a reason why not.
Maybe you don't have enough time. Or the right space to practice in. Maybe you don't know enough to practice by yourself. Maybe you're not disciplined enough, or have enough will-power. Maybe maybe maybe…
Or maybe none of that is true and there's another reason why you don't practice yoga every day.
Forty Days of Yoga – Breaking down the barriers to a home yoga practice takes you on a journey into your psyche and examines what really stops you from practicing yoga.
It's the distilling of eight + years of knowledge down into a practical psychological process that can shift your mindset and give you the tools you need to create and maintain a home yoga practice. It's not a book – it's a result. And that is gold.
Forty Days of Yoga helps you design strategies to make daily practice possible in your life – no matter what your life is like.
With the help of this book you'll realise that you already have the time, space, will-power, discipline and know-how to create and maintain your home yoga practice. All you've been missing is the single-pointed focus and clear strategy to make it happen.
This is not a one-size fits all solution – this is a journey into your mind that helps you tease out your personal reasons for blocking or sabotaging your home yoga practice.
Forty Days of Yoga isn't just a book – it's a workbook. That means you can't just read it. You have dive deep and do it.
The worksheets help you set your life up to support a home yoga practice. They help you collect and design tools to get you on your mat and keep you coming back to your mat.
Once you've done the work and only after you've done the work, then you start your Forty Day practice. What that practice will look like is entirely up to you.
Your ideal home yoga practice is about what you need and what works with your lifestyle.
I know – you've tried to commit to a regular practice before. Maybe you made it to a week. Maybe you even made it to ten days. But something came up – something always comes up. And something will come up on this Forty Days of Yoga. But this time, you've got the book to turn to when you need support.
Forty Days of Yoga looks at what can come up on the mat and block us from practicing. It gives you tips and tricks for sticking to your commitment.
Forty Days of Yoga teaches you how to find solutions and workaround to life's regular challenges – including things like newborn babies, single parenthood and weekend-long weddings.
After you've read the book and done the worksheets, those regular life obstacles won't have any power over you. You'll be able to see them coming and take direct action to neutralise them.
Nothing will get in the way of you and your home yoga practice again. It will just be a part of who you are and what you do.
"From the first page, I was hooked. It's not about what you practice, it's not about which poses you do or if you can touch you knee with your nose in a forward bend. None of that matters. What matters is that you turn up to the mat every day and do a mindful yoga practice of some description. If you want a home practice, but for reasons known and unknown you have not been able to do it, I suggest you invest in this book. Truly, it's a life changer." ~ Sara Foley, Freelance Writer & Blogger The Practical Mystic
This book has been eight years in the making –
that's how long I've had a consistent, regular home yoga practice.
I've practiced when I knew next to nothing about yoga and was struggling to remember snippets from my Ashtanga course a year ago. I've practiced with a newborn baby, while renovating a house and when working full-time plus teaching six yoga classes a week and publishing an online yoga magazine. I've practiced through mental illness, spinal issues, relationship break-ups and single-parenthood.
No matter what's been going on in my life, no matter how busy I've been, no matter what physical, mental or emotional state I've been in… I've practiced yoga.
What makes me different from you? Why have I been able to maintain a consistent home yoga practice through many challenging life situations?
Mindset and process. I know how to work with my mind and I know how to work with process. Now I've taken that knowing and distilled it down into 40,000 words and sixteen worksheets so you can take advantage of everything I've learned.
"There is an esoteric secret to Yoga to receive its many wonderful gifts. You already do Yoga! You practice in the way that is right for you – actually, naturally and non obsessively until there is no issue. It's just like brushing your teeth or taking a shower – daily and no big deal. Yet we have an inbuilt resistance to practicing and overcoming obstacles to life. Please read Kara-Leah's book because she will help you through this and initiate you into daily practice. You will become a Yogi and dive deep into your intimate life in every way."~ Mark Whitwell author, Yoga of Heart and The Promise of Love, Sex, and Intimacy
Are you ready to commit to your home yoga practice?
Order Forty Days of Yoga Now: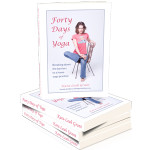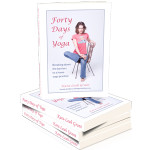 All prices in NZ dollars. Shipping is free to New Zealand & Australia for a limited time & $15 to the Rest of the World.

Spiral-Bound Print $42

Print + Electronic Package: PDF, Mobi & ePub $52

Electronic Package: PDF, Mobi & ePub $19



The No-More-Excuses Guide to Yoga
+ Forty Days of Yoga Combo Deal
What is The No-More-Excuses Guide to Yoga?  Find out here. 
.
Print Books $62

Print + Electronic: PDF, Mobi & ePub Books $72

Electronic: PDF, Mobi & ePub Books $32

No one ever looks back and says; 'Damn, I wish I'd started my home yoga practice later in life.'
Now is your time.
Frequently Asked Questions
I've already got books showing me how to practice yoga – why is this one different?
This book doesn't have any instruction on how to practice asana (postures), pranayama (breathwork) or meditation. It's designed to take you on a psychological process that will shift your mindset so you can use those other books you've already spent money on. It's the perfect companion for those books because instead of them gathering dust on your bookshelf, Forty Days of Yoga helps you work out why you're not using them and shares tips and tricks for getting the most out of your yoga resources.
I've never done any yoga, because I can't get to a yoga class or I am too intimidated to go to class. Can this book help me?
By itself, this book won't help you develop a home yoga practice, unless you already have some (small!) yoga knowledge.
However, if you buy it and work through it, it can provide the foundation and kickstart you require to gather the other knowledge you need to start your home yoga practice. There is a chapter on working with a yoga teacher one-on-one that could be useful because it details how to develop a home yoga practice in conjunction with a yoga teacher.
That means you don't have to go to a class and the teacher can help you tailor a practice that's perfect for your needs. The book could also give you the confidence you need to find the right yoga class for you – one that's inclusive and accessible.
There is never a better day to start your home yoga practice than today. This is the first day of the rest of your life.
"Forty Days of Yoga is absolutely brilliant. It is a powerful crystalizing of Kara-Leah's accumulated experience of flourishing her own practice in the reality of day-to-day life, complete with so many of the common challenges. The worksheets are a fantastic way for readers to put the wisdom shared in the narrative of the book into immediate action. I love that the whole reading experience feels just like sitting down to a cup of tea with KL. And that is a treat indeed!" ~ Kelly Fisher, Director of Urban Yoga, Wellington 
"Forty Days of Yoga is a powerful resource for anyone interested in committing to a home yoga practice. Drawing from her years of experience, Kara-Leah beautifully shines a light on all the myriad obstacles, internal and external, that one can face when undertaking a self-directed practice while living an ordinary life in the world. Packed full of ingeniously practical worksheets and examples from Kara-Leah's own life, this book invites one inwards to reflect honestly and creatively on one's own process and aspirations. And it is all done in a wonderfully holistic, all-inclusive way, so that one's whole life becomes part of the solution, rather than being seen as a 'problem'. I highly recommend this beautiful book!" ~ Peter Fernando, Insight meditation teacher and creator of A Month of Mindfulness online course.
Still need to know more?
I'm donating $1 from every print sale and 5% of all online sales of Forty Days of Yoga
to the Yoga Education in Prisons because I love the work that these yoga teachers do.
They really are bringing yoga to the people.