I left my small, humid, rotting Calcutta hotel room at 6:00am and set out on a mission to find the historical center of yoga therapy established by the late Yoga guru Buddha Lall Bose in 1937, the Yoga Cure Institute.
Publicly, little is known about the Yoga Cure Institute.
However, my teacher, Tony Sanchez, and his wife, Sandy, recommended that I visit Buddha Bose's yoga school during my three-month yoga study tour of India. Although I planned to spend most of my time in the South, I couldn't pass up an opportunity to trace the roots of the great Bishnu Ghosh Lineage of 84 Asanas.
Prior to embarking on this ambitious treasure hunt, I researched the Institute's location the best I could – printing maps, noting close-by landmarks, and recording every phone number listed on the Institute's web page.
But at 6:00am in the morning it's quiet and dark, and in a city with no street signs, traffic rules, or even a common theme per the city's grid plan, I was surely alone in this adventure.
After an hour of searching by taxi and asking every street-side waking soul at the early hour for its whereabouts I finally arrived at the Yoga Cure Institute.
My excitement at first glance of the center gave me a rush I will never forget, as I pronounced a thrilled "YES!" through the back seat of the taxicab and squeezed the shoulders of my driver.
At that moment I knew I was one of very few Western teachers to have found this truly hidden gem in India.
I quickly paid my fare, adding a generous tip for my driver's hard work and persistence, and stood on the street corner marvelling at the Institute's front entrance; a large wall signed in bold red letters and a yogic figure possibly depicted as Buddha Bose himself.
At the forest green cast-iron gate a lovely gentleman greeted me by placing his hands in the shape of a circle at his heart and slightly bowing.
Picking up that I was new to the centre, perhaps the city and country in general, he kindly directed me inside the gate past a row of beautifully tended, colourful flowerbeds and inside the Institute to a row of wood, wicker-backed chairs where other students were removing their shoes and sandals.
As I took a seat to patiently wait, I was impressed by the cleanliness and organization of the Institute, a quality hard to come by in such densely populated, hectic city. Past the seating area I watched students climb a winding concrete staircase that led to the yoga therapy room just one floor above.
I waited, and waited some more, mesmerized in the experience, by the loud hacking and snorting noises, deep hums of OM, and rapid discharge of pranayama breathing exercises that could be heard in the background. It was music to my ears, and I could sense this was indeed a very traditional Indian yoga school.
My visit to India was months in the making, mostly sparked by personal curiosity and an aspiration to study with some of the best Indian teachers in the world.
I had also been hesitant in the year's prior to believe that my first teacher, Bikram Choudhury, is the only successor of the great physical culturist and yoga guru Bishnu Charan Ghosh. I wanted to know more.
And through a series of fateful events, direction, and at times the smallest of encouragements to keep searching, I came to the Yoga Cure Institute to find the true heirs to the Ghosh lineage.
Within a matter of fifteen minutes a couple of staff members opened an office door in front of me and prepared the lights and welcome mats in anticipation for the arrival of the therapists.
We exchanged smiles, head nods, and a few whispered "Hellos". They could see I was utterly excited to be in their presence. Then to the response of reversing brake lights the staff pulled open two large garage gates and in drove a small, sky blue colored hatchback vehicle, and out stepped the Institute's Chief Yoga Therapists Rooma and Shib Nath De.
I was soon called into the small, dimly lit office where Rooma and Shib Nath De were meticulously sorting through files and papers. They invited me to take a seat at the foot of a large wooden desk, surrounded by a library of yoga textbooks and Hindu ornaments.
Smiling with nervous excitement, I took a quick, deep breath, and acknowledged their presence and my respect for their generosity and willingness to receive my company.
After brief introductions, my whereabouts and background, we began a long conversation that shifted my entire perspective on the Bikram Yoga empire.
As we ventured into the family tree I learned that Rooma De is the immediate disciple and daughter of Buddha Bose and is Ghosh's granddaughter. At the age of thirty one, Rooma inherited her father's duties as Chief Yoga Therapist before his passing a year later in 1983.
Bose had married Bishnu Ghosh's eldest daughter, Ava Rani, and was considered to be Ghosh's primary protégé, giving posture demonstrations in addition to his guru's lectures in India, Burma, Japan, and the United States, including notable appearances at the Colombia University in New York in 1939, seven years before the birth of Bikram Choudhury.
I was impressed by Rooma's calm and quiet demeanor. She wore a beautiful, traditionally patterned maroon and white saree, lavishly decorated in gemstones and small tassels to accompany her solid, blood red Bindi over her third eye.
She was first exposed to Hatha Yoga as a young girl by her grandfather, Bishnu Ghosh. He is celebrated as one of most iconic physical culturists in India – he combined several philosophies to create a therapeutic sequence of 84 asanas, one of the most widely practiced methods of yoga today.
Ghosh was the real genius.
Rooma said,
He was the perfectionist…and he taught my father everything he knew.
Ghosh's training came from several directions, most notably guru Swami Kuvalayanda, one of the chief advocates for the spread of yoga into the West. He was also trained by Professor R.N. Guha Thakurta, director of physical education at the University of Calcutta, and older brother Paramahansa Yogananda, one of the great mystics and spiritual masters of our time.
Most of these teachers also directly taught Budda Bose themselves. Swami Kuvalayanda started training Bose in asana at the age of sixteen, a practice Bose perfected under the guidance of Bishnu Ghosh and his developing physical culture methods.
Ghosh once reflected towards Bose's mastery,
His ardent endeavor has lifted him above the common level…he has far surpassed his trainer [Ghosh] and amazes me, and the public as well.
At this point in the conversation it became clear to me just how original, authentic, and flawlessly proficient Buddha Bose was in both Hatha and Kriya Yoga, a combination only fused to the lineage roughly in the last one hundred years. Paramahansa Yogananda, who had extensive experience and success with Kriya Yoga, also initiated Bose into this ancient spiritual path.
Rooma's husband, Shib Nath De, is the other Chief Yoga Therapist of the Institute and direct disciple of Buddha Bose. He is a gracious man, of both nobility and intelligence. He wore a professional, fitted business outfit, dressed in an ironed button down shirt and a muted blue tie underneath a cashmere sweater vest.
As we spoke he presented the deepest capacity for compassion and kindness, and demonstrated a keen ability to listen and respond with the sensitivity of an experienced and well-respected authority. Shib Nath spent many years under Boses' guidance, and combines his passions for Hatha and Raja Yoga as is taught to the students of the Yoga Cure Institute.
Both Rooma and Shib Nath De were initiated into the realm of Kriya Yoga by Saint Sree Sree Sarbani Maa, an achievement Shib Nath describes as "the most important moment of his life."
Sree Maa is referred to as the 'Holy Mother' who pursued the spiritual path of Kriya Yoga under the tutelage of Sri Sri Baba and is regarded as one of the few gurus to have been granted the right to initiate spiritual seekers in the ancient science. To this day she continues to guide Rooma and Shib Nath in their spiritual journey for the betterment of the Yoga Cure Institute.
Together Rooma and Shib Nath operate the Yoga Cure Institute based on the ideals and methods originally taught by Buddha Bose and the many yogis and gurus before him.
Students must commit to a minimum of ten days practice and are given an individual consultation either by Rooma, Shib Nath, or their twenty-five year old son, Avra Kesh. Upon analysis the Therapist prescribes a specific sequence of yoga postures and pranayama breathing exercises tailored to suit the practitioner's physical, psychological, and emotional needs.
The sequence is then taught by one of the Institute's trained teachers to be practiced daily either at home or in a teacher-supervised class setting. Classes are held between 6:00am-8:00am Monday – Saturday and 4:30pm-7:00pm Monday – Friday. Morning students may arrive anytime before 7:15am and go as they please when they are finished with their exercises.
It's a far cry from the methods that Hot Yoga advocate, Bikram Choudhury, encourages as his studios. Bikram's methods consist of filling a heated room to its maximum capacity and directing the class through a routine sequence of 26 postures and 2 breathing exercises derived from Ghosh's 84 Asanas.
Bikram was also a close student and disciple of Bishnu Ghosh, crowned four-time All-India National Yoga Champion from age thirteen to seventeen from 1959-1963. After rehabilitating a catastrophic knee injury through yoga, he developed 'Bikram's Beginning Yoga Class' under the guidance of Bishnu Ghosh.
Before his demise in 1970, Ghosh instructed Bikram to spread yoga throughout the West. After spending time in India, Japan, and Hawaii, Bikram landed in San Francisco and Los Angeles and launched the first ever Hot Yoga fitness model we see in studios around the world today.
Although the spread of Bikram Yoga is impressive, an ambitious feat, and above all true to Bishnu Ghosh's request, Bikram's methods seem very distant from the ethics, guidance, integrity, and therapeutic approach to the yoga found at the Yoga Cure Institute.
After much devotion, practice, and proficiency the more advanced, regular students are invited to participate in basic Kriya Yoga techniques offered by Rooma and Shib Nath De.
Shib Nath further explains;
Only those who have mastered the techniques of Hatha Yoga and have advanced to a certain stage in self-realization are capable of properly imparting this training, which needs to be tailor-made to each and every individual.
It seems Buddha Bose was the true master yogi and descendant of Ghosh's yoga lineage, true to its original form. Trained in asana by Swami Kuvalayanda, perfected in asana by Bishnu Ghosh, and initiated in Kriya Yoga by Paramahansa Yogandanda, Bose's credentials stand significantly more competent next to Bikram, who was never trained in Kriya Yoga.
I stand to believe that if Buddha Bose hadn't been injured by a plane accident in the Beirut desert he would have been the figure pioneering the spread of Ghosh's yoga throughout the West.
As we closed in on our allotted time I hesitantly asked Rooma and Shib Nath De if they had any thoughts about the sex scandals regarding Bikram Choudhury. I wasn't expecting an answer, nor did I push for one.
Shib Nath calmly responded,
It doesn't change anything.
I continued listening, absorbing his considerations,
What a man does in his personal life, his home life, his social life, does not affect the truth and integrity of this lineage…this yoga has been around for 6,000 years. There is no need to change the yoga. It works. There is no need to make it personal, to put a brand on it, to add things or take away things. What we teach here is true yoga, as it was taught by my guru [Buddha Bose], and the many before him.
He looked back and gestured to the framed photographs that lined the back wall, each draped in floral garlands in honor of the yogis that protected this great lineage.
I thanked Rooma and Shib Nath De for their time, their insights, and their honesty. After we exchanged email addresses and phone numbers I said my farewells and was on my way once again to mingle amongst the busy streets of Calcutta.
Unfortunately neither Rooma nor Shib Nath were currently teaching as they are finishing construction on the top two floors of the Institute which will become their full time residence upon completion later this year. They did, however, invite me to return to the Institute at a later date and enjoy a private consultation and practice in their classes when they are less occupied with other projects.
My curiosity had been satisfied with the information I came to obtain.
What is clear to me now is Buddha Bose, his daughter Rooma, her husband Shib Nath, and their son Avra Kesh are the rightful descendants to the Ghosh lineage, if that's what it's to be called.
I am also aware that Bikram Choudhury is not nearly the qualified guru he was once believed and still claims to be. A yoga champion, a body-builder, a stuntman, and a singer – in this decaying order Bikram hardly parallels the honest and selfless work continued on by Buddha Bose's family at the Yoga Cure Institute.
Now only one question remained, how do I get back to my hotel?
* People in the Portraits:
From Far Left:
– Bishnu Ghosh
– Sree Sree Sarbani Maa
– Sri Babaji Maharaj
– Buddha Bose (middle, large)
– Shyama Charan Lahiri
– Paramahansa Yogananda
About Tom Sutherland: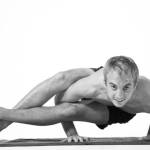 California native Tom Sutherland is a Progressive Yoga Instructor who has trained with Tony Sanchez in the Bishnu Ghosh/Bikram Lineage and most recently undertook a Vinyasa training with Prana Vashya in Mysore, India. He goes by the alias 'Traveling Yogaman' and you can subscribe to his blog 'The Daily Stretch,'  follow his travels around the world on his facebook page, or contact Tom by email (tom@travelingyogaman.com).
You can also watch a Skype video interview about his training with Tony Sanchez here.