by guest author Jonnie Halstead, Picnic Events
I am transformed.
The yogi that writes to you know is different from the man who landed at LAX on the third of July.
That was before I ventured on to the Rocky Mountains in Colorado for the Wanderlust festival, before I had explored new depths in my yoga practice and before I had benefited from some of the most prolific modern yoga teachers, inspiring mindful living leaders and notorieties of the conscious consumer movement.
That was also before I made many new friends and allies, many of whom I have made promises to stay connected with.
That was before I joined the global Wanderlust community.
If you read my previous article last week you'll know that I have come all this way to investigate the possibilities of a festival such as Wanderlust for New Zealand.
I want to know if a festival curriculum could be the way to attract a mainstream audience to yoga and all its positive spin-offs.
So here I am 15,000kms from home.
Travelling by ones self can be lonely, but not so on this occasion – I am a pilgrim, a seeker amongst sage wisdoms. We are easily spotted as we gather amidst the throng of tourists at Denver International Airport; healthy figures with rolled-up yoga mats are a dead give away.
Our destination is a Mecca to our mutual practice of betterment and exploration of the self.
I came armed with not only easy instructions for my connecting flight, airport shuttle and event registration instructions (all digitized and easily manageable by the Wanderlust smart phone app) but also fully prepared to engage the
Hi, I'm Jonnie the Kiwi
charm offensive.
I'm here to make friends. Also if I don't engage with them how can I endeavor to understand what this is all about?
Two hours after a winding, steep drive we pass under the "Welcome to Wanderlust" banner straddling the gate of the Copper Mountain Resort.
We are surrounded by three hundred and sixty degrees of mountains.
The name Colorado comes from the Spanish root word for "colour red". But I am struck by the intense greenness of this place.
A complex of four story Swiss-Alp-style condos and conference buildings compliment the lush Aspen Pines and snow-capped peaks that tower above. Placed neatly in the green spaces and alleys between is a village of marquees that house the Wanderlust festival.
Due to a heat wave across America, its ninety degrees Fahrenheit back on the old dry "ranch land" of Denver City below.
But apparently the temperature drops approximately five degrees Fahrenheit for every 1000 feet of elevation. Copper Mountain Resort sits about four thousand feet above those planes (nine thousand five hundred feet above sea level) so it is a lot cooler here and we can expect it to be positively brisk at night.
I am less concerned about the temperature and more concerned about surviving four days of intense yoga at high altitude.
To start the festival, I make my way to the "Wanderlust Spectacular" which starts with a procession through the village, followed by water performances on the lake and on to a giant marquee titled 'The Greatest Place'. From start to finish the party showcases a variety of exotic dance, physical art, acro yoga, electronic bands, DJs and our insatiable host MC Yogi.
I am suitably impressed by the amazing talent of these super yogis.
Their performances make me proud to be human even though my own skills do not even warrant comparison. In one short evening, the Wanderlust Spectacular as given us a taste of what the festival has on offer. As well as the inspiration to practice two or three yoga classes each day while here.
As an added incentive for male attendees to ramp up our yoga skills, are the hundreds of extremely beautiful women. Not girls, women!!!
Bring on the first class, after a good nights sleep!
Over the next three days I average two yoga sessions a day, and at least two other activities such as group hikes, lectures on natural health and experiences around the event village.
A very keen yogi could go hard and take three or more ninety minute yoga sessions in a day. The eight studios range in size from the smallest ('The Nest') catering to classes of approximately fifty up to the largest ('The Greatest Place' also the main music stage) capable of a capacity of five hundred plus mats.
It is in 'The Happy Place' with one hundred other eight am practitioners where I sleep-walked my way in to my first class and commenced my power-packed 1st day of activities.
It did not take long for me to wake up to the idea of opening my body & mind.
'Blissology' is the contemporary brand of yoga & meditation created by Canadian surfer-yogi Eoin Finn. His class was a fun free style all about love and connection to the earth. He is witty and cool, instructing us to
Check people out more! But in good ways.
and to use our
Heart phone not our smart phone.
We all left smiling and chatting with our fellow practitioners. The man is an inspiration who preaches nothing but living life to the fullest.
I would experience two other classes in this mid-sized studio both of which were posture clinics: 'Learn to Love Back Bends' with Desiree Rumbaugh and 'Hip Openers for Dudes' with Matt Giordano.
Both of these were "demo and try" style tutorials allowing open discussion and participation at ones own level. I found them extremely beneficial and I can't wait to take the many techniques I learnt back to my home practice.
My wife actually planned my schedule so apparently my bends and openers need a lot of practice.
Desiree asked me to perform one of the demos as an example of tight shoulders. I like to think it's because I was up for the 'Most Improved Award'. By the end of that session I learnt to:
train my shoulder tips to plug in to the socket before lifting the heart & sternum and lowering the pelvis.
One studio worth a mention is the unique highlight of the Colorado venue, 'The Highest Place'.
After a fifteen minute ride on the 'American Eagle' chairlift is this open-air studio perched two thousand feet. above the rest of the festival. Practicing a forty five minute Vinyasa Flow class in thin air is not only a challenge to breathe but also to stop from just staring out at the view.
'The Mothership' is the second largest studio with space for approximately one hundred and fifty other mats.
It is here I took Shiva Rea's class that:
merges the great rivers of Tantra, Yoga and Ayurveda for embodied, ecstatic living.
What a privilege to practice by the instruction of arguably one of the greatest modern Yoginis.
She did not disappoint.
I will be the first to admit I was out of my league in this class, with so many 'Uber Yogis'. You know the type (some of you probably), those that stretch before class by doing headstands and crow while I work on my advanced shavasana technique.
I tend to think of this as a show of ego rather than a real need to get inverted before everyone else.
But the first thing Shiva told us after she floated in to the room on a golden cloud was to "send our egos into the earth".
Then to put all our mats and "campsites" away and form a circle. After 90 amazing minutes, if not already, everyone in that class left in awe of her – her humility, her grace and her fun. Her demos were inspiring; she's hot! Okay i'll admit it I have a wee crush on Shiva Rea but then so did half the class!
The practice was very challenging, more like a warriors dance in martial arts.
Perhaps that's why someone next to me let out the most god-awful fart. I mean we all know yoga makes us pass wind but sweet baby Jesus this was bad. Least I say I fell from grace and hid in child's pose for a minute or two.
A note about 'spirituality' at this point: the average kiwi cynic might scoff at the level of spirituality in Shiva's lesson, but that would be due to just hearing and criticizing her choice of words, rather than listening for and truly understanding the meaning in her messages.
Ego can be a barrier to enlightenment.
The one class I took in 'The Greatest Place' (also the main music stage) was also the hardest class of the festival for me: Sean Corn's Detox Yoga.
In short it was really tough Power Vinyasa Flow infused with life coaching words on inspiration and meditation from the influential and prolific founder of the charity 'Off The Mat & Into The World'.
Sweat was pouring off me and I couldn't stop shaking for about an hour afterwards. She said we'd probably all poo straight after and she was right. The release was similar to strong herbal cleanses I have done in the past. I had to eat a power salad of tabouli afterwards.
Other yoga seen but not tried included 'The Slackers' which is basically yoga on a rope strung between two wooden horses; and 'The Hoopers' a flowing yoga using hoola-hoops.
Now of course the Wanderlust experience is far more than just yoga.
Being that I am writing for The Yoga Lunchbox, I will attempt to breeze over the other features.
I took several hikes on the surrounding slopes, both on my own and as part of a planned group. I found them a meditative experience after the grounding intensity of the yoga room, a welcome chance to get outdoors amongst the beautiful scenery and connect with nature. Also they were a great way to make friends and share experiences.
One group hike was finished with a group round-circle hug where we meditated and completed with a single Om.
Another group hike I partook was led by a naturopath and herbalist who taught us the medicinal benefits of eating dandelions and how to make tea from pines (which interestingly has three times the level of vitamin C than citrus fruit).
The odd morning I awoke felling the effects of high altitude and too much organic wine.
Luckily in the "Wanderlust Food Co-Op" was a stall serving the best Breakfast Burrito I have ever had (how does organic free-range eggs, local kale, wild mushrooms, goats cheese and vegetarian sausage sound for a hangover cure?).
As a bonus, the guy behind the coffee machine used to live in Melbourne and new exactly how to make a "Kiwi-style flat white". Suitably rejuvenated and after a break to digest I was soon laying down my mat…
Next on the menu is my first Wanderlust Speakeasy.
This series of lectures is held in intimate theatres where you can choose to sit lotus style on the rugs on the floor, at cabaret style tables in the middle or on terraced bench seats up the back.
Rolf Gates is a former military man and recovered alcoholic who after taking a path to enlightenment trained under than none other than Depak Chopra. The title of his talk was "You hit what you aim at – Meditation, visualization and the practice of living with purpose".
He imparted ways to apply spiritual principle: in short instead of saying "What's in it for me" he urged us to ask, "How can I be helpful?". Your body and life go where your eyes and vision aim, but we've been taught to aim for the wrong things.
I spent much of my "time off the mat" bobbing in and out of the vendor stalls in the village; sampling, mingling and meeting like-minded people.
At the other end of the spectrum was my experience in 'The Healing Place', Wanderlust's pop-up beauty spa.
Thanks to my wife's foresight I was the lucky recipient of the best most intense massage I've ever had. I still had strange bruises on my shoulders three days later.
Every evening was it's own social date on the 4-day calendar, so around 6pm it was time to head back to my room and freshen up before "hitting the town" (or village).
Winederlust was a very cool street party with wine stalls on either side leading to a small stage hosting a blue grass band.
This was a great chance to socialize with my fellow yogis and yoginis whilst supping away at fine Californian biodynamic organic wine.
On another occasion I was one of the few lucky ticket-holders catching the bus one mile down the main street of the resort to the 'Farm to Table Dinner'. Celebrity chef David Taladay served to over 300-seated guests a sumptuous 4-course dinner of all organic and locally produced ingredients.
Of course, like any resort, you can always choose to dine in your room or any one of the dozen bars & restaurants Copper Mountain boasts. All are a great way to gear up for the big party.
Saturday at Wanderlust is the big day and by lunch time the audience numbers have swelled to three times that of the day before with the arrival of "The Pilgrims" (single day pass holders).
They bring a renewed energy to the village and a sense that the party is about to turn to frenzy. At a guess I'd say around three thousand five hundred people were there to attend the big Saturday night party once all the extra music only ticket holders arrived by eight pm.
We all remember Moby's trip-hop café dance beats of the 90's. Well that's not who turned up to play tonight.
Apart from the odd recognizable sample, his DJ set was super charged with pump'n tech house and big beat. Simplly put it was epic!
Breakdowns would build to crescendo and then drop in to raging dance beats. The room was a frenzy, as was he! Bounding out from behind the decks he stood above the crowd barrier in full Jesus pose. No joke, this was a classic super club set, and it was really well done.
For those not completely warn out by days of yoga and hours of dancing there was an after party held at 'The Spot', in intimate bar just off the main plaza. The call of my soft king size bed was too much incentive for me to attend. Even more incentive was my final day itinerary a mere seven hours away.
Sunday afternoon the Wanderlust vibe becomes somewhat subdued as the last remaining thousand or so head back to 'The Greatest Place' now changed over for the closing performance – an intimate sit down (on cushions and rugs) acoustic show by Moby on guitar singing with a female vocalist and violinist.
He was witty and engaging. A true character on stage.
And with a final farewell from the MC and standing applause from the appreciative crowd – Wanderlust CO 2013 is done.
How do I summarize such an all-encompassing participatory festival experience? One, which I have found to be truly transformative and inspirational? That has left me counting numerous new good friends in the global yoga community?
I think Wanderlust co-founder, Sean Hoess says it best:
That, my friend, is the particular brand of organic, dye-free kool-aid we sell. Lifelong friends from a weekend festival.
Stay tuned for the next article in this series when Jonnie shares his experience of Lightening in a Bottle.
About Jonnie Halstead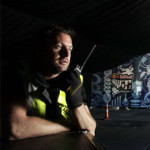 Graduating in Media & Design in 2000, Jonnie Halstead has since built a career out of catering to New Zealand audiences. He started out in the '90s rave scene of Christchurch and was one of the original crew of The Gathering. He's also been prolific in nightclubs, including the co-founder of the award-winning Club 'Sandwiches' in Wellington.
In 2006 he started PicnicEvents.co.nz and quickly grew to be a key part of some of this country's most renowned festivals including the Homegrown festival, Coromandel Gold, NZ Cup & Show Week and many more. But first-&-foremost he counts himself as a farther, husband, son, brother, cousin, friend, greenie and yogi.