by guest author Jonnie Halstead, Picnic Events
Lightning In A Bottle is not a festival… It's another freak'n planet!
A fourth dimension where only the weird and wonderful flourish. This is not for the faint of heart.
There's the odd eye-opener mixed with a lot of near nudity. But the beauty is not just beheld by the lithe young bodies in the audience – the production and theming is without a doubt the best I've seen in a fifteen year career in events.
So where else would the yogic community of Southern California, and no doubt surrounding states, choose to congregate?
But is it real, or just a big hedonistic hippie fest?
Not including the campground and carpark, there are five zones to the festival that overlap with an open free flowing layout. This makes it very easy for the twenty thousand something people to mingle.
There's a massive market place with rows and rows of crafty, consumer choices. The main 'Lightening Stage' hosts eight thousand plus people and is undoubtedly the place to be beyond darkness. The smaller 'Bamboo Stage' is more intimate dance party styles.
There is also the 'Woogie Stage' with tree-house DJ booth, 'Lumi Lounge', 'Favela Bar' and the food court is a massive open green space. Finally over by the lake edge and bush walks is the 'Temple of Consciousness' where the Yogis and Yoginis go for their healthy dose of peace, a straddle of the festival throbbing behind. This is where I spent most of my time.
The Omm Yoga line-up over the three days included: Bryan Kest, the world-renowned pioneer of 'Power Yoga'; Micheline Berry of 'Liquid Asana'; Ashley Turner, a notable vinyasa teacher, Mark Whitwell, whose eastern style teaching is all about empowering your yoga, life, body, breath and sex; and Christi Christensen who recently featured on the cover of the 'Yoga Journal'.
Much like Wanderlust, this is a who's who of American Yoga.
'The Do Lab' is the genius behind LIB; and they describe the festival as
The ultimate gathering of: "Yoga, Workshops, Art, Music, Performance and Sustainability"
I can instantly see why so many have described this long-standing festival as an adventure!
Music, art festival and educational conference are all happening at once.
One can fill their days meditating, painting, wandering the various stalls, listening to featured speakers, or partaking in workshops on everything from natural building to fire craft, or self sufficient housing to raw food diets.
You could be forgiven if you thought this was your one stop shop to Health, Wellness & Sustainability 101.
But as I attempt to interact with the crowd during the day, and then stare a little awe-inspired by their freakishness as the evenings grow neon, something strikes me about Lightning in a Bottle (pun intended).
I can't help but find the mix of hedonistic spirituality, with some obvious on the side drug taking, (the air is infused with the smell of cannabis), contradictory to the yogic side of the festival.
Could the 'Yoga' at the start of the byline be a red herring for the vast majority of the audience?
Two worlds collide here, providing an almost acceptable practice of
Getting out of it – not matter what your buzz.
It is worthy to note at this point that I myself am no saint in that department.
But I'm here to envision the next fifteen years of my life not relive the past.
My mission statement is to find a way to attract the mainstream audience to a yoga festival, and show them how yoga and mindful living can become a daily practice.
I'm sure the average Kiwi house wife would find what I saw at Lightning in a Bottle very amusing, but I somehow doubt it would inspire her to pull on butt hugging pants and get on the mat to stretch out her emotions.
At the other end of the spectrum, those of you that are devout to such yogic practices like Kundalini will also share in this criticism of Lightning in a Bottle.
But enough with the negativity, whatever they're up to at Lightening in a Bottle, it's working.
The crowd remained across the three days of the festival one of the mellowest and most fun loving you could imagine. And you'd need a vivid imagination. As vivid an imagination as the many installation artists involved in bringing this site to life.
One Lightning in a Bottle regular described it best when she said
The interactive environment of this (festival) has become a beloved part… of the… like… experience…
*stares off in to nowhere*
… I mean… like… WOW! Right… Isn't this great…
*prances off with friends*".
Another simply called it
Burning Man Resort.
Everything is purpose-built for it's intended use and position at the festival, and it all appears to be hand made. No marquee hire company required.
Where I would normally use a star marquee or wigwam as a shade sail, they have built a giant fifty foot high snail shell made from hand died canvas and bamboo!
I am extremely inspired by the level of detail in Lightning in a Bottle's production, especially as it grows dark and these mega shapes come to life with intelligent lighting.
Who needs to get high? Wandering the festival at night is like venturing through an Edwin Perkins wet dream.
Back to the yoga.
It appeared to me that the mornings to mid afternoons were where the real yoga practice took place.
In the evenings music takes more of a key part in the meditative yoga experience on the 'Temple Stage',with artists such as 'Bashar: Extraterrestrial Channelings' and 'Steve Gold & Stoned on Shiva's Community Hootenanny Revival' performing to dozens of devotees.
If your soul is thirsty for more of these sorts of spiritual elixirs then a venture to the Healing Sanctuary for some deeper exploration is the Lightning in a Bottle destination for you.
On my last morning, I wanted to get on the mat, stretch, sweat, breath and loose myself.
So I set course for the teachings of the renowned Bryan Kest and his patented 'Power Yoga'. Bear in mind I am fresh of the back of Wanderlust  the previous weekend, and I have spent the week days in between hanging out in Santa Monica practicing in various top studios, eating well and swimming at the beach.
So bring it on Bryan! I think he picked up on my enthusiasm, as while he barked instructions his merry henchmen would dart out from hidden places to "assist" me with my "corrections".
Not to sound bitter though – looking back I am extremely proud of that class, but at the time I wanted to die.
After about the five hundredth sun salutation my heart was pounding about thirty centimeters in front of my chest and my lungs were using my pleura as punching bags.
Then Bryan says in his strange pseudo German New Yorker accent,
Das concludes th' warm up, now let's get to it!
After two plus hours he finally gave us over to his henchmen for a meditation while he no doubt used his super human powers to fly home saving several small villages along the way. The man is a god!
So okay, they may get a bit freaky when the party starts, and spirituality and sustainability win over health and wellness. But if the Lightning in a Bottle audience wants serious yoga it is offered to them on a silver platter.
Like Wanderlust, this is a unique opportunity to really challenge yourself with the best in the business. Like any festival, music or yoga, line-up is key.
But as I rolled up my mat for the last time and packed my bags for LAX, and in the days since my return to New Zealand, I have certainly come to realize that out of the two festivals, Lightning in a Bottle may have wowed me, but with Wanderlust I have fallen in love.
Both are very well produced with top-notch talent (music, yoga and art), but as a transformative and inspirational experience Wanderlust wins hands down.
Why?
The simple fact that at Wanderlust you are there for betterment, pure and simple. You leave all your habits and reservations at the door and you expose yourself to new experiences and challenges. Rather than hitting the bar or the bong straight afterwards, the high you seek is the next experience.
And all along the way you are making friends to team up with and do it as a collective.
That I believe is what makes Wanderlust and its community so uniquely special. That is why, all going to plan, I will be producing Wanderlust New Zealand in the summer of 2015.
Oops! Did I let that slip? Must be my yoga brain…
About Jonnie Halstead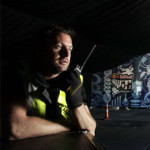 Graduating in Media & Design in 2000, Jonnie Halstead has since built a career out of catering to New Zealand audiences. He started out in the '90s rave scene of Christchurch and was one of the original crew of The Gathering. He's also been prolific in nightclubs, including the co-founder of the award-winning Club 'Sandwiches' in Wellington.
In 2006 he started PicnicEvents.co.nz and quickly grew to be a key part of some of this country's most renowned festivals including the Homegrown festival, Coromandel Gold, NZ Cup & Show Week and many more. But first-&-foremost he counts himself as a farther, husband, son, brother, cousin, friend, greenie and yogi.