by guest author Jonnie Halstead, Picnic Events
See bottom of articles for dates & line-up for One Day events in 2014.
I have an announcement to make, just for you; the loyal Yoga Lunchbox reader.
If you haven't heard of Wanderlust Festival, read my previous articles on hitting Wanderlust in the States.
What I didn't say previously, or couldn't say for legal reasons, was that I have been in cahoots with the NY-based Wanderlust team for sometime and in fact it was they who invited me to come to the States to experience the festival first hand.
What I can tell you, now that our negotiations are complete, is that we have signed a deal.
We will not officially announce what the festivals will look like, and who will be in our line-up of rockstar Yoga Teachers and yogic Musicians until November.
But since Kara-Leah has been so supportive of our efforts behind the scenes, I though I would do the honour of letting her followers know first, exactly when and where.
Immediately following Wanderlust Festival O'ahu, we will fly the 'Downunderlust' tour party direct to our shores for three amazing one day launch events.
These will be held on:
March 9th – St Kilda Beach, Melbourne
March 23rd – Victoria Park, Auckland
March 30th – Royal Botanic Gardens, Sydney
We will also host a number of intimate and intensive workshops, allowing practitioners to get their dog down with some of the best yoga teachers in the world. (Find out how to plan your perfect Wanderlust experience here.)
But these events are NOT the full Wanderlust Festival format – the 4-day experience we are planning to launch in the summer of 2015, in an idyllic natural location somewhere in New Zealand (I'll give you a hint: it has volcanoes and a really big lake) smack bang in the hot spot of the Kiwi summer.
Event planning is often a moving target, so please don't hold me to ransom if some of the specifics above change.
The best thing you can do to stay up to date with our plans is join WanderlustNZ on Facebook.
I will write back to you every now and then to continue to offer exclusive little inside planning updates; such as when we confirm the famous teacher that rhymes with Liver Day. Am I giving too much away…?
Gotta go; we have much to do. Wanderlust Festival IS COMING for you, in New Zealand and Australia!
JUST ANNOUNCED: Dates & Line-Up for One Day Events 2014
Wanderlust, the world's largest and fastest growing yoga and music platform, is invitng yogis to
roll out their mats during Wanderlust in the City (choose your city) Melbourne, Auckland or
Sydney.
Taking place in March the gratis daylong event will feature an unparalleled mix of
immersive yoga sessions, cutting-edge musical performances, organic eats and unique outdoor
activities in the heat of our late summer.
Wanderlust In The City – Melbourne
South Beach Reserve, St Kilda
Victoria Labour Day – Monday March 10th
Wanderlust In The City – Auckland
Lakeside Park, Western Springs
Sunday March 23rd
Wanderlust In The City – Sydney
The Domain, Royal Botanic Gardens
Sunday March 30th
Editor's Note: I'm over the moon! Leaping for joy! Ecstatic and stoked! This is what I dreamed about nearly two years… Wanderlust coming to New Zealand, and now Jonnie's made it happen. It's going to be a fantastic ride folks, so stay tuned for more unfoldings here on The Yoga Lunchbox. In the meantime, a few Wanderlust videos to whet your appetite… including some of my favourite teacher ever Shiva Rea…. Yes!!! Kara-Leah
Falling in Love with Yoga
Shiva Rea on Prana Flow @ Wanderlust
Wanderlust Festival Highlights 2011
About Jonnie Halstead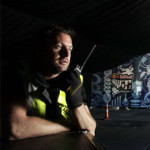 Graduating in Media & Design in 2000, Jonnie Halstead has since built a career out of catering to New Zealand audiences. He started out in the '90s rave scene of Christchurch and was one of the original crew of The Gathering. He's also been prolific in nightclubs, including the co-founder of the award-winning Club 'Sandwiches' in Wellington.
In 2006 he started PicnicEvents.co.nz and quickly grew to be a key part of some of this country's most renowned festivals including the Homegrown festival, Coromandel Gold, NZ Cup & Show Week and many more. But first-&-foremost he counts himself as a farther, husband, son, brother, cousin, friend, greenie and yogi.