by Kara-Leah Grant
I've done several Skype Video Interviews this year, and most of them have been with overseas yoga teachers, many of whom already have a high profile.
Yet those teachers aren't necessarily any better than many of the excellent teachers we have here in New Zealand – it's just that here, our most excellent teachers often fly under the radar, with very little media presence.
Auckland-based Vincent Bolletta is one of those teachers. He's been practicing yoga since about 1990, and teaching since 1996, when he made the decision to dedicate his life to the practice.
That dedication shines through in his practice, his teaching, and the way he speaks about yoga. Currently co-owner of Yoga Ground with Susan Allen, Vincent's focus is on tailoring the yoga for the individual, even in class situations. As his bio says:
"Vincent's area of interest lies in structural rehabilitation and integration, movement impairment syndromes and anatomy & physiology. Vincent uses the methodology of Yoga asanas, Pranayama and a variety of other bodywork methodologies in his classes and private sessions." ​
He's also clear on what it really means to teach yoga, speaking about the need for a student to embody a teaching they've received rather then just understand it intellectually and regurgitate it by rote as they step into the teacher role.
It was a pleasure to speak to Vincent, and to feel his depth of understanding of the subtle aspects of yoga. I hope you enjoy the interview as much as I did.
An interview with Vincent Bolletta on Why Not All Yoga is Good Yoga & More
About Vincent Bolletta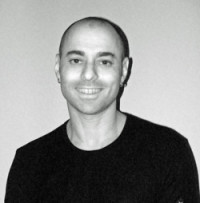 Vincent has been teaching and practicing yoga since 1990 and has also been involved with the health and wellness industry as a fitness consultant for the same period. He initially took a two year teacher training course under Mike Byron-McKay and The New Zealand School of Yoga. He has subsequently trained with numerous teachers incorporating a broad range of Yoga styles. Vincent has also presented yoga workshops national and internationally.
​
Vincent's own practice and passion is teaching private and therapeutic yoga sessions where the multi dimension healing properties of yoga can come to life. Vincent also runs, in conjunction with Kawaipurapura Retreat Center, a Functional Yoga and Bio Mechanical post graduate program for qualified yoga teachers.
​
Vincent has spent the last few years working creatively on a series of Yoga photographs which have been exhibited in New Zealand and the USA and have been also published by Yoga Journal Russia. You can find him via his website here.