by Kara-Leah Grant
I first met Lucas Miles at the lecture Bikram gave in Auckland in January of 2012.
He was this crazy tall, lanky tattooed guy who spoke a mile a minute and had some damn interesting things to say.
Later, he sent me a link to some articles he'd written about his journey into yoga. It was intense reading – Lucas has lived one helluva life. I attempted to cajole him into writing something for The Yoga Lunchbox, but he never got as far as sending me an article.
Then this year, while reading Benjamin Lorr's excellent book Hell-Bent I was stoked to see Lucas show up.
Benjamin tells the tale of this Bikram yoga teacher that had done an online interview about his drug addictions and Bikram Yoga.
"Luke is a fully realised survivor of his own stupidities. Near-lethal carbon-monoxide poisoning. Slogging through day-labour while drug-sick. Broken legs jumping off bar tops. Stoned negotiations with completely un-stoned Eastern European gangsters. Hustling art to tourists. And in general "a lifetime of parties and bands and warehouses, wrecked cars, lost jobs and black-market abortions" that leave you either hung up by your own petard or hoisted slightly closer to a non-bullshit perspective.

After a drug-addled tour of Eastern Europe, life savings exhausted, compulsively using cocaine and heroin, he settled with a girlfriend in Houston." Hell-Bent, Benjamin Lorr
And Houston is where Lucus finally comes to the end of the drugs and realised he's got to stop. That's when Bikram Yoga enters the picture, and why Benjamin was so interested in his story as told online in this magazine interview.
Problem is, Benjamin can't track him down and begins to wonder if he's a real person.
I recognise the story as the one Lucas sent me online a couple of years ago. I'm just about to jump online and tell Benjamin he can stop looking, I've found his guy, he's living at the end of the world in little ol' NZ… when Benjamin finds Lucas himself through Facebook.
Doh!
But that got me thinking, Lucas does have this extraordinary story that can inspire and help people. Maybe he doesn't want to write me an article, but I bet he'd do a video interview with me.
I messaged him. He said yes. We set up a time. And then had to re-schedule because the surf came up… but we finally sat down to talk about drugs, addiction and bikram yoga.
An interview with Lucas Miles on Drugs, Addiction and Yoga
About Lucas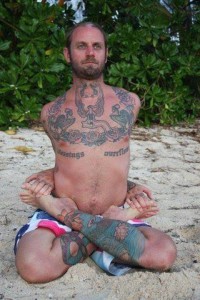 Lukas began practicing Bikram Yoga in 2000 in the effort to reconcile long term addictions and the associated health issues, with much success. Within a couple of years, he studied to become a teacher, and has been teaching now for 12 years, several as the director of his own school, and the last 2 as a traveling seminar leader around the world.
Lukas's teaching is practical yet still philosophical, cathartic yet fun. His ability to run the gambit and serve the ever changing needs of each student and group come with more than a decade of yoga instruction and a lifetime of profound experience.
You can contact Lucas here. He teaches at East West Studios in Auckland, New Zealand, or you can find out where he's next giving a posture clinic through his Facebook page Lucas Miles Posture Clinics and Seminars.