by Kara-Leah Grant
Meet Tiffany Cruikshank, an LA based yoga teacher, author, and health and wellness expert.
She is one of the most highly educated yoga teachers in both Eastern and Western Medicine and the founder of Yoga Medicine, one of the few Yoga schools offering a 1000 hour Yoga Teacher Training.
Luckily for those of us in the Southern Hemisphere we can catch her in person soon, teaching yoga classes at Wanderlust NZ and Australia in January and February 2015.
Tiffany has an extraordinary understanding of the human body – she has a pre-med Bachelor's degree in Medicinal Plant Biology & Nutrition and a Masters degree in Acupuncture & Oriental Medicine and a specialty in Sports Medicine & Orthopedics.
That depth of understanding of both the Eastern and the Western approach to the body is rare, especially in a person who is still so young. It brings a great depth to both Tiffany's teaching and also to the way she trains other teachers.
You'll see this in the classes she teaches at Wanderlust – including Heal Your Shoulders and Anatomy of Inversions.
You can see Tiffany's Wanderlust NZ schedule here.
You can buy your tickets for Wanderlust NZ here.
Editor's Note: Get on it! Wanderlust is an extraordinary gathering of some of the world's best yoga teachers all in one place for four incredible fun-filled days. Normally you would pay thousands and travel days to attend classes with these teachers. It's an exceptional opportunity.
Tune into hear Tiffany on the following subjects:
On why she started yoga and holistic healing apprenticeships at age 14:
"I was fourteen years old and I was lost and I never really fit in… It really drew me to search for answers."
On the perception of yoga culture:
"My Mom said to me once 'Why don't you just quit teaching yoga? You know you're going to quit once you get a real job anyway,"

"At the time there wasn't much of it around. Yoga really was thought of as 'Wow, this is a cult'"
Her road blocks:
"I've hit a lot of physical limitations.. For me Ashtanga really intrigued me… but it eventually became something limiting for me. It fed into my type A tendencies… I actually ended up hurting myself really badly."

"When I injured myself it was this big slap in the face, like 'Hello Tiffany, why are you not using what you know?"
On Yoga as Medicine and her 1000 hour teacher training:
"The anatomy is just the tip of the iceberg… the gateway to what is deeper"

"I really wanted to create something that was like medical school for yoga teachers. That trains people to see the body and to evaluate people."
On the differences between Yoga and Chinese Medicine:
"Prana and Chi are one and the same. They're just different ways of talking about energy in the body… energy on the verge of doing something."
On teaching yoga:
"One of things the things I love is breaking down misconceptions. A lot of the time in yoga we have this idea that you have to line your shoulders and your elbows have to be at ninety degrees.. and that everyone's going to fit into this straitjacket… I like looking at how to set it up so it can be something that's individualised to fit many different shapes and structures."
On inversions:
"Somehow I've gotten kind of known for my inversions… There's so much to inversions that really challenge us… There's a lot of mental capacity needed to be able to approach these really scary postures and look at all of our limitations."
On her impressions of New Zealand:
"I think of mountains and grass and everything beautiful outside you can imagine… All I hear is about how beautiful it is."
Note: The sync between audio and video is slightly off at the beginning of the video, but it improves shortly. At around the 12 minute mark, there is also one small glitch in the matrix that lasts about five seconds or so. All things considering though – videoing two people thousands of miles apart works beautifully!
Tiffany Cruikshank on Yoga as Medicine and the Link Between Prana & Chi
Reading this in the email newsletter & can't see the video?
Click here to read the article & watch the video on the website. 
About Tiffany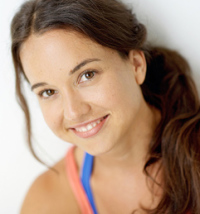 An international yoga teacher, author and health & wellness expert Tiffany is known as a teacher's teacher and has written for and graced the cover of many prominent publications. Internationally acclaimed due to her ability to combine over two decades of dedicated yoga practice & study in Holistic Medicine with over a decade working with patients to create an effective training method training teachers to use yoga as medicine.
A Los Angeles based yoga teacher, Tiffany was previously the Acupuncturist & Yoga Teacher at the Nike World Headquarters in Portland, Oregon. 
Tiffany has a pre-med Bachelor's degree in Medicinal Plant Biology & Nutrition and a Masters degree in Acupuncture & Oriental Medicine and a specialty in Sports Medicine & Orthopedics.
Tiffany's strength lies in her ability to fuse the two worlds of eastern & western medicine together and apply it to the practice of yoga. With over a decade of experience working with patients doing just that she has seen over 25,000 patients using yoga, acupuncture, nutrition & holistic health to treat the whole person working hand in hand with healthcare practitioners of many types to provide the best possible care to her patients.
For her full workshop, teacher training & retreat schedule click here.