by Lucinda Staniland
Editor's Note: This List was published in 2017 and some information is no longer up-to-date.
The yoga teachers and spiritual leaders that established and spread yoga in the Western world—people like K. Pattabhi Jois, Krishnamacharya, TKV Desikachar, B.K.S. Iyengar and Indra Devi—are largely no longer with us.
There's no denying their influence on contemporary yoga, but it's the new generation of yogi and yoginis who are creating modern yoga as we know it. Many students now have never heard of Krishnamacharya or even Desikachar but they know all about Kathryn Budig and Tara Stiles.
And what a strange beast this thing we call yoga has become. With all it's contradictions, controversies, advertising campaigns, celebrity endorsements, and the pursuit of the perfect 'yoga body', modern day yoga is both a blessing and a minefield.
So this isn't a list of heroes. These aren't necessarily the best, or the most authentic, or the most honourable yogis. (In fact, some of them also appeared on our List of Yoga Scandals).
What they are is the yogis with the most influence. To me, that means the yogis that are having the most impact in the world of yoga right now, in 2017.
Impact can be measured in many ways, some of the ones I've picked are: training the most teachers and opening the most studios, getting the most media (and social media) attention, writing the most well-loved books, making the most meaningful difference, creating the most advertisements, and making the most money.
This by no means a definitive list. Influence is a tricky thing to define, being both easily warped by personal biases, and very hard to measure.
For example, some yogis on the list, like Tara Stiles, have an incredible social media presence, but are they really as influential as someone like John Friend (who doesn't appear to have a Facebook or Twitter page) who have started whole new branches of yoga and trained hundreds of teachers?
And I'm sure that my personal biases, for example, my gender, my yoga education, and my location, all shine through in the people I've chosen to put here.
But I learnt a lot putting together this list, and I think it gives a bit of perspective on what's going on in the modern yoga scene, and where it might be headed next.
So all disclaimers aside, and in no particular order, we begin:
1. Bikram Choudhury, Founder of Bikram Yoga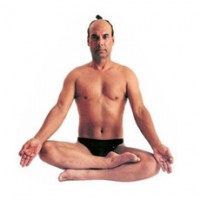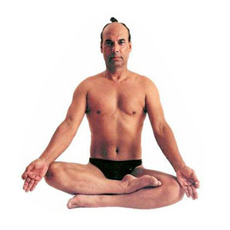 As of 2012, there were more than 600 Bikram Yoga studios worldwide, 330 of them in the USA, and 86 of those in California. NY Village Voice.
With 350 to 440 students in each Teacher Training Bikram is still personally training up to 1760 Bikram teachers each year. Given that he's been training teachers since 1994 we can assume there are now tens of thousands of Bikram Yoga teachers. LA Weekly.
Five women filed civil suits against Bikram in 2013 alleging incidents ranging from sexual assault to rape. The cases have yet to be heard.
Author of Bikram's Beginning Yoga Class and Bikram Yoga: The Guru Behind Hot Yoga Shows the Way to Radiant Health and Personal Fulfillment
378,000 hits on Google (Using his full name)
6,600 Twitter followers
174,000 followers for 'Bikram Yoga' on Twitter.
11,585 followers on Facebook
82,706 followers for 'Bikram Yoga' on Facebook
15,600 video results
More about Bikram:
2. John Friend, Founder of Anusara Yoga
Anusara Yoga had up to 600,000 students at its peak. It still holds regular global teacher training programs, immersions, and events. NYT.
Five hundred and eighty teachers are registered on the Anusara database. One hundred and fifty are reported to have defected due to the scandals surrounding Friend. NYT.
Friend resigned from Anusara amidst allegations of financial mismanagement, sexual misconduct, and for being, amongst other things "like a thousand-headed Hindu painting," and "weird warlock perverted Dumbledore power whore." NYT.
Friend has now relaunched himself with a new brand of yoga called Sridaiva Yoga.
34,800,000 Google results
No personal Twitter or Facebook
5,490 followers for 'Anusara School of Hatha Yoga' on Facebook
20,400 Youtube videos
More about John Friend:
3. Kathryn Budig, Yoga Teacher and Advocate
Founder of Poses for Paws which raises money through yoga to support animals shelters, and Aim True, which runs Yoga Teacher Trainings taught by Budig.
Budig caused a stir with her naked yoga ads for Toesox, adding fuel to the ongoing conversation about nudity and sexuality in yoga advertising. She passionately defended the Yoga by Equinox video, which was also accused of being too sexualised.
Author of The Women's Health Big Book of Yoga: The Essential Guide to Complete Mind/Body Fitness
Contributor to Women's Health Magazine, The Huffington Post, Yoga Journal, Gaiam, The Daily Love and MindBodyGreen.
245,000 results on Google
539,000 Twitter followers
167,007 likes on Facebook
244 Google news results
9,860 Youtube video results
4. Donna Farhi, Yoga Teacher and Author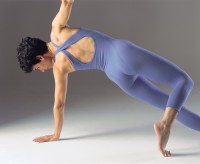 A much loved and respected yoga teacher who has been teaching since 1982 and is still leading many teacher trainings and workshops all over the world.
Her writing has been particularly influential. Farhi is the author of The Breathing Book, Yoga Mind, Body & Spirit: A Return to Wholeness and Bringing Yoga to Life: The Everyday Practice of Enlightened Living. Her fourth book Teaching Yoga: Exploring the Teacher-Student Relationship is used as curriculum for teacher training around the world. Donna Farhi.
623,000 Google results
No personal Twitter or Facebook
394 Youtube video results
More about Donna Farhi:
5. Tara Stiles, Founder of Strala Yoga
Model tuned yoga teacher and founder of Strala Yoga, which claims to have thousands of teachers worldwide. It is also taught in 22,000 schools across America as part of an initiative to combat childhood obesity. Strala Yoga.
Named "the coolest yoga instructor ever" by Vanity Fair. Greatist.
623,000 Twitter followers
157,123 Facebook likes
995,000 Google results
126,000 Youtube video results
6. Duncan Peak, Founder of Power Living Australia
Duncan founded Power Living Australia in 2004 and has since opened eight studios across Australia. New Zealand is next in its sights with a studio planned for Wellington this year. P.L.A.Y. 
Power Living has trained over 1000 yoga teachers plus holds regular retreats for those who want the Power Living immersion experience without the teacher training. P.L.A.Y. 
Arguably, Duncan has had the single biggest impact in Australian Yoga over the last decade.
Author of Modern Yoga
369,000 Google results
17,785 likes on Power Living Australia Facebook page
784 Twitter followers of Power Living Yoga
5,447 Instagram Followers @yogidunx
20,300 Youtube videos results
More on Duncan Peak:
7. Paul Grilley, Founder of Yin Yoga
Paul is the man who has popularised the spread of Yin Yoga throughout the world.
He teaches and administrates the Yin Yoga Teacher Training program globally.
Paul's DVD Anatomy for Yoga offers "specialized teaching on comparative skeletal anatomy." It's the go-to resource for yoga teachers on understanding compression, tension, proportion and orientation within yoga poses.
Author of Yin Yoga: Principles and Practice
DVDs: Yin Yoga, Anatomy for Yoga, Chakra Theory and Meditation
59,200 Google results
No personal Twitter or Facebook
1,070 Youtube video results
More on Yin Yoga:
8. Shiva Rea, Founder of Prana Flow yoga
Founder of Prana Flow Yoga, Yogadventure Retreats, Yoga Trance Dance for Life, Moving Activism for 1,008,000 Trees, the worldwide Global Mala Project, Yogini Conferences and E2: The Evolutionary Edge Tour – Shiva is one busy yogini! Shiva Rea.
At least 216 teachers are registered on Shiva's website. Many more would have graduated from, or done parts of, her 200, 300 and 500-hour teacher training.
Creator of 25 award-winning DVDs and 10 CDs. Yes, Shiva is prolific.
Author of Tending the Heart Fire.
476,000 Google results
166,000 Twitter followers
121,205 Facebook likes
 35,900 Youtube video results
More on Shiva Rea:
9. Baron Baptiste, Founder of Baptiste Power Vinyasa yoga
Baron founded Baptist Power Vinyasa Yoga in the 1990s. It was an evolution of Baptiste Yoga™, which was founded by his father Walt in the 1940s. There are now forty affiliated studios globally and teaches numerous immersions and workshops worldwide.
Founded the Africa Yoga Project, which employs the techniques of yoga to empower African youth. As part of this Baron has trained over fifty teachers that teach to over 5000 students a week. DoYouYoga.
Studied personally with Iyengar and Desikachar.
Former 'Peak Performance Specialist' for the NFL Philadelphia Eagles.
Author of four books: Journey Into Power, Being of Power, 40 Days to Personal Revolution and My Daddy is a Pretzel.
718,000 Google results
22.1k Twitter followers
40,171  Facebook likes
7,180 Youtube video results
10. Seane Corn
Longtime activist and yoga teacher, Seane is the creator of 'Children of The Night', National Yoga Ambassador for YouthAIDS, and creator of Off The Mat, Into The World. This woman most definitely has the yoga/activism formula down.
Delivers workshops, trainings, and speeches worldwide.
144,000 Google results
33.6K Twitter followers
57, 173 likes on Facebook
2,170 Youtube videos
More on Seane's creation 'Off The Mat, Into The World':
 11. Chip Wilson, Founder of Lululemon Athletica
Does he practice yoga? Is he a yogi? Hard to know, but it was the time that Chip spent in yoga classes back in the late 90s that inspired him to found Lululemon Athletica, a yoga-inspired clothing company that now dominates the global 'yoga wear' market.
It's hard to measure exactly how many people Lululemon has impacted, but the popularity of their brand has hugely contributed to how yoga is perceived, especially thanks to their extensive advertising.
Chip is known for his controversial comments, including the now infamous "some women's bodies just don't actually work" for Lululemon yoga pants, which led to his resignation as Chairman of the Board. Business Insider.
Personal net worth of approximately $2.3 billion. Forbes.
218,000 Google results
531 Twitter followers. (Lululemon Athletica has 731,000 followers)
No personal Facebook, but Lululemon Athletica has 1,125,586 Facebook likes.
1,680 Youtube video results
And our Wildcard Yogi, Adhyatma, Founder of Yoga Education in Prisons Trust
Yoga teacher Adhyatma may not have as much global influence as the other yogis on our list, but we think she's representative of the all the yoga teachers working tirelessly, and often without much recognition, to make yoga more accessible,
Adhyatma founded Yoga Education in Prisons Trust which sends yoga teachers into prisons to teach prisoners about the principles and practice of yoga. Its aim is to give prisoners the tools needed for their own transformation and wellbeing.
It's difficult to measure the influence that Adhyatma will have indirectly had through all the men and women who have learned yoga through YEPT, but there is no doubt lives have been impacted and changed.
In turn, when those men and women return to their communities, the impact yoga has had on them radiates out into their families and wider communities.
More on Adhyatma: