by Ben Ralston
The first step in truly healing anything – which means uprooting the cause of the problem – is to take responsibility for the problem. Many of us begin this journey by getting on the yoga mat. However, sometimes, that's not enough.
At the root of all our problems – everything that needs healing today – is trauma. At some point in our lives (or in the lives of our ancestors) a trauma was experienced that wasn't completed. As a result, we now experience problems – like anxiety or depression.
However, it is not the trauma itself that you must take responsibility for – the trauma is in the past, and you were most likely not responsible for it.
What you are responsible for is how the trauma continues to affect you right now – the symptoms that are showing up in your life.
You cannot go back into the past and erase trauma.
But you can go more fully into the present to uproot the connection between the trauma and it's effects on you, just like you do on your yoga mat.
That bears repeating: You can become fully present to the connection between past trauma and present symptoms.
And this is the essence of real healing: presence.
The only problem is – it's not easy to find and be present with your own subconscious 'stuff'.
Yes, yoga helps us with this process, but often we still turn to healers to fix us. Yet they can't fix us, as such. A good healer simply facilitates this process of deep presence, guiding you to find and be present with and uproot your subconscious blockages. And the result is that you become more present and more conscious. The link between the past trauma and present symptoms is broken and healing occurs.
But here's the thing:
If you're not yet taking responsibility for your problems, then you're either busy looking for other people to fix you (heal me!) or you're trying to convince yourself that there isn't a problem – via distraction, compulsive behavior, addictions, etc.
You only find healing when you start taking responsibility for your symptoms.
In the meantime you're just caught up in a game with yourself (and the world around you).
So what does it 'look like' when you take responsibility? A number of things happen:
You stop blaming others and yourself. You begin to let go of the pattern of anger and blame that until now has been a wonderful excuse to NOT take responsibility!
You start to let go of all the hidden benefits and secondary gains of the problem, because you finally desire health and freedom above all else.

Your desire for health and freedom becomes a driving force in your life – so much so that you will stop at nothing to fully achieve it.

You begin to truly see your own power, recognizing that in the same way you were creating and maintaining your own brokenness, you are also able to manifest your own healing. From within.
You have the power to fully heal whatever you're experiencing, by coming into deep presence with your conscious and unconscious.
You just haven't learned how to do it yet, even though your yoga practice may be helping you along the path.
This is the process I share on retreats, like the Heart of Freedom which I'm co-facilitating in May in New Zealand. I help people to identify with clarity and presence the symptoms that they're experiencing in their life right now – things like depression, anxiety, fear and procrastination.
Once we get clear on what's happening now, we turn our presence and awareness to the potential roots of these symptoms. We trace back, using a variety of tools like guided meditation or visualisation, until we find the trauma that wasn't completed.
Sometimes this trauma can be apparently "minor". It's not that trauma is the big stuff all the time – like car accidents, or abuse, or injuries. Trauma is anything that makes us feel not safe, and so triggers the fight, flight or freeze reaction. It can be as small as a parent leaving us on a park bench for two minutes when we were 2 years old to put some rubbish in the bin. You never quite know what might have affected you.
Once we locate the trauma, we complete it. This can take many forms, depending on what the trauma is and how we're working together.
However we do it, the end result is the same. We use the power of taking responsibility for our healing to do the work required to get to the root cause of the symptoms causing us distress today. We're not afraid to look deep. Or sometimes, we are afraid, but with the support of a 'healer' like myself, we screw up the courage and do it anyway.
Invariably, the results are worth it. We feel lighter, clearer, more powerful and more free.
But none of this can happen until you take the power back. Until you own your symptoms and realise that you can do something about your experience.
That's response-ability.
Our ability to respond.
That's where your power lies.
If you'd like to join Ben Ralston and Kara-Leah Grant on The Heart of Freedom, email KL now. Save $200 by registering before February 28 (a deposit of $575 is required).
More articles from Ben and about this work:
About Ben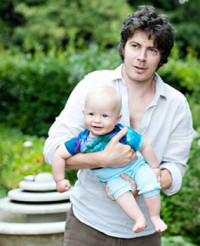 Ben Ralston is a therapist, healer, advanced Sivananda Yoga teacher, and writer. His writings have been read by millions of people and can be found on Elephant Journal, Rebelle Society, and various other portals online. He has been teaching Yoga for 16 years and runs a busy international therapeutic practice from his home in rural Croatia.
His therapeutic work is based on healing trauma, and the tools he uses for this are varied – mainly RPT, Shamanism, and energy work. He has also developed some of his own methods, particularly in the area of 'resource state' awareness, and boundary reconstruction.

Ben regularly runs retreats around the world combining Yoga and other energetic exercises with his therapy. He would love nothing more than to see you on one of these retreats, since he believes that this approach to personal development is really the only effective way of bringing love and peace to global human society. Check out Ben's website here.