by Sonya Simpson,
An Interview with Franko and Nikki
I first shared space with Franko at Soul in Titirangi where he was leading Kirtan to a small and humble gathering. It was, to be honest, quite dazzling, and I left telling everyone who would listen to get along when they could to be part of the experience – because in my words "he wouldn't be doing it for long", he had far too much star quality to stick around offering something so… well… humble.
I was wrong. A year or two later he is still offering Kirtan at Soul as well as some other studios and spaces, and has added much more to his bow. In the early days Franko was open to love and spoke about what love was with curiosity and interest. Later at dune lakes lodge, I had the pleasure of meeting Nikki who was by that time partner to Franko in all ways.
It's a week prior to the NZ Spirit festival, a creation of their combined vision and energy, when I manage to talk to the pair, although to be honest it hasn't been difficult. They were open to a chat as soon as I suggested it even though they must be incredibly busy. They confess early in our conversation to having been awake till 3am after sitting together and covering their values, why the festival is important and what it means to them.
"The children were in bed, there were no contractors calling or guests to show to their rooms. I looked at him and we sat and anchored down our values, made sure they were clear, and it was so beautiful, even though we knew we'd regret being up so late" Nikki laughs.
"We are deep in the masculine of getting things done" Franko states, "this feels nothing like a Kirtan". He laughs honestly and openly and Nikki laughs alongside him in agreement. Listening to them though I feel no fatigue pouring forth, just a powerful and contagious energy.
I ask about their relationship and the task ahead.
"I think it's easy to move forward when you are just doing something together on the side" says Nikki, speaking of course about their shared vision, "but it's really something else when almost everything is a blend of both of our ideas, every event, every decision around the events. Someone said to me at the last event that they could feel the masculine / feminine duality balance, and it was the first time I had consciously thought of that, but it had been guiding me quite unconsciously".
In that simple statement Nikki has identified something really powerful.
The fact that in a world in which the feminine voice is often a whisper, where balance is still challenged, they have managed to find it. There is an obvious balance and mutual respect between these two, and that is conveyed in the events that they plan. Masculine and feminine dance, play and sing happily together in the energy of what they create. There is no 'behind every great man is a great woman' in this team. They are a strong and powerful pair. In fact, if anything, I get the impression that when Franko isn't singing, preparing food or caring for the children he is shy, and that Nikki forges paths for him to follow with a disarming smile and casual way of making everyone feel interesting and welcome.
I address their ability to make space for one another. The way that Nikki's feminine energy creates a pathway for Franko to follow. She is gentle in her agreement, but Franko agrees whole heartedly. "This is so true" he says, "we get to share the shadow. I can stand behind her because she's so powerful and she can stand behind me when she needs to. This plays out constantly, we take turns to hide away and let the other take the lead when we need to in our air bnb, our parenting, and then to a greater degree with the events."
The pair have become public and recognisable in the yoga world and Nikki talks openly about the anxiety she used to feel about whether people would judge her on her actions and on how much this has changed with Franko by her side.
"In the last couple of years, it seems such a step forward. I know what I want, I know what to do to get it, we are a team and all of the little concerns have started to leave my narrative. I think this only happens when you're really doing your best with what you know and being authentic."
I ask who is in their team. Who is in the wellness company that is dreaming, creating and powering ahead with the events? I am surprised to find that it is the two of them, they are their team. They create the posts, the schedules, they organise the performers, they pay designers, and they co-ordinate the volunteers. They are doing the mahi once the children are tucked in bed for the night.
Spirit Fest started in 2018 consisting of about 500 or 600 people, and it rained and turned into a mud bath. The energy and quality of the event though was amazing and people wanted it to continue. The pair's lives have been deeply changed by festivals. Their vision came from here, they have what Franko calls 'a shared intuition' that Nikki believes comes from 'their greater purpose'.
There is a smoothness to their organizing. They both know where the stage should be, how the posters should be designed, what the logo should be…
Franko tells me that they have both always loved bringing people together; from family gatherings for sing alongs when he was a child, to Nikki running dance workshops, performances and shows, and him running Kirtans. "Our door is always open for the world to come in and teach us something, so the festivals are just that on a bigger level". Nikki agrees. "Our biggest motivator is to connect people with a purpose and inspiration, so if we meet an epic yoga teacher in Detroit then we ask them to come to New Zealand to meet our community".
I can see how their energy is doing just this. Connecting people and inspiring people from far flung places, to come and share their experiences with us in our humble and beautiful community. They hold an integrity and openness which is easy to invest in with time and energy.
What's the old saying? Create it and they will come? These two have done just that.
Some of the biggest Franko fans when I first met him singing Kirtan were my children and they still are to this day. Able to attend the festivals and dance freely, chase fairies through the trees or sip cacao and eat vegan food. They have always, although still too small to express it in the same words, felt included, welcome and honoured. This has meant the world to me as their mother and to them as tiny world citizens. I ask Nikki and Franko about this inclusiveness. Was it a decision or something that always was, because their own children were with them?
"I was a mum very young" Nikki tells me, "so children have always been a part of what I do. I would be breastfeeding my baby as I taught dance classes when I was a teenager. I always struggled with the idea of separating our children from us, they are our greatest teacher and this is our yoga, seeing our children mirror us."
I ask them about the phrase 'indigenous wisdom' which I have seen on their website. It had created an interesting shift in my consciousness when I had seen it.
One which had me tracing back to my own tribal groups, coming as I did from a long line of healers and 'witches', secret keepers who had been swallowed up by the masculine beliefs of Christianity, who were still deeply scarred and silenced, beaten and forced into submission and denial, for so long that plant medicine and vision was still spoken about only to the women, and definitely in whispers. I felt the deep grief of my ancestors and the disconnection made me feel deep sorrow, and maybe a little glimmer of hope that with unity we could all begin to rediscover this wisdom.
"I've had a long history of feeling disconnected personally," Franko admits. "I've dealt with depression, suicidal thoughts and anxiety. What I've come to realise is that this is my inner child who doesn't feel connected and hasn't been taught how to connect. Instead I was taught the times-table, so yes, we put a big emphasis on children and their safety, inspiration and experience at our festivals. We are providing the safest space for all people, and of course children are included in this as they are just the same as the adults in the space they hold. They are equal in their importance."
Nikki agrees.
"I think that often in society we segregate people depending on age. My children are in their classroom with people their own age, my Nanna is in a rest home with people her own age, it's a bizarre attempt at control that doesn't work in nature, it would just be a major disaster and yet we seem to believe it makes things easier. I think that if we want to prevent things becoming ageist celebrations, then we need to welcome and include all ages."
I am filled with hope that we can achieve this in our lifetime, through our own immediate actions. As we sign off they leave me with words that fill my soul, and I in turn leave them with the spoken wish that we as a community can continue to support the great mahi that they are doing, by attending their offerings and by seeing them through the clear lens that is vision with the Yamas and Niyamas as a guiding principal.
Find out more on their Webpage, Facebook group or purchase tickets from Ticket Fairy.
About Sonya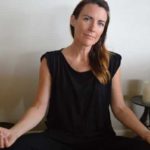 Sonya Simpson is a yoga teacher, content writer, business director and mother of two small boys. She lives with her partner in Auckland and teaches a style of yoga that is based around kindness to self, inquiry through movement and freedom to explore. Sonya is passionate about yoga and exploring the ways that cultural and societal expectation has affected wellbeing. Having experienced the benefits of returning to self through yoga during over 20 years of practice, she is passionate about continuing to research and explore how it can help others both inside and outside of the yoga community, sharing her findings wherever she can. More information can be found on her website, Facebook or Instagram.