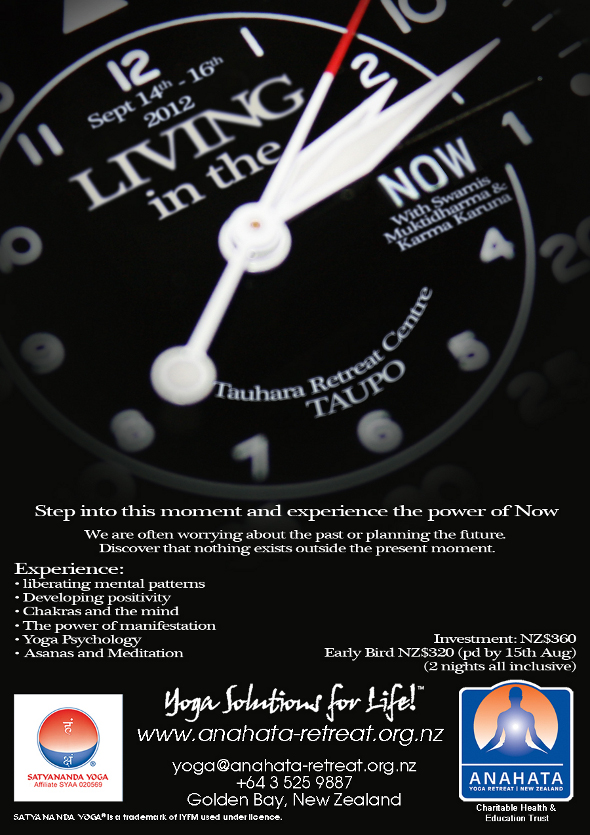 Living In the Now, a Yoga Workshop with Swami Muktidharma & Swami Karma Karuna
In our daily lives we spend most of our time either worrying about what happened in the past or what lies ahead in the future. During this retreat you will discover that nothing exists outside of the present moment.
Learn powerful meditation techniques to move into a balanced yet flexible state of mind, able to sway like a tree while staying strong and grounded in this moment. Standing tall in the Now will allow you to begin clearing out the chaos, moving towards peace and harmony.
Expand upon:
• Letting go of the past and being in the present
• Liberating mental patterns
• Chakras and the mind
• Developing a positive mind
• The power of manifestation
• Yoga Psychology
• Meditation
Join Swami Muktidharma and Swami Karma Karuna amidst the beautiful backdrop of Tauhara, developing powerful tools to live Life to it's fullest while staying grounded in the moment. For more info on the Swamis click here.
Private Sessions:
A unique opportunity to receive practices and insights to suit your personality, body type, health challenges and get direction or a personal program, therapeutic applications and health consultations according to your needs.
30min NZ$55
60min NZ$95
90min NZ$120
Venue:
Tauhara Retreat & Conference Centre
60 Acacia Heights Drive
Taupo
Check in and registration from 3pm, dinner at 6pm.
Investment:
NZ$320 Early Bird (if paid in full by 15th August)
NZ$360 Full Price
Shared accommodation (2 Nights) incl. all meals and teachings.
Non-refundable deposit of 20% of total payment required to hold your place.
Booking Information:
Anahata Yoga Retreat
PH: +64 (3) 525 9887
ADDRESS: Takaka, Golden Bay, New Zealand
E-mail