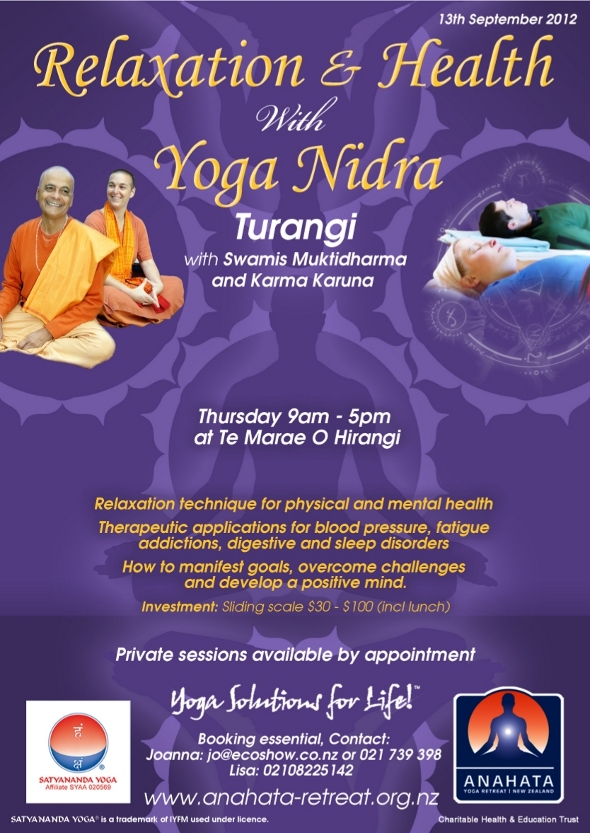 Deep Relaxation through Yoga Nidra with Swami Muktidharma & Swami Karma Karuna

Allow your Self to experience fundamental relaxation and its reconstructing effects on the whole body with a powerful and ancient practice that is highly applicable to the challenges of modern life!
The mind is the most perfect super computer and it has an inbox where it stores all the information received through the senses. It is constantly overloaded with all kinds of impressions from over stimulation of modern day lifestyle.
Satyananda Yoga Nidra™ has a profound impact on the mind and these deep rooted influences, thus being used successfully in the treatment of various psychosomatic diseases.
Experience a practical yoga relaxation technique for physical and mental health.
Gain insights on therapeutic applications for stress, anxiety, high blood pressure, fatigue, digestive and sleep disorders, and addictions.
Learn how to manifest goals, overcome challenges and develop a positive mind.
The practice of Satyananda Yoga Nidra™ crosses all the layers of the human experience, supporting integration, relaxation and health on all levels.
Investment:
Sliding scale $30 – $100 (incl. lunch)
Venue:
Te Marae O Hirangi, Turangi
Private Sessions: Available by appointment.
Find out which practices suit your personality, body type, health challenges and energy flow. Receive a personal program and ask questions about your spiritual path.
Swami Muktidharma and Swami Karma Karuna blend and apply practices according to individual needs in the treatments of mental, emotional, physical and spiritual imbalances. Yogic practices are powerful aids in the treatment of chronic fatigue, asthma and diabetes. Digestive, structural, blood pressure and heart problems can also be balanced.
30min NZ$55
60min NZ$95
90min NZ$120
Booking essential!
Contact Joanna: E-mail or 021 173 9398
Lisa: 02108225142