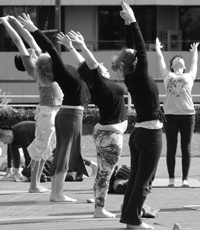 by guest author Melissa Billington, organiser of Global Mala Wellington
So if I look at what was (instead of what I wished would be), there were about 160 people at Global Mala Wellington, about ninety on yoga mats and another seventy on the edges, plus uncounted people coming and going around Frank Kitts Park.
There were people who were very helpful, enthusiastic, supportive and who had ideas and resources to offer.  And there were others who were along for the ride & still others who were opportunistic – both categories in it for what they could get out of it more than in it for what they could give.
Though the structure was scattered and unclear, the sun shone down, the music was at the centre and once people got moving there was a sense of Unity in Diversity, of cohesion even as individuals did their own thing.
All along there were changes – people promising to be present or to do things and not showing up, as well as people showing up unanticipated & contributing generously.  People coming and going.  Some confusion.  Some clarity.  Some cohesion.
I didn't emphasize enough that the money benefit was going to the Yoga in Prisons Trust, so there was about $800 instead of an average $10/person which would have equalled $1600, leaving very little once the $600 costs are covered.
But then, maybe I don't have to feel responsible.  I did something, which was more than nothing (which is what it was going to be) and I covered costs & learned a huge amount in the process – about myself, about the Wellington yoga community and about how to hold an outdoor space for so many people.
Even working onstage and in film, I never had the nightmares that many actors have of not remembering lines or finding oneself naked in front the audience or camera.  Yet I have had bad dreams about trying to teach groups of people who aren't listening or who are coming and going, or there's too many of them and I realize that control is an illusion because I seem to have none!
It's almost as though those dreams were a rehearsal, a prep for the future, for this year's Global Mala.  I certainly wouldn't have taken on this project 5 years ago.
Some of the biggest endeavours I've taken on have been the most humbling as well – my senior fashion show, teaching teachers, doing a squab stunt on a Hollywood film, Global Mala organization.  I obviously didn't communicate my vision clearly enough – in enough different ways or to enough people or enough times – for it to carry itself out into its fullness.
Yet, thankfully, I felt as though we were carried – something came through but it wasn't really me and it wasn't any one individual – but something collective that was expressed and experienced by the individuals and shared in the space/time field we occupied.  And maybe that was spirit.
And maybe it was Sherlock, the nickname I had for my father Randall Holmes Billington who, like Sherlock Holmes, had an impossibly clever mind and a far too great love of mind-altering substances.  I don't think I let people in on one of the biggest reasons I took this project on.
Aside from not wanting Global Mala to not happen after the momentum Yoga Unlimited had given to it in the past few years,  the idea of organizing people for peace – awareness in action – to benefit Yoga Education in Prisons was a calling for me because of my father.  He died in January and I haven't been able to afford to go back to the US to gather his ashes.
Just before he died, we had the one conversation in my whole life (after 5 years of silence and only seeing him a handful of times since my birth) that wasn't through the veil of alcohol and anger.  He and his two children, my half-siblings, have been in and out of prison.  And yet when he talked about his life with my mother before me, when they were beatniks and then hippies on the lam in Canada, he talked about how they did yoga together.
So with 4 weeks' time, two sturdy friends and the support of the yoga community, I took on Global Mala this year because I wanted to do something for my father, and because I believe in jivamukti (liberation) in this lifetime.  This is not a pollyanna belief arising from rainbow fields and ungrounded realities.  This is a belief that has been ground from hard grit in a crucible of unyielding circumstances and sharp, acrid relations.
Change is possible, in fact, it's inevitable.  So to say that a murderer or rapist or petty criminal is incapable of change is to condemn all of us humans to stagnation.  Ok, it might not happen in this lifetime, especially if there are no resources to make the change.  This is hard work.  You know yourself how hard it is to change your mind, to be kind when you feel vengeful or hurt, to not speak those words that gratify the ego's need for elusive security but put others down in the process.  We're all one tribe, whether we like it or not.
What grieves me the most about my father's death is how lonely he must have been – dying alone, his body failing painfully and all his many years of holding on to anger serving him not one bit.  How often redemption comes at the end of the body's life, when we are forced to finally surrender and let go of that bossy ego's demand to feel in control and on top of things and people.
My father had dreams of connection, peace & love; he felt things deeply, perhaps too deeply to manage properly.  I missed him my whole life.  At the end of his life (though no one knew it was the end) hope was renewed in me that I might know the man that co-created me, but then he was gone.
What I wish for, for all those in prison – whether of the literal or metaphorical kind – is that you may be free, free in this lifetime to forgive and be forgiven, to love and be loved.  To be at peace.  And may my father rest in peace for once.
So maybe, as some people joked on Sunday, I did know someone "up there" who pulled the clouds back and stilled the notorious Wellington wind so we could be outside.  Yes, I did some work to make this year's Global Mala possible, but how much was "me" & how much was funneled through me in a process of receiving and delegating?  And how much was just the inevitable falling together of things?
I felt I was on a wave far bigger than myself and I had little choice – stay afloat, however wobbly and ungainly, or sink.  Sometimes I did sink beneath the waves and watch the creatures around me with that other-worldly sense one gets when underwater where sounds are distorted and the weight of things changes and the light is magnified – reflected differently – and there's awareness of being part of something that we're otherwise mindlessly swimming or drowning in.
On the day, Biju talked briefly about Patanjali's sutra "yogam citta vrtti nirodham." (Yoga is the cessation of the karmic fluctuations of the mind)
The feedback that I've been receiving from those who participated is that it was amazing and magic and that the time flew by.  For them the fluctuations of the mind were stilled by the yoga.  For me, it was like another level of the practice and anytime something new is tried, there is the strong critical eye of the witness that hasn't been subsumed in experience yet and can easily pull me out of "the zone" that practice or teaching can be.  It was like teaching my first class or teaching teachers for the first time or putting my designs out on stage when they were less than "perfect."
But then what if perfect is what is?  What if each moment is perfect, just as it is?
The event, from an organizational standpoint, reminded me of India – how seeming chaos has its own internal perfection and completion, especially when the intention of those present is focused on the divinity we share. What also came to mind is Native American celebrations or ceremonies that rely on an innate convergence more than on an external exertion of order and timeliness.
So, yes, I was frustrated and disappointed that it didn't flow more smoothly, that we didn't raise more money, that more people – particularly more studios and regular yogi(ni)s – didn't participate and multiply the energy with us on that gorgeous day.  AND I am grateful for those who did make the magic of this year's Global Mala and so I'll end where I began, with a focus on what is.  This is a tribute to every person who was present and contributed last Sunday – with great love and respect, I salute the inner sun that you are!
Thank you & Namaste.
Melissa, MYOGA